Ed Sheeran performing "Shape of You" on classroom instruments is the highlight of our day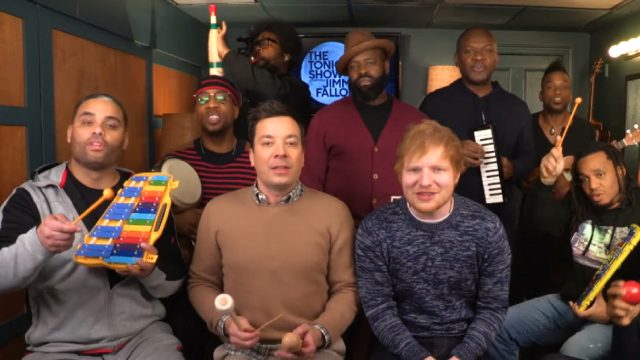 Today is a perfect day to have an acoustic version of "Shape of You" by Ed Sheeran stuck in your head. Sheeran performed the song last night on The Tonight Show Starring Jimmy Fallon using classroom instruments.
This isn't the first segment Fallon has done with classroom instruments, and it likely won't be the last. We last heard Fallon jamming out with Metallica, and artists like Meghan Trainor and Adele have participated in the fun as well throughout the years.
Ed Sheeran is definitely an incredible choice, and we're so glad he decided to participate. Even though he only released"Shape Of You" this past January, we're always on the lookout for incredible new versions of the tune.
And Sheeran totally kills it. You'll want to watch this one multiple times.
https://www.youtube.com/watch?v=zVcaMXWS4dU?feature=oembed
Of course, we have to give a ton of credit to The Roots. While Sheeran is pulling double duty by singing and playing his banana maraca (which is incredible, by the way) they're providing much-needed backup vocals and a beautiful melody.
Also, thanks to The Roots, we're suddenly in the mood to buy a xylophone.
Back in January, Sheeran's "Shape Of You" topped the Billboard charts, which was a big step in his musical career. In fact, this is likely one of his biggest songs to date, which is why it makes sense that he chose to bring it to The Tonight Show.
We'd love an entire album of Ed Sheeran performing on classroom instruments, but for now, we'll just be playing this segment on loop a few times!