Ed Sheeran performed a "cover" of Justin Bieber's "Love Yourself," and it's just great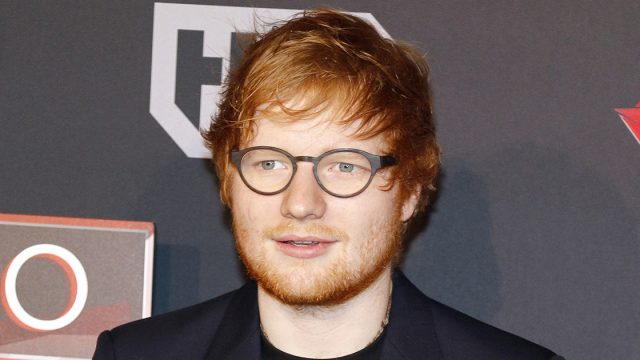 Taking a break from having what looks like one of the biggest selling albums of the year so far, Ed Sheeran performed a cover of Justin Bieber's "Love Yourself" (a song he wrote for The Biebs), and it's just so great.
It's been a wild few weeks for Ed Sheeran. The British singer songwriter recently revealed that he accidentally hit Justin Bieber over the face with a golf club (!), proving that he does find himself in some rather bizarre accidents (hey, remember when he got cut by a sword wielding British princess?!). The singer, who recently released his third album ÷, also spoke about his BFF Taylor Swift, and even let slip when TayTay's next album might be released. Naughty.
https://www.youtube.com/watch?v=gL-WVjvzu34?feature=oembed
Well, taking a break from causing mayhem and breaking musical records all of the place, Ed Sheeran decided to cover (if you can call it a cover) a song he wrote for Justin Bieber: the record breaking "Love Yourself."
Ed is no stranger to a cover version of two, but this is the first time that the singer has performed this song that he wrote of Bieber, and it's a great version.
https://www.youtube.com/watch?v=q0FylXxDGII?feature=oembed
Speaking recently about the song, Sheeran noted that he had, initially, written the song with another artist in mind, and that it had slightly ruder lyrics.
Talking to Howard Stern, Sheeran said that the lyrics to the song were originally, "If you like the way you look that much/ Oh, baby you should go and f–k yourself." The singer then revealed that he thought that the song could have gone to Rihanna, because "Rihanna could get away with saying 'you should go and fuck yourself,' in my mind anyway."

Ultimately, however, Ed Sheeran gave the song to Justin Bieber (after making it a bit more PG).
"It kind of came at a zeitgeist time for his career, where he had fallen out of grace with the public, and he had this comeback song that was quite grown up," Sheeran said.
https://www.youtube.com/watch?v=oyEuk8j8imI?feature=oembed
Meanwhile, Ed Sheeran recently released his third album ÷. The album has already broken Spotify's record for most streams in a single day, and is expected to debut at the top of the charts both in the U.K. and the U.S.