Ed Sheeran gave the most cryptic response when asked if he's already secretly married to Cherry Seaborn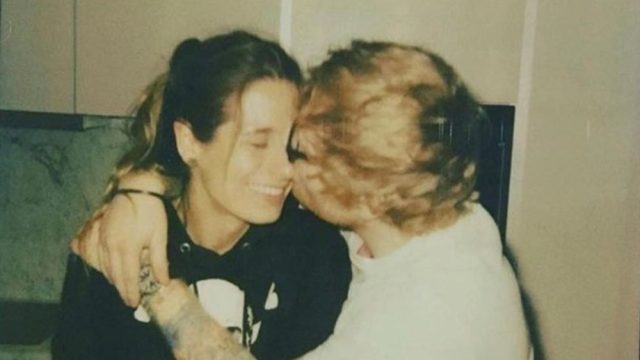 He doesn't share much about his personal life, but ever since Ed Sheeran announced he was engaged to girlfriend Cherry Seaborn earlier this year, his fans and followers have been clamoring for more information about the couple's wedding plans. But now it seems that Sheeran may already be married, because he's not only sporting what looks like a wedding ring (yes, it's on that finger), but he also gave the most coy response when flat-out asked if he and Seaborn had already tied the knot.
To recap: Sheeran announced he was engaged on Instagram in January, posting an adorable photo of himself planting a big 'ol smooch on his new fiancée. But aside from a handful of couples' shots on Instagram, Sheeran hasn't said much about his pending nuptials…that is, until now.
Sheeran was asked about his wedding plans in an interview with Access Hollywood on Monday, August 27th, at which point the singer pointed to the ring on his left finger, which seems to imply that the wedding already happened. The interviewer then congratulated him and noted how "exciting" it was, to which Sheeran simply replied, "Yeah."
He's then asked how he managed to "sneak that one in," and Sheeran's response?
https://www.youtube.com/watch?v=Cyhi1F87RrA?feature=oembed
"I never really do anything too public anyway."
Then, in an interview that same day with Entertainment Tonight, Sheeran was equally cryptic, merely shrugging when an interview directly asked him if he is, in fact, married.
https://www.youtube.com/watch?v=nAFLEBpOW0U?feature=oembed
He also told the interviewer that while he's not a "groomzilla," he also doesn't (or didn't!) want a large wedding. "I don't like large groups of people at the best of times so...I never wanted a wedding that was loads of people."
In discussing Seaborn's role in his new documentary, Songwriter, Sheeran also shared that he initially felt "weird" about including her. "[The title] doesn't say, 'Ed Sheeran: The Life and Times' on it, it says, 'Ed Sheeran: Songwriter,' so having Cherry in it, didn't seem like it fit for me," he shared. "But it does, in the grand scheme of things."
It looks like we won't be getting any concrete answers about Sheeran's marital status any time soon, but either way, we're wishing all the best to the couple during this exciting step in their lives together.