Ed Sheeran covered Little Mix's "Touch," and it's actually incredible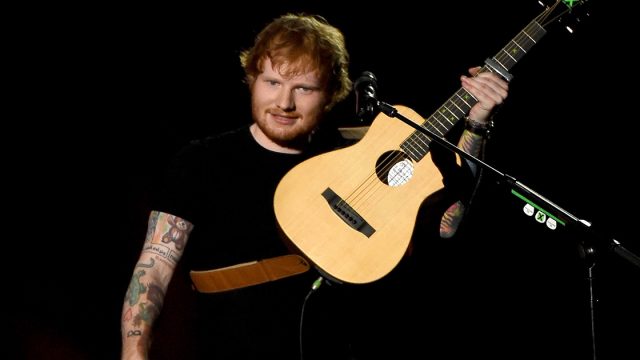 Proving once again that everything he touches turns to gold (or rose gold in his case), Ed Sheeran covered Little Mix's banger "Touch," and it's absolutely incredible.
Ed Sheeran has been on a bit of a role recently. The British singer released TWO massive singles earlier this year, breaking streaming records in the process. He then shared a cute AF love song, and we're still swooning.
What's more, we've been pretty obsessed with Little Mix's latest offerings, too. We loved their breakup anthem "Shoutout To My Ex," and the girl group served up some serious fierceness in their video for "Touch."
So, imagine our delight when two of our favorite things combined.
Ed Sheeran covering Little Mix!
Dropping by Radio 1's Live Lounge, Sheeran gave his signature acoustic twist to Little Mix's propulsive banger, and we have to say we're SO in love.
https://www.youtube.com/watch?v=VovyjWM2Gq0?feature=oembed
In fact, Ed Sheeran's cover even gathered the seal of approval from Little Mix themselves, with the girls sending clapping emojis to their fellow Brit over Twitter.
Meanwhile, Ed Sheeran also teased that he has some surprises in store this week, too. Speaking to radio host Nick Grimshaw, the singer said that he was debuting something special.
"I've got two things dropping on Friday that are pretty interesting. One that gets debuted at the BRIT [awards], which I think people will go a bit nuts for," he said. "It's something that I think nobody is expecting. I think it'll be decent. I've managed to keep it secret up until now, which is good. But tomorrow night [at the BRITs], I think we're the penultimate act."
Those that might not know, the BRIT awards are like the U.K.'s answer to the Grammys, so we're expecting something HUGE! Also, did you notice how Ed said "we"? Hmmm…What could it all mean? Perhaps we're going to get some massive banger mashup with Little Mix and Ed Sheeran performing together. Imagine!
Or, perhaps, we're going to get another collaboration with a Spice Girl. You might remember that Sheeran recently joined Baby Spice for an impromptu duet of "Goodbye," and it was EVERYTHING.
Regardless, we won't have to wait to find out what the singer is up to as the BRIT awards are tonight! Can't wait.