Do you have "ecoanxiety"? If you're a millennial, the answer is probably yes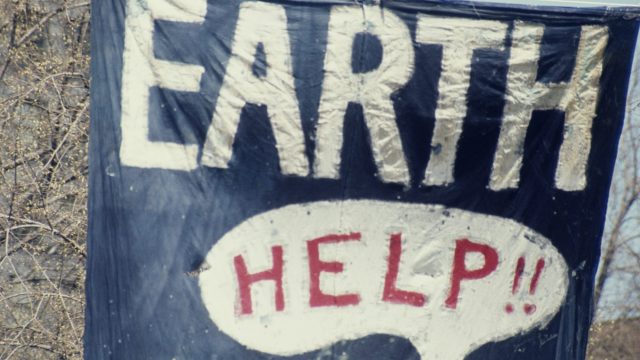 Growing up, Earth Day was a big deal. If your elementary school days were anything like mine, teachers really made a point to celebrate the planet on April 22nd each year. If you don't think those recycling projects ever made an impact on you, think again. A new survey conducted by impact investing platform Swell Investing found that 92% of Americans say the future of our planet really concerns them. But if you're a millennial, your worries about the environment might actually be taking a toll on your mental health. You may have "ecoanxiety" without even knowing it. 
So, ecoanxiety is a thing. But what exactly is it?  
If you've never heard of ecoanxiety, it's basically what it sounds like. Ecoanxiety occurs when negative news about the environment causes racing thoughts, sleep problems, and an overall feeling of anxiety and uneasiness. It's something millennials tend to feel more than any other generation. 
In fact, the survey of over 2,000 adults found that 72% of 18 to 34 year olds say "watching, hearing, and/or reading negative news stories about the environment" has made an impact on their emotional wellbeing. Only 56% of 35 to 44 year olds and 57% of 45 to 54 year olds said the same. 
As Swell Investing's CMO Teresa Orsolini tells HelloGiggles, millennials have borne witness to a huge number of natural disasters driven by climate change in their lifetimes. When major hurricanes seem to devastate parts of the world every other year, the trend can make you anxious. You've seen what havoc a natural disaster can do.  
"Negative news affects millennials more than other generations because they're so interconnected, Orsolini says. "They've grown up with the latest news and social media updates available in the palm of their hand all the time. That means it's impossible to escape, and they can also feel connected to the struggles of those thousands of miles away. 
Orsolini recognizes that it's a huge burden to carry around. "But it also means this generation is aware that their actions matter and can have a broad effect on the world," she says. 
What you can do if ecoanxiety is affecting you
According to the survey, 84% of Americans do take steps in their day-to-day lives to ease their worries over the planet. A little more than 60% do that by reducing energy use in their homes, and another 59%  try to reduce water usage by taking shorter showers. 
Overall, there are many things you can do to help the Earth. Orsolini encourages bringing your own bags when you go grocery shopping, or using your own reusable mug when you go out for your daily caffeine fix. It's important to remember that every little bit adds up. But there's something else you should keep in mind.
"People need to understand that the companies you invest in matter too, she says. "You might not think of yourself as an investor, but if you have a 401(k) with your employer, you are. Each dollar in those accounts is an opportunity to vote for the kind of future you want. Think about it this way: You can recycle and use energy-saving appliances at home. But if you put your dollars behind businesses that are using recycled materials to make their products, you're doubling down on your positive impact. 
So just think of the companies that you support. Are they known for being environmentally friendly, or do they not really seem to care at all? 
Earth Day occurs on April 22nd every year, but the effects of climate change can hit us at any time. If that gives you ecoanxiety, just be mindful to do your part. Even if you don't think using a recycled bag each time you go out for a Target run really matters, in the grander scheme of things, it does. Again, every little thing adds up.