Easy weeknight pierogy meals that beat getting takeout
If you're craving takeout but still trying to stick to your New Year's resolution of not ordering in as much, we've totally got your back. Instead of ordering delivery, reach for a box of Mrs. T's Pierogies!
We've teamed up with Mrs. T's Pierogies to bring you four crave-worthy recipes inspired by all your favorite takeout dishes — and we're totally in love with the results. With Mrs. T's Pierogies and just a few simple ingredients, a delicious meal is just a few minutes away. Plus, you can easily make it in the comfort of your own home.
Mrs. T's Pierogies combine creamy whipped potatoes with real, quality ingredients — like sharp cheddar cheese and savory onions — folded into a delicious pasta shell. They're the perfect canvas for your favorite ingredients and spices, and they're our favorite go-to staple no matter the occasion. Whether it's girls' night in, football Sunday, or game night with your friends, Mrs. T's Pierogies are a must-have!
You can check out Mrs. T's Pierogies' take on all our favorite takeout recipes below.
Buffalo Pierogies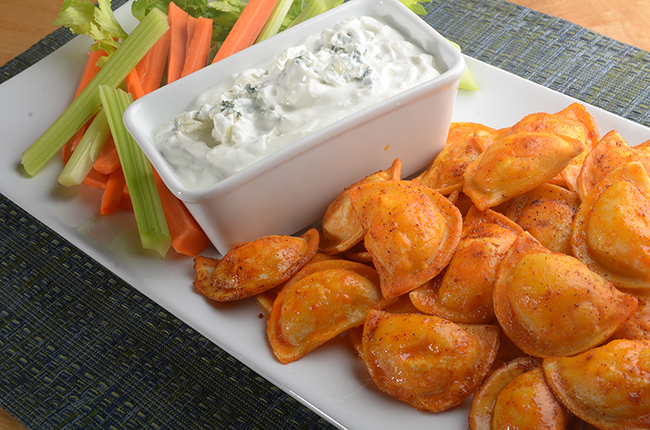 Prep Time: 5 minutes Cook Time: 16-18 minutes Servings: 4
1 (12.84-ounce) box Mrs. T's® Mini Classic Cheddar Pierogies Non-stick cooking spray 1 cup olive oil ½ cup hot pepper sauce ½ teaspoon chili powder 1 Blue cheese dressing Carrot sticks Celery sticks
Preheat oven to 400ºF.
Combine oil, hot sauce and chili powder; toss with frozen pierogies. Coat a baking sheet with non-stick cooking spray and spread pierogies evenly on the baking sheet. Bake at 400ºF for 16 to 18 minutes or until pierogies are puffed and browned. For best results turn over once, halfway through bake time.
Serve with blue cheese dressing, carrots and celery.
Kung Pao Pierogies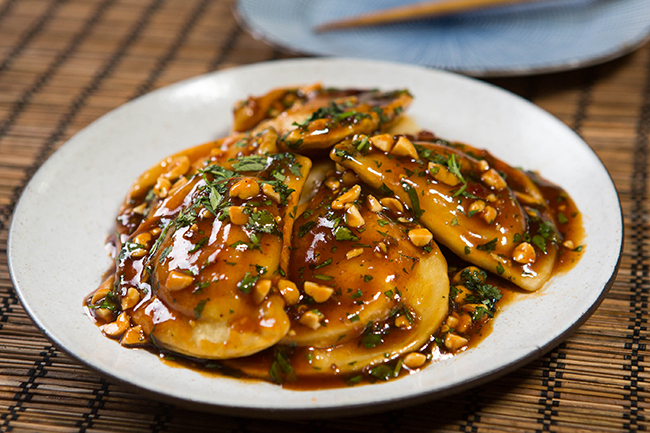 Prep Time: 3 minutes Cook Time: 17 minutes Serves: 4
1/2 cup prepared Kung Pao sauce 3 tablespoons sweet chili sauce 1 tablespoons sriracha 1 tablespoon oyster sauce 3 tablespoons crushed peanuts 3 tablespoons cilantro, finely chopped 2 tablespoons canola oil 1 (16-ounce) box Mrs. T's Classic Onion Pierogies
In a large bowl, whisk together Kung Pao sauce, sweet chili sauce, sriracha, oyster sauce, peanuts and cilantro until thoroughly combined. Set aside.
Heat oil in skillet over medium high heat. Add frozen pierogies; turn occasionally until golden brown, approximately 8 minutes on each side.
In skillet, pour sauce over pierogies and toss to coat, about 1 minute.
Pierogies Pad Thai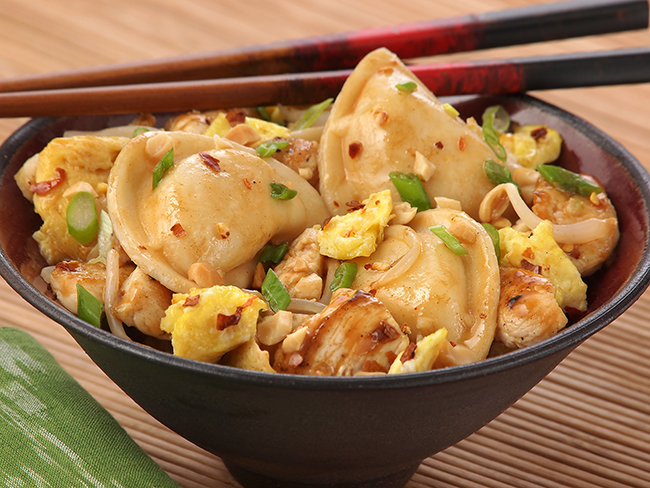 Prep Time: 10 minutes Cook Time: 15 minutes Serves 4
1 (12.84-ounce) box Mrs. T's® Mini Four Cheese Medley Pierogies 1 tablespoon butter or margarine 2 large eggs, beaten 1 tablespoon peanut oil 1 large garlic clove, minced 1 pound boneless, skinless chicken breasts, cut into thin slices 1/2 teaspoon salt 1/4 teaspoon red pepper flakes 1/2 cup peanut sauce 1 cup bean sprouts 1/4 cup chopped peanuts 2 scallions, thinly sliced
Boil frozen pierogies as package directs. Drain.
Meanwhile, in 12-inch skillet over medium-high heat, melt butter; cook eggs until just scrambled, stirring constantly. Remove to bowl.
In same skillet, heat peanut oil; over medium heat, cook garlic until lightly browned. With slotted spoon, remove garlic to bowl with eggs.
In drippings remaining in skillet over medium-high heat, cook chicken until well browned and cooked through, stirring constantly. Add salt and red pepper flakes.
Stir in egg mixture, peanut sauce, bean sprouts and cooked pierogies. Toss to mix well. Garnish with chopped peanuts and scallions.
Pierogy Pizza
Prep Time: 10 minutes Cook Time: 20 minutes Serves: 4
1 (16-ounce) box Mrs. T's® Savory Five Cheese Blend Pierogies 1/2 cup prepared marinara sauce 1/4 cup sliced pepperoni 1/3 cup shredded Mozzarella cheese
Boil frozen pierogies as directed on box. Drain.
Preheat oven to 400ºF. Grease 10- or 12-inch pizza pan. Arrange 2 pierogies in center of pan, straight sides slightly overlapping. Arrange remaining pierogies around center pierogies, in concentric circle, slightly overlapping, pressing pierogies together to form a complete circle.
Spread marinara sauce on top of pierogies to cover; arrange pepperoni on top. Sprinkle with cheese. Bake 10 minutes or until cheese is melted and pierogies are heated through.
Cut into wedges to serve.