9 easy but tasty dishes to bring to a Thanksgiving dinner when you're a bad cook
Whether you're celebrating a more traditional Thanksgiving with family or enjoying a Friendsgiving with your closest peeps, it's always nice to bring a dish to share at Thanksgiving dinner.
I always have a challenging time figuring out what to bring as I'm not the most-skilled cook (i.e. my go-to hostess gift is usually chocolate chip cookies and a bottle of wine).
But don't let the plethora of picture-perfect Bon Appétit Instagram posts kill your vibe. Here are 9 super delicious Thanksgiving dishes that you can definitely make without burning down the kitchen.
Baguette with Cream Cheese and Chili Jelly
This is the easiest and tastiest appetizer, to be quite honest. I'm sure this recipe exists in various forms, but I'm going with my fave tried and true recipe from so many family dinner parties. It's delicious with a kick, thanks to the chili jelly — and you'll probably want to eat more than one baguette.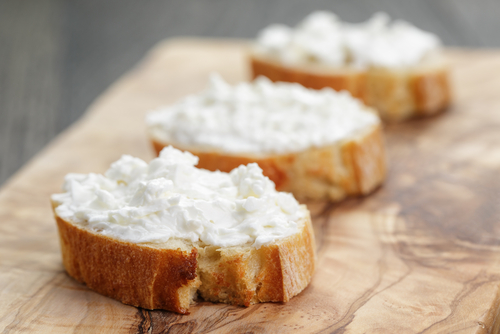 You'll need…
One French baguette (thinly sliced)
One packet of cream cheese
Spread cream cheese on a slice of the baguette with a dollop of hot pepper jelly on top. Repeat.
Sauteed Kale with Garlic and Red Onions
Recipe from: Tom Valenti, Country Living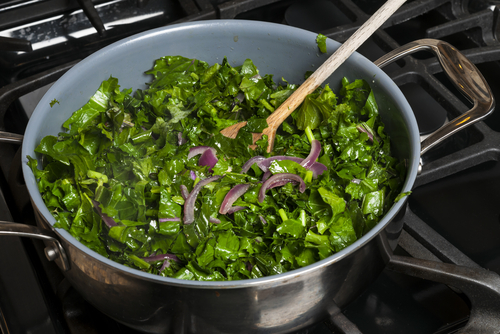 I'm not sure if kale has peaked but I'm still a huge fan. Tom Valenti from Country Living provides a great (and easy) way to prepare it. Toasted pine nuts add smokiness and texture to this straightforward dish. And another bonus? There are only two steps to the recipe.
A Trader Joe's Thanksgiving Salad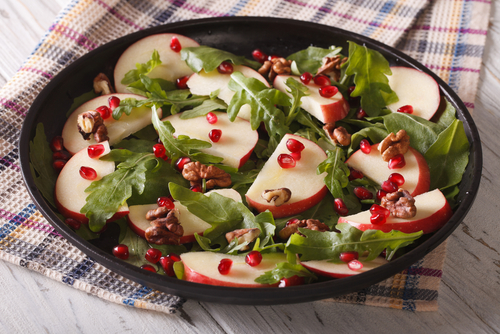 Note: The recipe for this salad is from a good family friend. Thank you for making a salad that I could probably eat every single day.
This salad is a dream and you can find all the ingredients at tried-and-true Trader Joe's. I promise that your fellow Thanksgiving guests will be like "Omg! I need the recipe for this salad." It's just that good.
You'll need…
One bag of Trader Joe's butter leaf lettuce
Crumbled goat cheese
Pomegranate seeds
1 thinly sliced green apple
Trader Joe's Sweet and Spicy Pecans
Toss butter leaf lettuce and green apple slices. Top with crumbled goat cheese, pomegranate seeds, and sweet & spicy pecans. For the dressing, mix equal parts lemon juice and olive oil, a teaspoon or so of Dijon mustard, and salt and pepper to taste.

Roasted Brussels Sprouts
Recipe from: Ina Garten, Food Network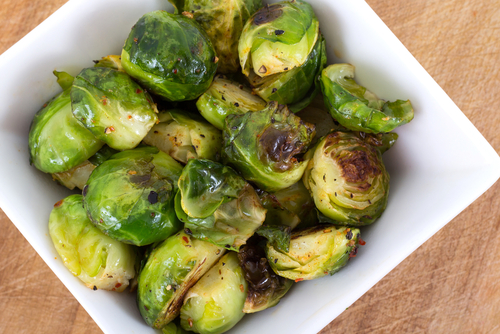 Like kale, brussels sprouts are having a moment. And for good reason! Ina Garten's recipe literally only involves cutting up the sprouts and then mixing them with olive oil, salt, and pepper. How easy is that? This is a great dish to make not only at Thanksgiving, but year-round.
Green Onion Parker House Biscuits (a.k.a. G-Ma's Amazing Apps)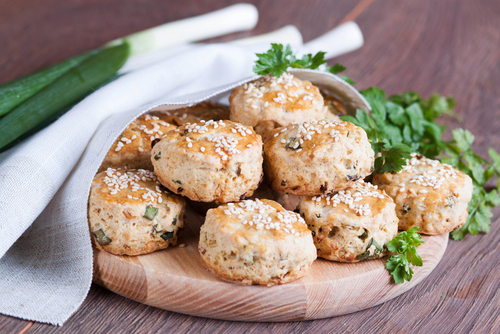 When I imagine comfort food, I often think about these biscuits (and how I could eat all of them). Every Thanksgiving, my mom prepares these small delights from a recipe my Grandma wrote down many moons ago. Cheese, buttery biscuits, and green onions? Yes please. You'll also get to pop open the Parker House biscuit casing, which is always fun/scary.
You'll need…
Refrigerated Parker House biscuit dough
One container of Boursin garlic and herb cheese
¼ cup of sliced green onions
1 egg yolk
2 tablespoons of parmesan cheese
Preheat oven to 400°F. Mix Boursin cheese with green onions. Unwrap biscuits and split each open with a knife. Place onto a cookie sheet. Spread the cheese mixture inside the open biscuit and close. Beat egg yolk and a bit of water together. Brush top of biscuits with egg/water mixture. Sprinkle the top of biscuits with Parmesan cheese and remaining green onions. Bake for 8-10 minutes (or until magically golden brown).
Buttermilk Mashed Potatoes
Recipe from: Martha Stewart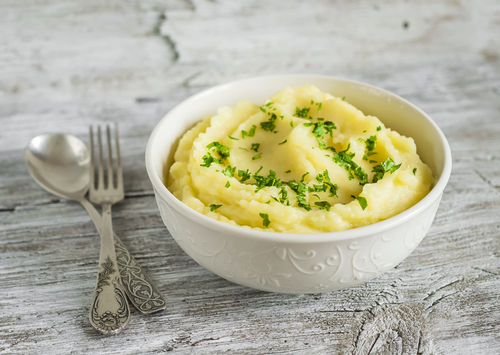 Mashed potatoes are a very real Thanksgiving staple, and Martha isn't messing around. All you need are a few key ingredients: potatoes, buttermilk, butter, and chives. Plus, no one can deny the tastiness of mashed potatoes. They're just that good.
Roasted Cauliflower with Lemon Brown Butter
Recipe from: The New York Times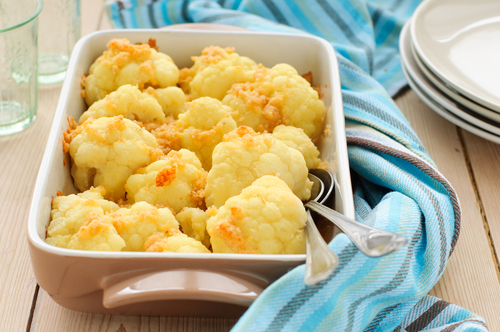 Roasted vegetables are a staple of fall cooking and these are a nice alternative. Maybe you're already a huge fan of cauliflower or maybe you're learning to love it. Either way, this recipe featuring sage leaves, lemon zest and butter will leave you feeling very cozy.
Cherry Surprise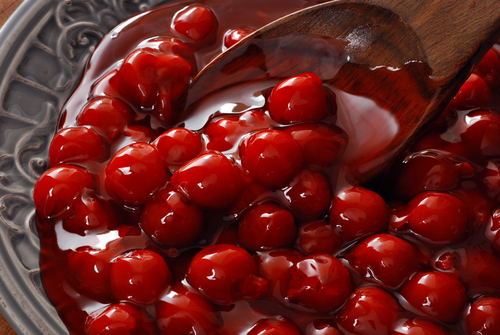 The ingredients of Cherry Surprise are basic — but sooo tasty. This is a dessert that really delivers on its promise of tasting amazing and making zero apologies. Cherry pie filling, butter, and white cake mix? De.li.cious.
You'll need…
2 cans of Comstock cherry pie filling
½ box of any white cake mix
½ stick of butter, melted
Place the cherry filling into square bake pan or in a bread loaf pan. Sprinkle the dry cake mix over top. Drizzle melted butter over top. Bake for one hour at 350°F or until top is golden brown. Add vanilla ice cream if you're feeling very YOLO.
Garlic-Herb Roasted Sweet Potatoes with Parmesan
Recipe from: Cooking Classy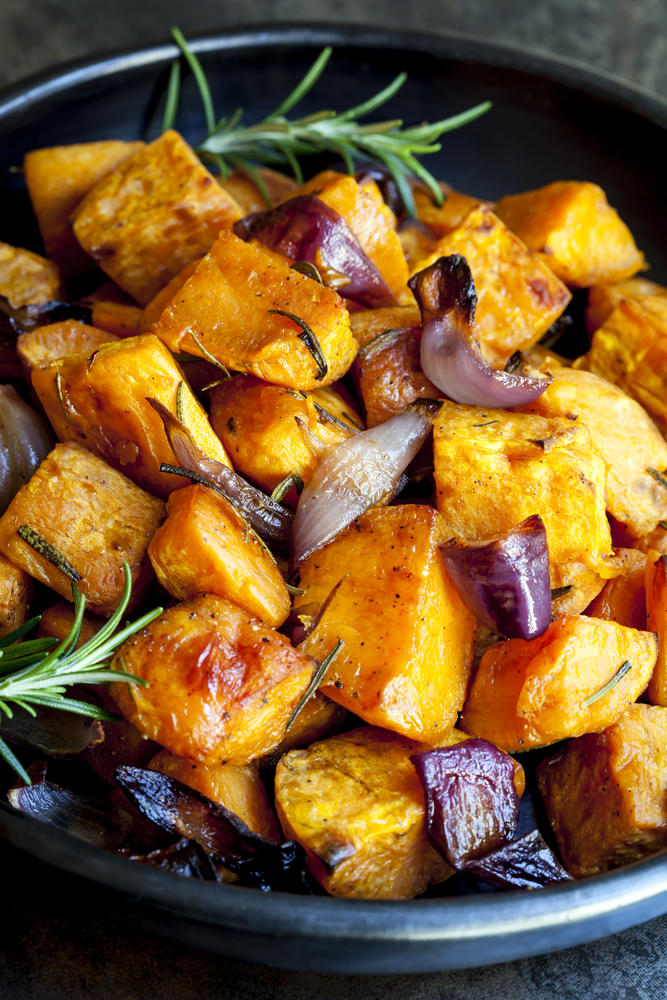 Sweet potatoes are sort of the poster vegetable of fall. Not everyone is a fan, but these will surely be a hit. While sweet potatoes are sometimes prepared with marshmallows on top, these are an updated version for 2016. With a couple herbs (thyme and parsley) and Parmesan cheese to taste, this dish is not only great to look at — but might just leave guests wanting seconds.