10 easy braided hairstyles to try this fall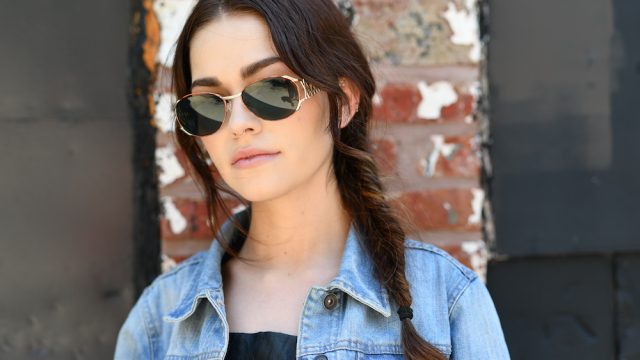 While we love long, luscious hair, sometimes we need it to get out of our faces (and backs and coat zippers). That's where easy braided hairstyles come in. Whether it's simple fishtail braids, gorgeous box braids, or an iconic French braid, the possibilities are endless for creating a unique plaited look every time, and having the added benefit of getting your hair out of the way. Especially as the temperatures start to cool and the humidity dies down, our staticky hair can benefit from a cool braid hairstyle that's easy to achieve. We took to Instagram to find some of our favorite easy braided hairstyles for the season. Rock these simple styles under a cozy hat, with a trendy headband, or as is.
Simple braided hairstyles we promise look harder than they are:
1 Loose, sectioned fishtail braid
A simple fishtail braid gets a whole new look when you section it off and carefully pull each part away from the middle to create a unique textured braid.
2 French braided ponytail
Add a dose of polish to your regular ponytail by flipping your head over and braiding the back of your head all the up to the crown, then tying the rest off with an elastic.
3Textured faux braid
https://www.instagram.com/p/B1kPq3MFvZ4
This cool faux braid is actually made by sectioning off the hair into small ponytails and threading them through one another.
4Double french braid with bow
Tying off two big french braids with a velvet bow screams fall in the most perfect way.
5 Dressed-up braid
Add some pizzaz and dress up a simple, messy braid with barrettes and pins.
6Box braids and loose waves
Hollywood hairstylist Vernon Francois's box braids and loose waves combo on Lupita Nyong'o is gorgeous. You can achieve a similar look by pulling all your hair to one side, braiding it in sections, then tying it off about midway before finishing off the bottom with some waves.
7 Effortless fishtail braid
Tie off a regular fishtail braid using a clear elastic, then wrap a tiny piece of your own hair over it for a natural, flawless braid finish.
8Simple double braids
Hair piercings are a fun way to dress up two regular braids.
9Face-framing braids
Adding two three-strand braids to any hairstyle is such a simple but effective way to amp up your look.
10Braided bun
May we suggest decorating all your buns with a couple of braids from now on?