5 Easter games for adults—because, silly rabbit, this holiday isn't just for kids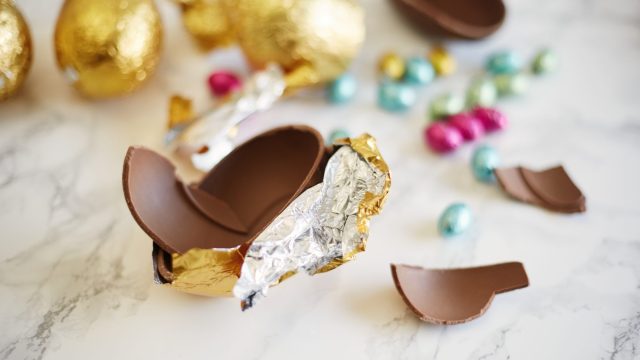 If you feel like Easter isn't quite as fun as an adult, you're not alone. Even if the Easter Bunny still brings you a basket (thanks, mom!), it can be hard seeing kids enjoy the magic of the holiday as they hunt for eggs and get chocolate-drunk while you have to hang with the grown-ups (that is, in years when a pandemic doesn't have us practicing social distancing at home, of course). But there are actually tons of Easter games for adults that are way better than the games you played during the holiday as a kid…mostly because some of them involve alcohol. Even more? You can play them all from the comfort of your home.
There's definitely an adjustment period when it comes to holidays and becoming a full-fledged adult. At some point, you probably found yourself in that awkward stage of not being young enough to take part in the silly kid stuff anymore, but also feeling a little too young to be at the grown-ups table with your grandparents and aunts. But just think of how impressed everyone will be when you whip out a game or two that's totally adult-friendly at your at-home Easter celebration! It doesn't matter how old you are—holidays never have to stop being fun.
Here are five Easter games you and your grown-up friends and family members (or whoever's quarantined with you) can try this year. Who knows? Maybe you'll find an awesome new tradition.
1. Easter Beer Hunt
All you need for this one is a bunch of beers (the exact number depends on how many adults there are), including a "gold beer" that is extra special—plus a small prize for whoever finds it. And considering the fact that so many breweries now sell spring-themed beers, you can get fancy with this game. Even the people who don't leave with a prize still get a six-pack, so everyone wins.
2. A Left/Right Story
You may have played this at a party as a kid, but that doesn't mean the game has to be limited to people under a certain age. The rules are that someone finds a prize and wraps it in wrapping paper, and then reads a story out loud to the group. When the storyteller says "left" or "right," that's the direction the gift gets passed… and at the end of the story, whoever's holding the gift gets to keep it. Suspense, prizes, tons of laughs—sounds amazing, right? If you're not feeling creative enough to write your own story, Party Games Now has a printable one ready for you. This game is super easy and so much fun.
3. An Adult Egg Hunt
Miss doing Easter egg hunts? You can totally adapt them for adults by hiding mini liquor bottles in eggs instead, which is something that your BFFs might appreciate even more than candy. And if you really want to get crazy, you can turn this into a drinking game by having egg hunters drink the mini bottles they find when they find the eggs… and the more eggs they find, the more difficult it's going to be to find the others, because alcohol.
4. The Egg Drop Challenge
This one is super simple—and something you've probably done in science class before—but it has the potential to be a really fun activity. Basically, you're given an egg and have to figure out a way to protect it from a fall using household items… and then drop it from an elevated area, like a second-story window. If it breaks, you're out. Best of all, this is one activity that both children and adults can take part in, with the little kids and older people working together.
5. The Egg Rolling Game
If you want to make everyone at your party laugh, there's no faster way to accomplish this than by making them get on the floor and roll an egg to the finish line using only their noses. Obviously, the first person to cross that line wins—and it can be wherever you want it to be, making this game as challenging or as easy as you want.
Easter can definitely be fun for adults, and these are just a few ways of making that happen. Besides, if you set up these games for your family and friends, there's no way you won't impress everyone at your gathering. Better start stuffing those eggs!