Google Doodle celebrates Earth Day with a special message from Dr. Jane Goodall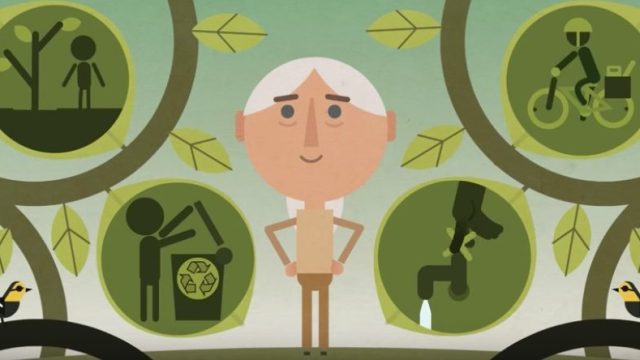 Dr. Jane Goodall has an important message to share this Earth Day, April 22nd. If there's anyone whose advice you should listen to on Earth Day, it's probably her, considering Goodall spent decades living in the jungle with chimpanzees in Tanzania for her groundbreaking wildlife research. In today's special Earth Day Google Doodle, Goodall tells the story of a life-changing experience she had while living amongst chimps.
"There was one moment when I was in Gombe National Park, and it began to pour with rain," Goodall says in the video on Google's homepage. "And then the rain stopped, and I could smell the wet hair on the chimpanzees, and I could hear the insects singing loudly, and I just felt absolutely at one. And it was a sense of awe and wonder," she said.
While in science classes, most kids learn about about ecosystems like the jungles in which Goodall lived. We were taught how even the tiniest tree ants have a role in creating the landscape, just as  Goodall describes. So, then, it only makes sense that humans are significantly involved in creating — and changing — their environments. That message has a profound significance on Earth Day, when we all take stock in our potential contributions to climate change.
Goodall's Earth Day message is powerful, but Google Doodle's animation makes its fun at the same time.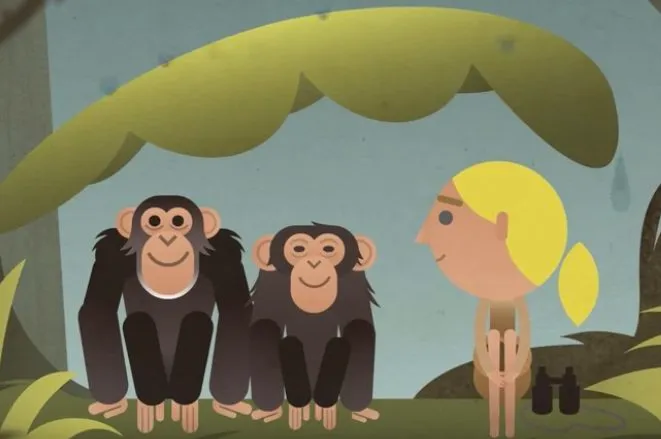 In the video, we see a young Jane grow up and play with different animals, which is pretty adorable. Towards the end of the animation, Goodall asks viewers: "What better day than Earth Day to really make a determined effort to live lives in better harmony with nature?"
Even though Goodall's video is about treating the planet better, it also serves as a reminder of our interconnectedness.
"Every single individual matters, every single individual makes some kind of impact on the planet every single day," Goodall says. "And we have a choice as to what kind of difference we're going to make."
There are plenty of ways to help fight for the environment, and if you're feeling inspired by Goodall — and how could you not? — it's a great time to join the fight against climate change.
Check out Goodall's Earth Day message in full below:
https://www.youtube.com/watch?v=q8v9MvManKE?feature=oembed
How are you celebrating Earth Day?