28 Movies From the Early 2000s We're Re-Watching ASAP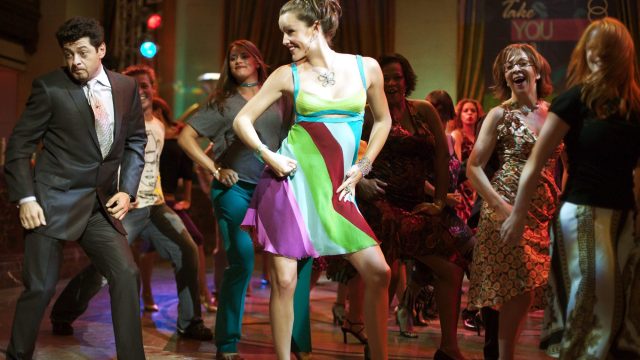 Some movies just take you back. For us, nothing beats the nostalgia of a classic early 2000s flick. Made in the time of flip phones and clunky iPod classics, Juicy Couture tracksuits, and Lancôme Juicy Tube lip glosses, these movies embrace all the best parts of the new millennium. Sure, they may make a us feel a little old (yes, 13 Going on 30 came out a full 16 years ago), and yes, a lot of them are lacking the kind of diversity we need to see more of in film, but in many ways, they make us wistful for the time that was known as the rom-com boom.
From must-see romances like The Notebook to quippy, quotable, female-lead films like Mean Girls and Legally Blonde, in our opinion, the best part about these feel-good flicks is that they're the kind of movies you can watch over and over again. That's why we compiled a list of 28 early 2000s movies (in chronological order) for the next time you need something to watch. If you're not already feeling nostalgic, we promise you will be by the end of this list.
1. Almost Famous (2000)
When a teenage journalist is offered the chance to follow an up-and-coming band and write about the experience for Rolling Stone magazine, his eyes are opened to an entirely new world. The film might be 20 years old, but its critical acclaim (and Kate Hudson's hilarious, over-the-top performance) still holds up. 
2. Love & Basketball (2000)
Love & Basketball is one of those epic early-2000s love stories that you could watch over and over again. Directed and produced by Gina Prince-Bythewood, it tells the story of two childhood friends who share the same passion and talent for basketball. It spans their lives as they both try to make it to the big leagues, despite their backgrounds leading them down diverging paths.
3. Erin Brokovich (2000)
Julia Roberts plays real-life environmental crusader Erin Brockovich in this smart, thoughtful, and funny legal drama. It tells the story of Brockvich's inspiring fight against the Pacific Gas and Electric Company after a groundwater contamination incident affected the community. Roberts ended up winning the Academy Award for Best Actress for this one, so if you haven't seen it yet, it's definitely worth a watch.
4. Miss Congeniality (2000)
Who can forget the iconic makeover of Sandra Bullock as she goes from gorgeous special agent Gracie Hart to bona fide beauty queen at the Miss United States pageant in this comedy classic? It's hilarious and insanely quotable, prompting an equally funny sequel just a few years later. 
5. Bring It On (2000)
All hail Kirsten Dunst, Eliza Dushku, and Gabrielle Union for this cult classic cheerleading movie that made us all want to enter into the world of competitive cheer. Whether you choose to root for the Toros or the Clovers, the epic girl-squad feud never gets old. We bet you can recite the opening cheer right now. 
6. Legally Blonde (2001)
Because of Legally Blonde, Reese Witherspoon will always be Elle Woods to us. As the sorority girl who gets accepted into Harvard Law in an attempt to win back her ex-boyfriend (but ends up ditching him to learn about herself instead), she became the kind of feminist icon we can all get behind. Legally Blonde 2 chronicled Elle's journey to D.C., and a third movie has been confirmed. What, like it's hard?
7. Bridget Jones's Diary (2001)
If you're looking for a relatable protagonist, Bridget Jones is about as down-to-earth a character as they come. Renée Zellweger delights as the chaotic, flawed, and oh-so-lovable Jones, who keeps a diary of all things she wants to happen in her life (don't we all?). Her messy, unpredictable life then changes when two men (Hugh Grant and Colin Firth) vie for her affection. The movie is perfectly imperfect, just like Jones herself.
8. The Wedding Planner (2001)
Jennifer Lopez's first-ever romantic comedy is absolute gold. She plays a successful, ambitious wedding planner who is saved from an accident by the kind of stand-up guy she's dreamed of (Matthew McConaughey), only to find out she has been hired to plan his wedding—to another woman. It's charming, hilarious, and full of early 2000s iconic fashion. 
9. The Princess Diaries (2001)
Anne Hathaway's transformation from awkward, 16-year-old outcast to glam Genovian princess just may be one of the best makeover scenes of the early 2000s, but that's not the only thing that makes this movie so great. The film adaptation of Meg Cabot's books is every girl's dream. When Mia (Anne Hathaway) discovers she is heir to the throne of Genovia (a fabulous made-up country), she undergoes her grandmother's (Julie Andrews) strict royal boot camp. Along the way, she learns how to speak up and stand her ground against high school bullies. The sequel, Princess Diaries 2, is just as good.
10. Barbershop (2002)
This old-school comedy-drama details a day in the life of a barbershop on the south side of Chicago and is filled with plenty of laughs and lots of heart. Seeing an all-Black cast in the early 2000s was important, and producer George Tillman Jr. said he wanted to portray the Black community in a more positive and three-dimensional light than other Hollywood films had at that time. It's the first in a series of sequels and spin-offs and well worth the watch.
11. Crossroads (2002)
Head on the road with Lucy (Brittney Spears) and her childhood friends Kit (Zoe Saldana) and Mimi (Taryn Manning) as they embark on an adventure of a lifetime during a spontaneous cross-country road trip. Fun fact: This movie was written by Shonda Rhimes before her Grey's Anatomy fame, so you know it's good.
12. My Big Fat Greek Wedding (2002)
The early-2000s sleeper hit is the kind of movie that continued to grow in popularity way after its initial release. It follows 30-year-old Fotoula "Toula" Portokalos (Nia Vardalos), a Greek American woman who falls in love with a non-Greek American man (John Corbett). When the two decide to marry, he must learn to assimilate with her loud, over-the-top Greek family in a series of events that are comedic genius. This movie will still make you laugh out loud. 
13. The Lizzie McGuire Movie (2003)
If you grew up watching Lizzie McGuire (which, thankfully, you can now rewatch on Disney+), The Lizzie McGuire Movie was literally what dreams are made of. When Lizzie (Hillary Duff) is mistaken for an Italian pop star on her middle school graduation trip to Rome, she steps into a life in the limelight and meets singer Paolo, who shows her the way. We dare you to watch the final duet and not sing along—the songs in this movie are absolute bops.
14. Bend It Like Beckham (2003)
Jesminder "Jess" Kaur Bhamra (Parminder Nagra) and Juliette "Jules" Paxton (Keira Knightley) are two feisty and ambitious soccer players with dreams of winning big on the field. But for 18-year-old Jess, who goes against her parents' wishes not to play soccer since she is a girl, it's a bit more complicated. Bend it Like Beckham is a smart story of female friendship, talent, and compassion, told with a dose of social commentary. 
15. Freaky Friday (2003)
Who could forget this mother-daughter body-swap comedy that's based on Mary Rodgers' 1972 novel of the same name? When mom Tess (Jaimie Lee Curtis) and her rebellious teenage daughter Anna (Lindsay Lohan) have their bodies switched by a mysterious Chinese fortune cookie, the two have one goal: to switch themselves back. Until then, they're forced to trade places—finding greater understanding and appreciation for one another in the process. 
16. How To Lose a Guy in 10 Days (2003)
Kate Hudson plays women's magazine writer Andie Anderson in this rom-com classic. When tasked to write an article called "How to Lose a Guy in 10 Days," Anderson sets out to start dating a guy and eventually drive him away using all the "classic mistakes women make," which, TBH, are all pretty cringe-worthy. Along the way, she meets charming advertising exec Ben (Matthew McConaughey), and, well, let's just say things don't go as planned. We still dream about that yellow dress and diamond necklace at the end.
17. Mean Girls (2003)
One of the biggest, most quotable movies of the decade, Tina Fey's ingenious Mean Girls may have gone on to become a Broadway musical, but it got its start as a snarky high school coming-of-age comedy that, in our opinion, is always due for a rewatch. When Cady Heron (Lindsay Lohan) infiltrates the most popular girl squad in school, The Plastics, she learns about all their scheming, insecure tactics to stay on top. It's SO fetch. 
18. Love Actually (2003)
No holiday season is complete without a viewing of this British rom-com favorite. The movie follows ten separate stories and a slew of beloved actors (think: Keira Knightley, Hugh Grant, Colin Firth, and Emma Thompson, to name a few) as each one shows a different kind of love during the holidays. All the stories are linked in some way, and everyone who's seen it has a favorite. If you're looking for a movie that will give you that warm, fuzzy feeling, this one's it. 
19. 13 Going on 30 (2004)
Thirteen-year-old Jenna Rink (Jennifer Garner) wants to grow up and become popular—probably too much. After being humiliated at her teenage birthday party, she wishes to become "30, flirty, and thriving," and with a sprinkle of some magic dust, her wish comes true. Next thing she knows, she's woken up 17 years later and must grapple with her new adult life—and it's not the fantasy she thought it'd be. We love this one for Jennifer Garner's ebullient acting, killer Thriller dance moves, and memorable one-liners.
20. The Notebook (2004)
Based on a novel by Nicholas Sparks (so you know it brings the romance), this classic boy-meets-girl love story is full of twists, turns, and undeniable chemistry between young lovebirds Noah (Ryan Gosling) and Allie (Rachel McAdams) as they navigate their relationship. It's a period piece that takes place in the 1940s and follows the two on their epic love story— throughout disapproving parents, 365 letters, and kissing scenes in the pouring rain. We may have seen it a million times already, but it never gets old.
21. Eternal Sunshine of the Spotless Mind (2004)
If you're looking for more of an offbeat film, this one starring Jim Carrey and Kate Winslet tells the story of two ex-lovers who undergo a procedure to erase their memories of each other to forget their painful breakup. It's a raw yet heartfelt look at relationships and heartache, done in a way that only an early-2000s movie can pull off.
22. Napoleon Dynamite (2004)
While we're talking about offbeat early-2000s movies, we can't forget Napoleon Dynamite. The indie flick became somewhat of a cultural phenomenon at the time, with Jon Heder's deadpan performance and writer-director Jared Hess's hilarious writing as the topics of discussion. It's the story of an awkward high schooler who's weird, funny, and honestly unlike anything we've ever seen—in the best way possible.
23. Pride and Prejudice (2005)
Once again, Keira Knightley rules in this movie adaptation of Jane Austen's acclaimed novel of the same title. She plays Elizabeth Bennet, the headstrong eldest daughter of her parents who feels mounting pressure to marry. When she meets the proud and well-to-do Mr. Darcy (Matthew MacFadyen) and sparks fly, the two must learn to overcome their own pride and prejudice for sake of their love. It's brilliant, well-written, and beautiful to watch, no matter how many times you've seen it before.
24. Wedding Crashers (2005)
Jeremy (Vince Vaughn) and John (Owen Wilson) are divorce mediators who spend their free time crashing wedding receptions to pick up women. But when John develops feelings for a bridesmaid named Claire (Rachel McAdams) at a particularly high-profile event, the two are sucked into something much more complex. This movie is funny and raunchy at times but also manages to serve up maturity, emotional depth, and a sweet love story, making it an all-around winner in our book.
25. The Sisterhood of the Traveling Pants (2005)
Everyone who read The Sisterhood of the Traveling Pants or saw this movie adaptation made it known whether they were a Bridget (Blake Lively), Carmen (America Ferrera), Lena (Alexis Bledel), or Tibby (Amber Tamblyn). The heartwarming story is one of four best friends who are spending their first teenage summer apart: Bridget heads to Mexico, Lena visits family in Greece, and Carmen and Tibby stay closer to home. However, the group is connected by a pair of pants that they take turns wearing and sending to one another—allowing them to strengthen their bond despite being apart. 
26. The Devil Wears Prada (2006)
The Devil Wears Prada is an iconic early 2000s movie thanks in large part to the talents of Meryl Streep as Miranda Priestley, the impossible editor in chief of Runway magazine, and Anne Hathaway as Andy, her lowly assistant. The movie is a tour de force of acting chops and incredible fashion moments. Plus, we never tire of watching Andy navigate the power struggles of media and fashion as she works her way up—or Miranda pursing her lips. That is all. 
27. Dream Girls (2006)
Based on the 1981 Broadway musical and loosely based on the story behind The Supremes, Dreamgirls is a story of greed, talent, and romance. The star-studded cast tells the story of three women—Deena (Beyoncé), Effie (Jennifer Hudson), and Lorrell (Anika Noni Rose)—who want to make it big as pop stars and have to justify what they have to give up in order to get there. Jennifer Hudson nearly steals the show in this one—and she earned an Academy Award for Best Supporting Actress for the role in 2007. 
28. Little Miss Sunshine (2006)
This quirky 2000s hit earned critical acclaim for its epic ensemble cast and the original script. It follows the Hoover family as they pile into a VW bus and head to California to support their daughter (Abigail Breslin) in her bid to win the Little Miss Sunshine contest. It's definitely odd at points, but it's the kind of odd family dynamic that's as relatable as it is hilarious. It's the kind of "woke" storyline that was probably ahead of its time.