E. Jean Carroll is suing Donald Trump for defamation after he denied her sexual assault allegation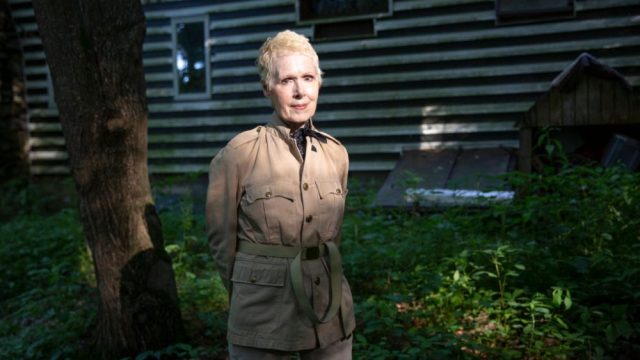 This post discusses sexual assault and rape allegations.
Update, November 5th, 9:30 a.m. ET: In June, venerated columnist E. Jean Carroll accused Donald Trump of sexually assaulting her in the mid-'90s. In her book What Do We Need Men For? A Modest Proposal, Carroll writes that Trump assaulted her in a Bergdorf Goodman dressing room in New York and that she told two friends immediately afterward. Since then, those two women have come forward to publicly corroborate her account.
Now, after Trump called her a liar in the press—saying that he didn't know her, that she wasn't his "type," and that her accusation was financially motivated—Carroll is suing him for defamation.
"Totally lying. I don't know anything about her," Trump said after New York Magazine published an excerpt from her book in June, according to The Hill. "I know nothing about this woman. I know nothing about her. She is—it's just a terrible thing that people can make statements like that."
The lawsuit states that Trump knew his public responses were false.
"Trump knew these statements were false; at a bare minimum, he acted with reckless disregard for their truth or falsity. Trump had recognized Carroll on sight at Bergdorf Goodman," the lawsuit says.
It continues: "He knew who she was when he raped her, and he knew who she was in 2019. After he lied about attacking her, he surrounded that central lie with a swarm of related lies in an effort to explain why she would invent an accusation of rape. To do so, he smeared her integrity, honesty, and dignity—all in the national press."
Carroll spoke out on Instagram about the lawsuit and why she filed it.
"I am filing not just for me but for every woman who's been pinched, prodded, cornered, felt up, pushed against the wall, grabbed, groped, assaulted, and had spoken up only to be shamed, demeaned, disgraced, passed over for promotion, fired and forgotten."
The lawsuit was filed Monday, November 4th, in the New York Supreme Court.
Original post, June 25th: More than a dozen women have accused President Donald Trump of sexual assault or harassment over the course of the last few years, and on June 21st, journalist and former advice columnist E. Jean Carroll alleged that he raped her. Trump has now dismissed Carroll's accusations, calling her a liar and arguing that he couldn't have raped her because she was not his "type."
New York Magazine published an excerpt from Carroll's upcoming book What Do We Need Men For? A Modest Proposal in the June 24th issue. In her essay, Carroll claims that Trump raped her in a dressing room in Bergdorf Goodman in New York. She writes that she was 52 at the time and that she told two close friends but was afraid to report the incident to police.
Trump has categorically denied all sexual misconduct allegations against him, and his reaction to Carroll's account was no different. In a statement to New York, the White House wrote that Carroll's story had been "created simply to make the president look bad." Trump then went on to accuse Carroll of lying in a June 24th interview with The Hill, arguing that he didn't rape her because he wasn't attracted to her. (Never mind the fact that rape has nothing to do with attraction.)
"I'll say it with great respect: Number one, she's not my type," Trump said. "Number two, it never happened. It never happened, OK?"
Carroll herself has spoken out about Trump's attempts to discredit her, telling CNN's Anderson Cooper, "I love that I'm not his type."
She went on to point out that Trump has denied every accusation of misconduct against him.
"He's denied all 15 women who've come forward," she said. "He denies, he turns it around, he threatens, and he attacks."
It's worth noting that Trump has used the "not my type" argument before. According to The New York Times, he said that one accuser would "not be my first choice" at a 2016 campaign event. And Twitter users jumped to point out that Trump's argument seemed like an indictment, not a defense.
Some discussed the violent misogyny at work in this "defense." false
And others rightly pointed out that rape is about power, not sex.
It's infuriating to hear the president use misogyny to dismiss rape allegations, but at this point, it's not surprising. Carroll is the latest woman to say that Trump attacked her, but she is far from the first. When are we going to start taking these allegations seriously?
If you have been sexually assaulted, or know someone who has, contact the National Sexual Assault Hotline at 1-800-656-4673. You are not alone.