E. Jean Carroll's friends have publicly corroborated her sexual assault allegation against Trump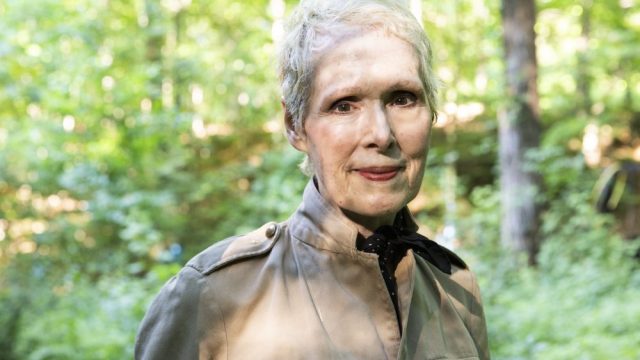 Trigger warning: This post discusses rape allegations.
On June 21st, writer and advice columnist E. Jean Carroll became the latest woman to accuse President Donald Trump of sexual assault or harassment. In an essay published in New York Magazine, she alleged that Trump raped her in Bergdorf Goodman in the 1990s. Trump, as he has done with previous accusations, dismissed Carroll's story, claiming that she wasn't his "type." But now, two of Carroll's close friends have corroborated her account.
In Carroll's essay, she wrote she had told two friends about Trump's assault at the time. New York confirmed this, but the two women initially did not go on the record with their memories of what happened. That is, until today.
On the June 27th episode of The New York Times podcast The Daily, reporter Megan Twohey spoke with Carroll and her friends Carol Martin and Lisa Birnbach, both of whom also worked in media in New York. Both Birnbach and Martin had also met Trump, and Birnbach even interviewed him around the same time as Carroll's allegations. Speaking to Twohey, both Martin and Birnbach corroborated Carroll's account of her conversations with each of them.
Birnbach remembered hearing Carroll's story and laughing at first, until she realized what had happened.
"Honestly, [Carroll] did say, 'He put his penis in me,'" Birnbach recalled. "And I said, 'What? He raped you?'"
She also said that she encouraged Carroll to go to the police, and Carroll refused and told her not to tell anyone. Carroll then drove home and told Martin the same story a few days later. Martin recalled that, unlike Birnbach, she worried that reporting the attack would have negative consequences.
"I said: Don't tell anybody. I wouldn't tell anybody this," Martin said.
Both Martin and Birnbach's recollections line up with what Carroll wrote about their conversations. She stated that the first friend she told "begged me to go to the police," but the second one said, "Tell no one. Forget it! He has 200 lawyers. He'll bury you."
Carroll, for her part, told Twohey that she does not want to be considered a victim. She also pushed back on the description of her attack as rape.
"I have not been raped," she said. "Something has not been done to me. I fought."
With this new, on-the-record corroboration and with the many other women who have accused the president of sexual assault or harassment, it's clear that we can't afford to ignore Carroll's claims. We're sending her—and all survivors of sexual assault—so much strength.
If you have been sexually assaulted or know someone else who has, contact the National Sexual Assault Hotline at 1-800-656-4673.