Dylan Farrow will discuss the sexual abuse allegations against Woody Allen in her first TV interview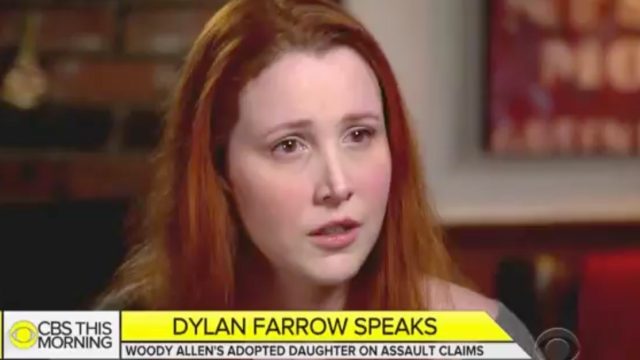 For the first time ever, Dylan Farrow will sit down for a televised interview and discuss the allegations against her adopted father, Woody Allen. In the interview, which will air on CBS's This Morning on Thursday, January 18th at 7 a.m. ET, Farrow is also expected to talk about the #MeToo and Time's Up movements.
"I am credible and I am telling the truth and I think it's important that people realize that one victim, one accuser, matters," she said. "And that they are enough to change things."
CBS released a preview of the interview, which includes Gayle King asking Farrow if she is just trying to "bring Woody Allen down."
"Why shouldn't I want to bring him down?" she replied. "Why shouldn't I be angry? Why shouldn't I be hurt? Why shouldn't I feel some sort of outrage after all these years being ignored and disbelieved and tossed aside?"
When asked why people should believe her now, the 32-year-old says all she can do is "speak her truth."
Farrow first accused her estranged father in 1992 when she was seven years old, claiming he took her into the attic of their home and assaulted her. In 2014, she wrote an open letter reiterating the allegations, which Allen later labeled as "untrue and disgraceful."
Farrow has recently been making headlines for calling out celebrities in the midst of the #MeToo and Time's Up movements. She criticized Justin Timberlake and Blake Lively for speaking out against sexual harassment and abuse despite the fact that they have both worked with Allen.
Keep speaking your truth, Dylan. We look forward to watching the full interview.