Dwyane Wade shared how his and Gabrielle Union's daughter Zaya came out as transgender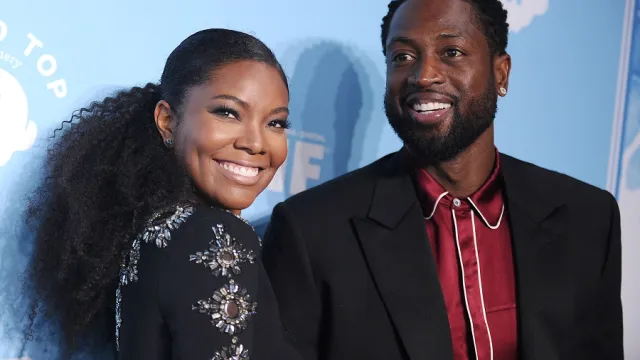 Update, February 11th, 3:05 p.m. ET: This story has been updated to include Gabrielle Union's tweets in support of Zaya and in response to Dwyane Wade's story.
Dwyane Wade and Gabrielle Union have always been public about their unconditional support for all of their children. And today, Wade shared a story on The Ellen DeGeneres Show about how his daughter, and Union's step-daughter, Zaya, came out to him as transgender. The former basketball player also opened up about how he and Union, as parents, have worked to best help and support Zaya in being "her best self."
"First of all, me and my wife, Gabrielle Union, we are proud parents of a child in the LGBTQ+ community, and we're proud allies as well," Wade told Ellen DeGeneres.
Wade explained to the audience and to Ellen that their daughter Zaya "was born a boy." But when Zaya came home and wanted to talk to her father and stepmom, she told them she was "ready to live her truth."
"[Zaya] said, 'Hey, so I want to talk to you guys. I think going forward, I'm ready to live my truth. And I want to be referenced as she and her. I would love for you guys to call me Zaya," Wade said on the show.
After Zaya came out to her parents, Wade said that he told her, "You're a leader. And it's our opportunity to allow you to be a voice."
Less than an hour ago today, Union tweeted out a video for everyone to "Meet Zaya."
"Meet Zaya. She's compassionate, loving, whip smart and we are so proud of her," she tweeted. "It's Ok to listen to, love & respect your children exactly as they are. Love and light good people."
The former athlete said that after talking with Zaya, he and Union got busy finding as much information, resources, and advice as they could in support of their daughter. Union, he said, reached out to the cast of Pose, the FX show that made history by casting the largest number of transgender actors on one TV series.
"We're just trying to figure out as much information as we can to make sure that we give our child the best opportunity to be her best self," Wade said.
Union echoed this sentiment in another new tweet today, thanking everyone for their help as she reached out for information, resources, love, and support.
As it seems clear, Wade noted that he and his wife both take their roles and responsibilities as parents "very seriously." And so, he explained, when any of his children come to him with questions, concerns, or anything, it's his job to "listen to that, give them the best information that we can, the best feedback we can."
"And that doesn't change because sexuality is now involved in it," Wade said. You can watch a clip from The Ellen DeGeneres show, below:
In addition to Zaya, Wade is father and Union step-mother to children Zaire and Xavier, and they have a daughter together named Kaavia. The couple also has custody of Wade's nephew Dahveon. We love to see parents as publicly and privately supportive of their children as Wade is, and we hope he can be a model for other parents as they help their own children become their best selves.
Originally posted Feburary 11th, 11:49 a.m. ET.