Dustin from "Stranger Things" gave Will the most adorable birthday wish
As time goes by it seems like the stars of the Stranger Things – specifically, the kids – just get more lovable. Whether they're making new besties outside the show or talking about important issues, we just can't get enough!
These kids…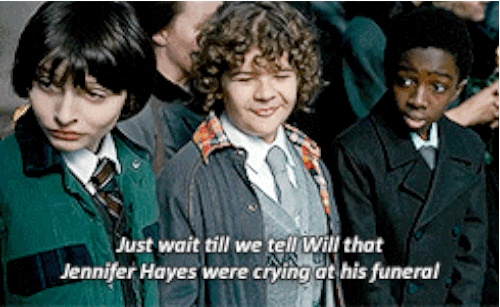 And for his birthday Noah Schnapp (Will), received some truly beautiful messages from his co-stars, including this hilariously perfect one from Gaten Matarazzo (Dustin)…
…aka the world's most adorable curly-haired superstar.
Gaten's message to his Stranger Things co-star and pal says,
I just want to wish Noah a very happy 42nd birthday...
DUSTIN, YOU JOKER, YOU! Nah, in all seriousness, Dustin continues with a very heartfelt message that will make your Stranger Things-loving eyes weep.
...JK! He just turned 12! Though most of you probably knew that I was kidding. I just want to say that you are so talented and you have such sweet kind heart. It has been such an honor working with an amazing kid like you. CAN'T WAIT FOR SEASON 2 BUDDY. Have a great 12th birthday. You deserve it. ❤️✌️
Altogether now: awwwww!
Noah's other Stranger Things co-stars had some lovely messages too.
Like this adorable post by Millie Bobby Brown (Eleven).
https://www.instagram.com/p/BLGbWh8Bl1N
This short and sweet note from Finn Wolfhard (Mike).
And this too cute throwback pick from Caleb McLaughlin (Lucas).
https://www.instagram.com/p/BLGsjNEDHY7
BRB, researching how we can adopt all of these kids, like, RIGHT NOW!!!