We tried Dunkin Donuts' new Sour Apple Coolatta and instantly fell in love with it
The days are getting longer, the sun is getting brighter, and soon you're going to be hot and want to sip something cool and refreshing. There's nothing better than slurping down a Dunkin' Donuts Coolatta, and with Summer quickly approaching, they've just rolled out a brand new flavor: Sour Apple Coolatta.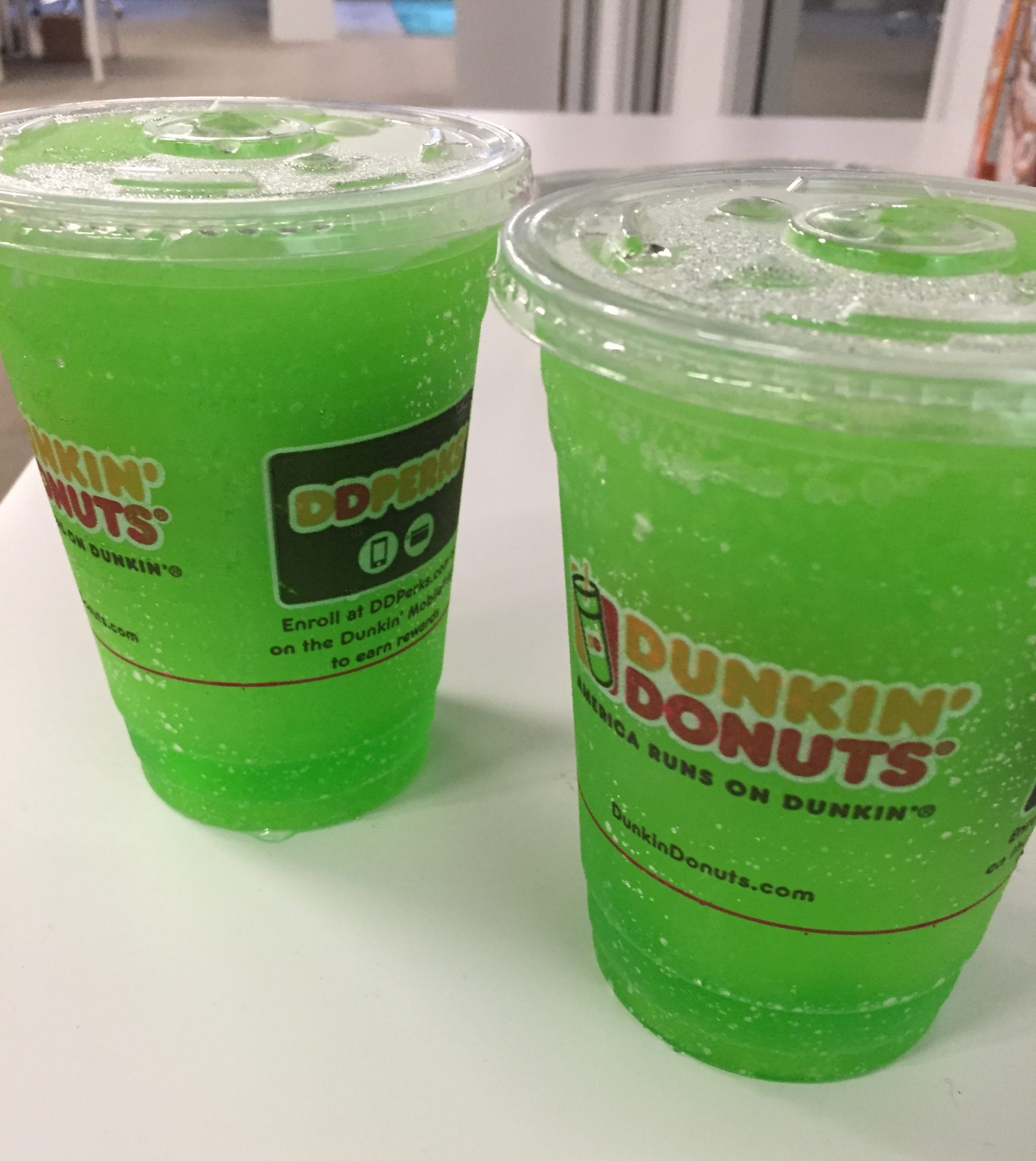 Here at HelloGiggles, we take our Dunkin Donuts beverages (and donuts) very seriously, and there's no time like the present to try out something that's a sweet, delicious, icy drink. Also, in this case, one that's bright neon green (it does not glow in the dark, we tested it).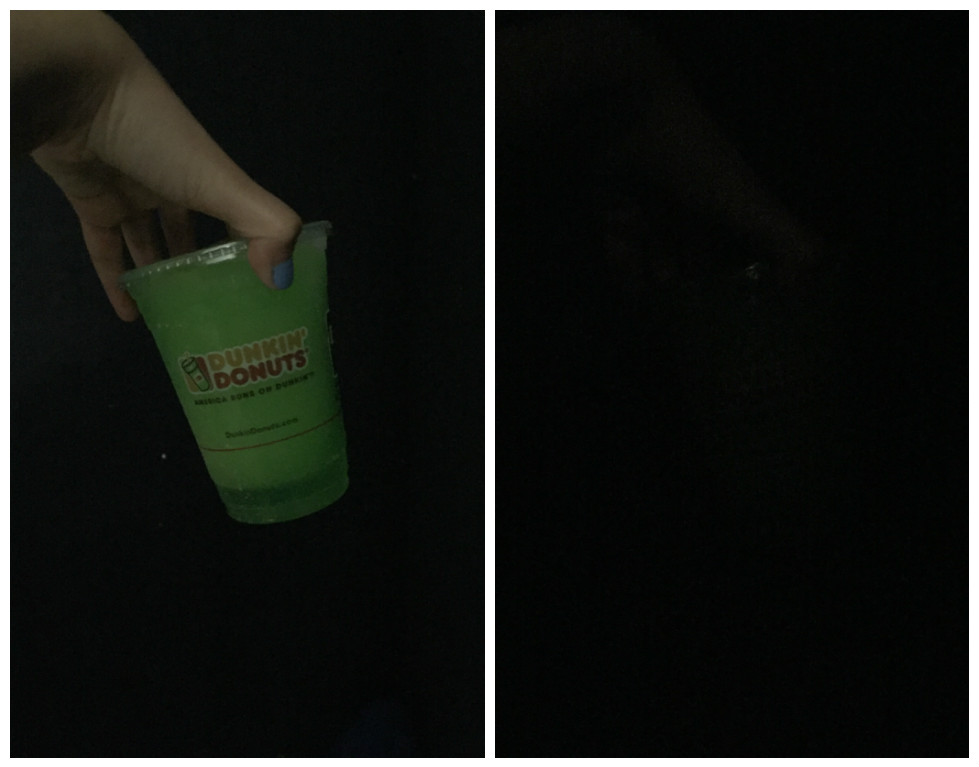 While the bright color was a little off-putting for many, turns out the entire editorial team here wanted to try the drink. There's no caffeine and no milk in the mix, just straight up sour apple flavor. So, what did we all think?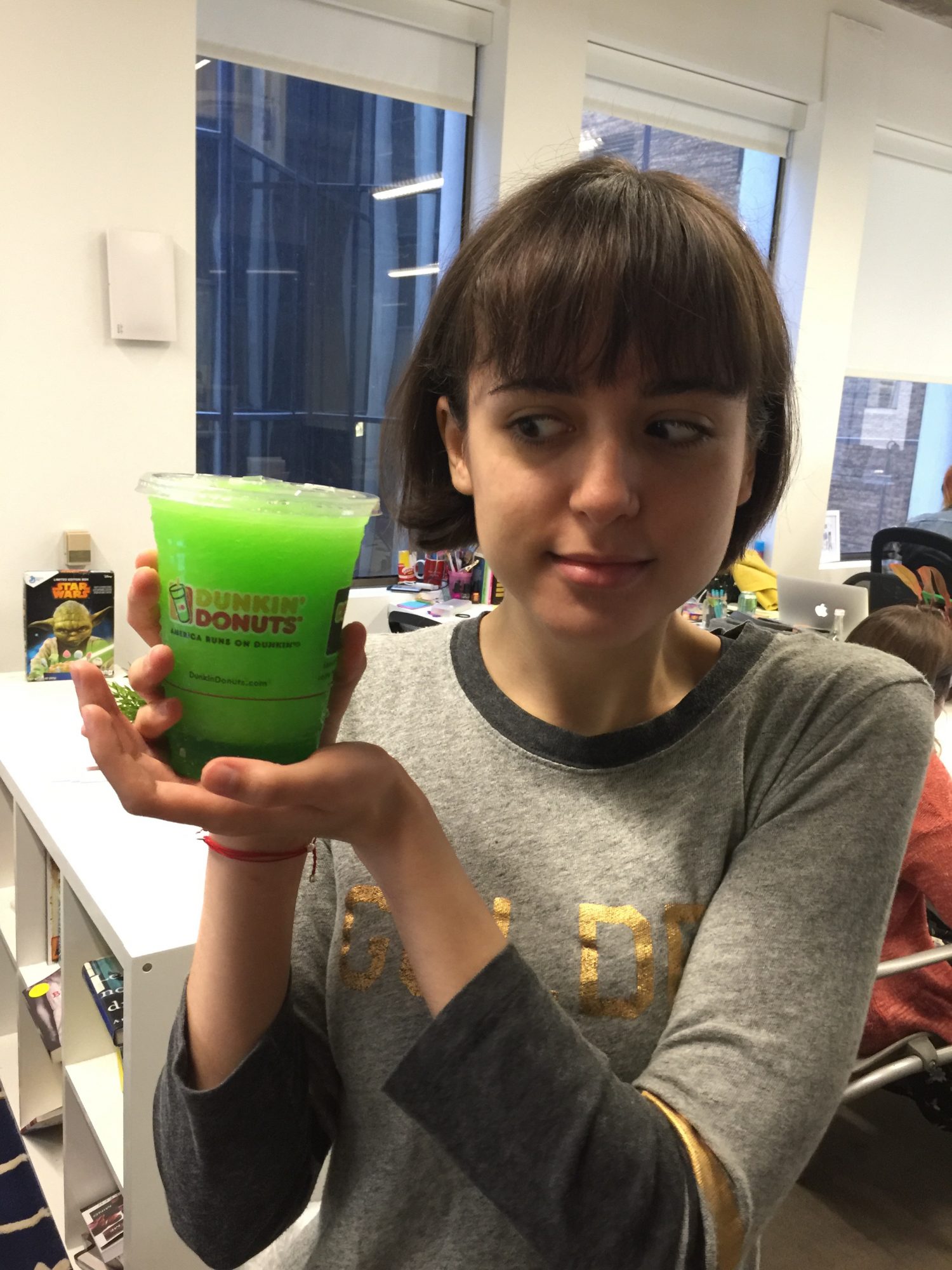 "Though its slime green coloring initially turned me off, I ended up LOVING this drink. Personally, I thought it tasted just like apple juice – so I feel like the apple juice I've been drinking is pretty sour? Overall, I thoroughly enjoyed this refreshing beverage and would purchase it again." -Anna, Staff Writer
"IT TASTES JUST LIKE A GREEN APPLE JOLLY RANCHER!" -Kayleigh, Deputy Editor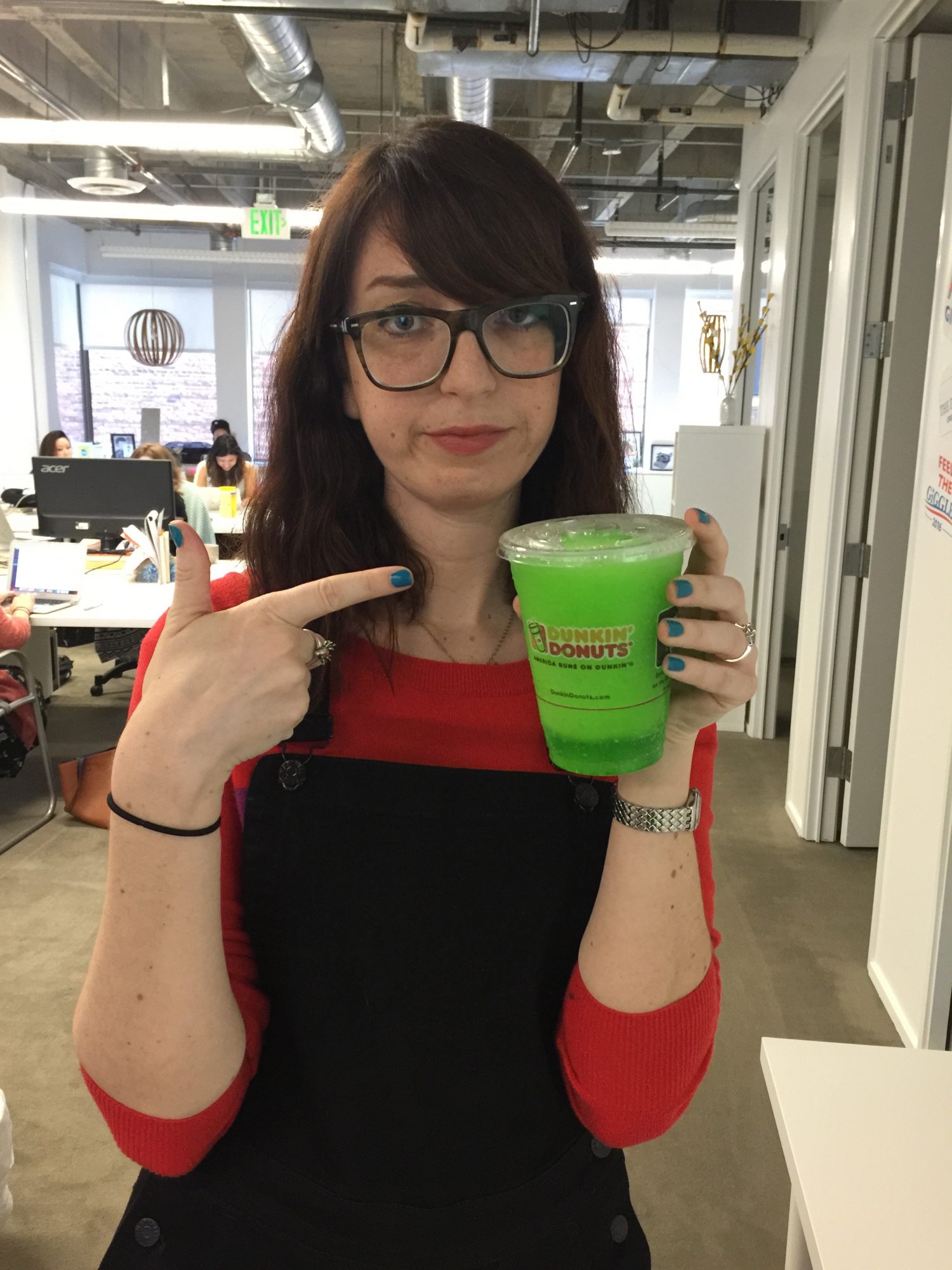 "The coolatta was so refreshing! It was like drinking apple juice mixed in with a few sour apple Skittles. I loved it. A+, Dunkin Donuts!" -Gina, Senior Editor 
"I don't like slurpees or other, I dunno, ice based drinks, so I was bracing myself for ice cold green corn syrup, but it's shockingly NOT THAT BAD. It reminds me of war heads, which is a thing I liked as kid, so the nostalgia aspect was fun." -Madison, Senior Editor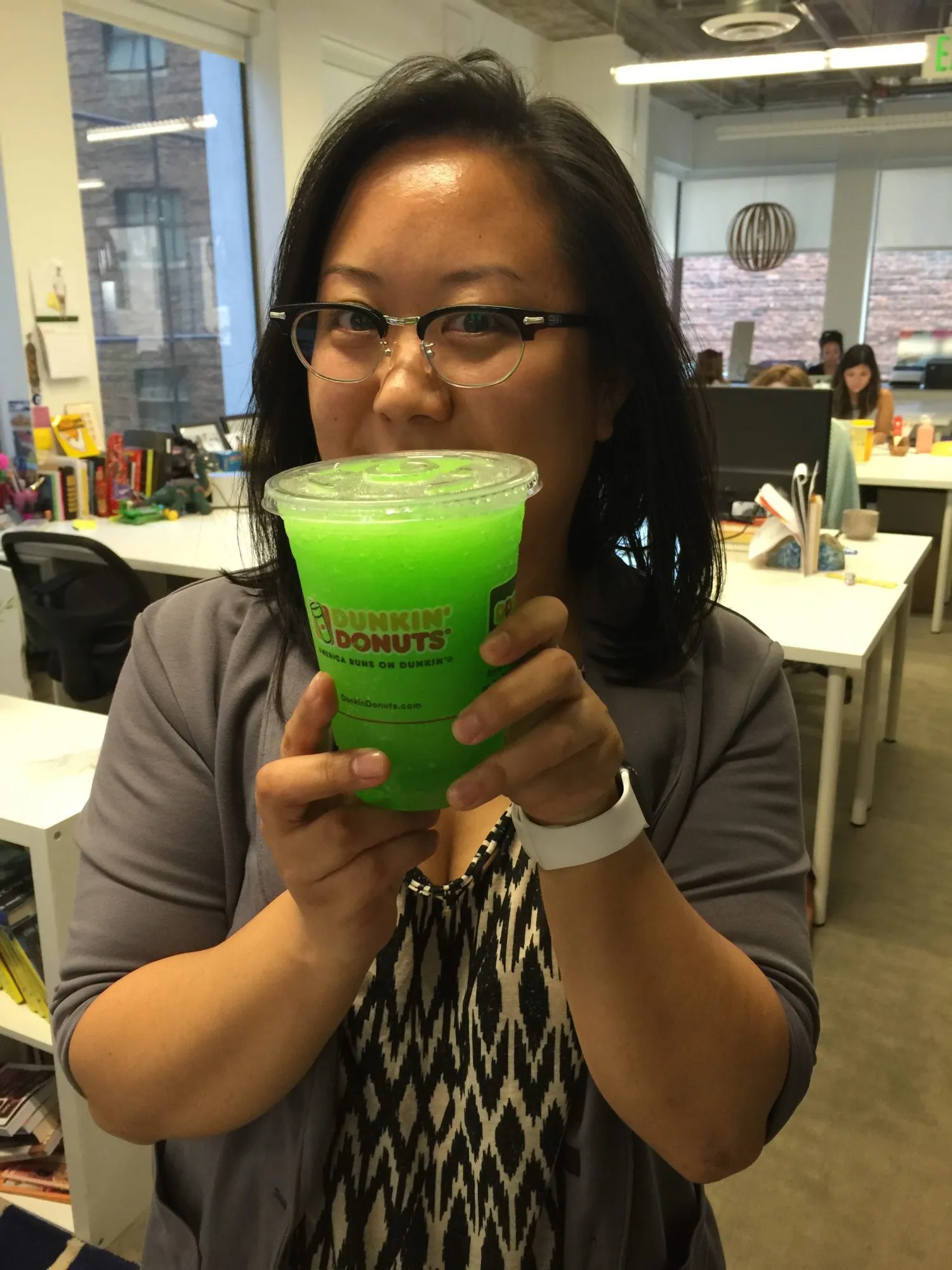 "Honestly? I was pretty shocked that this stuff smelled like apple juice. Like, this green Ectoplasm colored liquid in no way should smell like a bottle of Martinelli's… but it totally does! The flavor, however, was about what I expected, which was pretty much liquid candy (specifically, a green Jolly Rancher). I wouldn't go so far as to say it was bad, but I didn't finish my cup. So…" -Crystal, Senior Writer
"This tasted like a liquified version of sour gummy worms — but in a good way! It was the perfect balance of sweet and sour. I expected it to be super sweet so this was the perfect level." -Marie, Staff Writer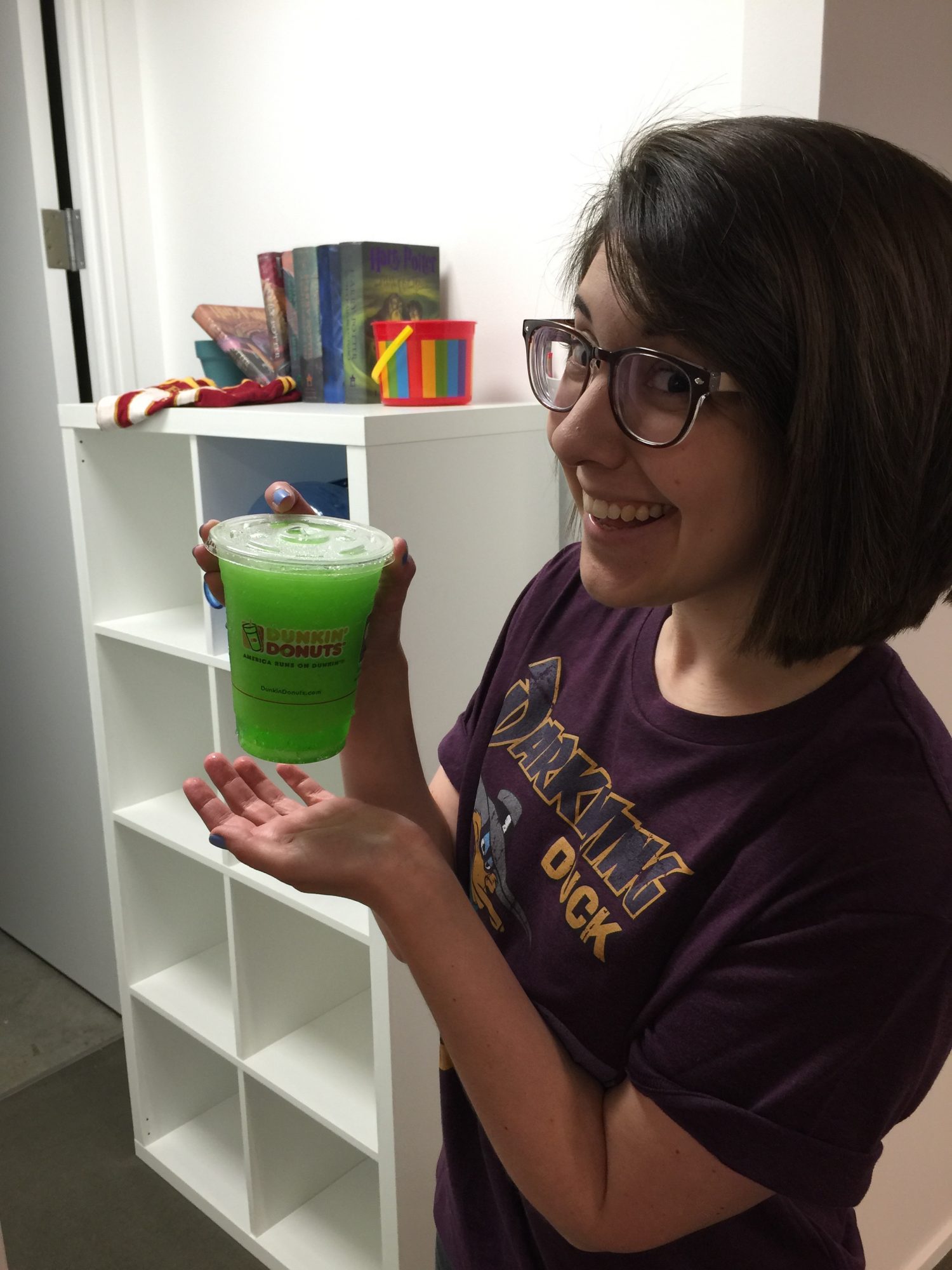 "Was the color weird? Yes. Did I get some weird looks walking back to the office holding two of them? Yes. But was it worth it? YES. It's not 'sour' whatsoever, and I don't know if that's a good thing or not. But it tastes just like a frozen apple juice, and I'm a big big fan." -Rachel, Staff Writer
[Went out on a cool HG video assignment, and was not available for a review, but drank all of the Coolatta and didn't seem repulsed by it] -Christina, Video Producer Verdict?
It was good!! None of us were really sure what to expect, so the fact that we came away with positive experiences with the drink, and some of us would totally order it next time, is a good thing. America runs on Dunkin', and so does HelloGiggles.