Dunkin' Donuts has been reducing its menu, and we didn't even get to say our goodbyes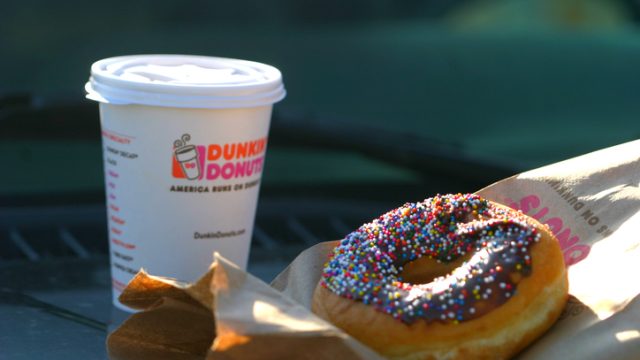 Even if you're more of a Starbucks person, you can't deny that Dunkin' Donuts is a serious staple. Chances are you've stopped in for an on-the-go breakfast at least once in your lifetime. Sure, it's not the same as a life-changing bodega sandwich, but Dunkin' food is comforting, reliable, and consistent. Until now...
Sadly, Dunkin' Donuts is decreasing its menu offerings. That means you need to kiss some of your favorite DD treats goodbye, probably forever. Plenty of menu staples are sticking around though, so perhaps we are being slightly dramatic. But still! This hurts.
According to Boston.com, Dunkin' has been slowly but surely rolling out what they call a "simplified menu" — and what we call a "fine, just break our hearts, why don't you?" menu — for months. Yeah, it's been happening right under our noses all this time. The publication reports that stores nationwide will feature the fully revamped menu by March 2018, so depending on where you live you might still have time to say your goodbyes.
The good news is that this doesn't seem like a major overhaul. The Chicago Tribune reports that most of "the casualties are less popular items and ones that are time-consuming to make." Boston.com has the full list, but some notable entries include flatbreads, strawberry banana smoothies, and tuna sandwiches.
But don't worry — you can still get an egg and cheese.
Dunkin' also pulled the legendary Coffee Coolatta from circulation back in March, but immediately replaced it with something called Frozen Coffee. Maybe they're just making room for some new favorites with these changes?
"On a regional basis, there will continue to be local favorites carried and we can always consider adding items back on a national or regional basis if we see strong demand," a rep for the brand told USA Today.
false
Considering this tweet about the recently axed Big N' Toasted sandwich has close to 1,000 "likes," something tells us not everyone will be thrilled about these changes.