Dunkin' Donuts is rolling out "donut fries" nationwide, and they sound a lot like another dessert we love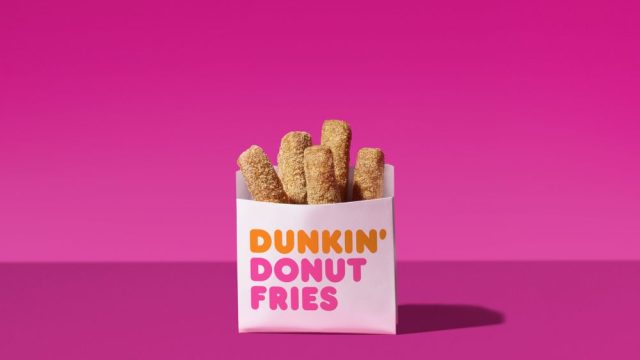 No offense to donuts, but we can probably agree that despite how delicious they are, they're a little difficult to eat while you're driving — without making a giant mess. But if you can't help yourself every time you pull up to the Dunkin' Donuts drive-thru, we have some really good news for you and your wallet. Dunkin' is launching donut fries nationwide, and they're distinctly car-friendly.
According to a press release from the company, starting Monday, July 2nd, donut fries will be available at Dunkin' Donuts across the United States. The company says the test audience for the donut fries loved them so much that Dunkin' decided to expand them to all menus for a limited time. We're not surprised, though, since they sound an awful lot like a dessert we desperately love: churros.
The Dunkin' Donuts website describes the donut fries as "individual pieces of delicious, buttery croissant style donut dough that are tossed in cinnamon sugar and served warm."
Here's what they look like:
And here's our fave state fair snack:
https://twitter.com/udfredirect/status/1011258234483761153
Similar? Yes. Both delicious? Definitely yes.
And lucky for your wallet, Dunkin' Donuts' donut fries are $2 for a five-pack, so you won't be breaking bank when you try these out.
The new snack isn't the only thing Dunkin' is adding to its menu this summer. Also available starting Monday are brown sugar cold brew, which is cold brew made with natural brown sugar syrup instead of artificial flavors, the chocolate coconutty donut (with coconut creme inside and chocolate icing and shortbread cookie crumbles on top), and the shark bite donut, which is topped with shark-shaped sprinkles.
BRB, planning our Monday morning Dunkin' run as we speak.