Dunkin' Donuts now has a galactic cotton candy drink that's sure to make your day out of this world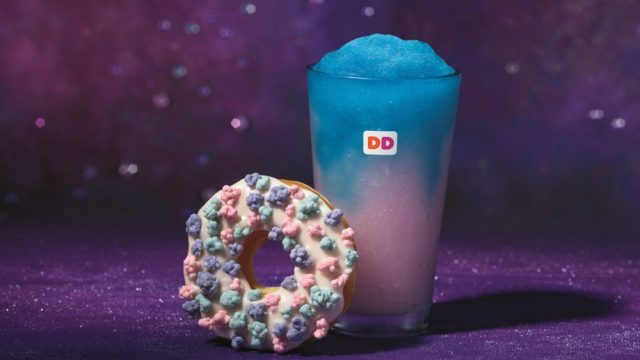 Time and time again, Dunkin' Donuts has proved that they're the gift that keeps on giving, and this summer is no exception. To kick off the season, everyone's favorite donut chain has reached for the stars and unveiled a galaxy-themed menu, featuring two new Coolatta frozen beverages and a limited-edition donut. These new offerings are so colorful and otherworldly, they're totally cooler than Thanos' Infinity Gauntlet. No? Too soon? Sorry.
Introducing the Cosmic Cotton Candy and Cosmic Pineapple Coolattas. If you have a penchant for sweet drinks, the Cosmic Cotton Candy might be right up your alley. It's a cotton candy flavored Coolatta topped with blue raspberry. But if you like pina coladas and getting caught in the rain, you may want to try the Cosmic Pineapple Coolatta, a mix of the new pineapple flavor and blue raspberry.
Meanwhile, the brand-new donut is even more out of this world. Aptly called the Comet Candy Donut, it's a galactic goodie adorned with white icing and spattered with a constellation of pink, blue, and purple cotton candy-flavored popping sprinkles. Sounds like a treat to us.
"Here in the Dunkin' Test Kitchen, it all starts with our guests. Our team works together to listen to consumers and track the next big trends in the food and beverage industry," Courtney Anderson, Research and Development Technologist at Dunkin', wrote on the company blog. "Right now, brightly-colored, layered beverages and galaxy-inspired food are everywhere. That's what inspired us to begin creating the Cosmic COOLATTA flavors and our new Comet Candy Donut."
But that's not at all! Dunkin' Donuts is bringing back the fan-favorite Smoked Sausage Breakfast Sandwich. For a limited time, breakfast fans would be able to enjoy the sandwich stacked with egg, melted cheese, and smoked split sausage served on an English Muffin. We told you Dunkin' Donuts is the gift that keeps on giving.
The new Cosmic Coolatta drinks, Comet Candy Donut, and Smoked Sausage Breakfast Sandwich are available at select Dunkin' Donuts stores nationwide today through May 27th.