Dunkin' Donuts is releasing a beer, so everything is not terrible right now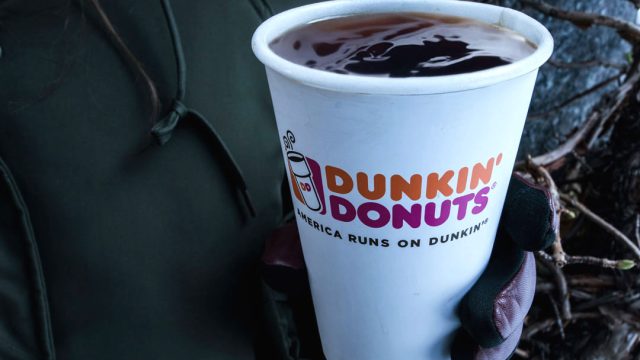 Enjoying a donut with coffee is so 2016. We are now living in the future and will soon be able to enjoy our donuts with beer. Or, rather, enjoy our beer with donuts. Or, at least, enjoy our beer with a donut brand's coffee (it's confusing, we know). Dunkin' Donuts will release its own beer, a collaboration with fellow Massachusetts-based business Wormtown brewery in Worcester, so here's hoping you're thirsty.
In honor of the winter solstice (the darkest day of the year), DDark Roasted Brew will be made with Dunkin's Dark Roast coffee and feature "full-roasted coffee flavor reminiscent of freshly-ground beans with a creamy mouthfeel." As Dunkin' franchise owner Rob Branca told Food & Wine, the two brands are pretty excited about teaming up:
"Worcester is home to one of the first Dunkin' Donuts restaurants so we know how much residents love the brand and our coffee. This partnership with Wormtown continues to drive innovation in Worcester and we are excited to brew up something extra bold to help our loyal guests to celebrate the darkest day of the year."
This is hardly the first time Dunkin's gotten creative with their drink offerings. The company's famous for unique seasonal surprises like cookie dough-flavored coffee and Almond Joy Hot Chocolate. This actually isn't even the first time Dunkin's gotten involved with a brewery. Back in September, the donut chain worked with Catawba Brewing Company in North Carolina to put out the fall-themed Dunkin' Punkin Brown Ale to celebrate National Coffee Day.
So, will we be able to order a morning lager with our morning cruller in the near future? Probably not (and that's probably a good thing). Dunkin' says they don't have any future brewery partnerships planned for now and the DDark will only be available at Wormtown's taproom in Worcester. But, c'mon, we've been really good this year, couldn't Santa snag us a bottle or two?