This restaurant put dumplings in a burger, because literally anything is possible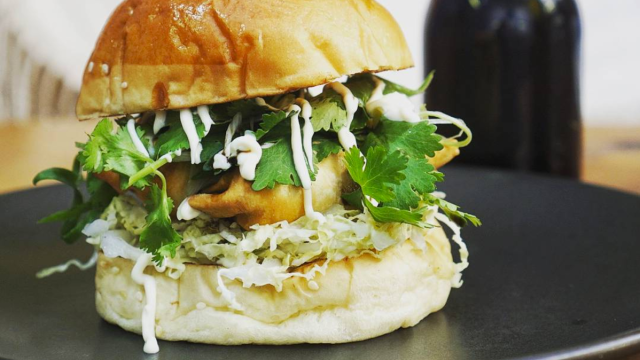 Finally, the solution to all our takeout problems is here, and what a time to be alive! The people who really love us at the Chinese Club restaurant put dumplings in a burger, and it's amazing.
The Chinese Club's glorious collaboration is called the Momo Burger. It's named after the Tibetan chicken treat called momos, steamed dumplings filled with chicken meatballs. These are the stuff dreams are made of. These delicious treats are some of the yummiest things you have ever stuffed in your face. Now you can pile them on another fave: A cheeseburger. And you're welcome forever.
The idea is so good, it seems to have caught on with a bunch of different places.
https://www.instagram.com/p/BTCyMD6BCAk
People all over are adding dumplings to their burgers. And we have to admit that our mouths are watering just thinking about tasting it.
https://www.instagram.com/p/BQoU7iNDWAT
Of course, if you stick with the Momo Burger, you'll get plenty of yumminess. It has all the components of the best dinner ever. But with the addition of the dumplings, it's next level good. It's got cheese, spicy mayo, lettuce, and it's stuffed between two fluffy buns. Yep…it's a great day to be alive.
But other places certainly are stepping up their dumpling burger game.
And we are impressed.
So if you're lucky enough to see a "Dumpling Burger" on a menu near you, give it a try. We can only imagine it will be decadently delicious.