Dumplin' is the revolutionary feel-good movie that plus-size girls deserve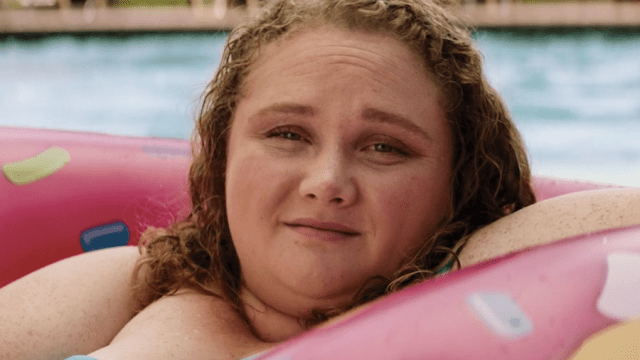 From the very first scene, it's clear that Netflix's latest original movie, Dumplin', is not going to be the standard sad fat girl story we've come to expect in Hollywood. We see the main character Willowdean (Danielle Macdonald), or Dumplin' as her former pageant winner mother (Jennifer Aniston) calls her, driving with her best friend. The windows are down and Dolly Parton blasts on the stereo—a testament to true teen freedom.
Based on the bestselling novel  by Julie Murphy, the story revolves around Willowdean and a band of girls deemed "misfits" in their small town community who sign up for the Miss Teen Blue Bonnet Pageant. The film features mother-daughter tension, a little bit of romance, and a ton of Dolly Parton worship as the story tackles what it means to be comfortable in your own skin.
https://www.youtube.com/watch?v=k86KDFh_q6E?feature=oembed
As a long-time fan of the book, I was both excited and anxious to learn that Netflix would be turning Dumplin' into a movie. Ever since its failed attempt at plus-size representation in the series Insatiable, I was worried what they might do to the sassy and confident Willowdean. I feared they'd change her story into the tired trope of a plus-size woman obsessed with her weight. As a plus-size woman myself, I am tired of seeing characters reduced to the numbers on a scale.
But when Willowdean says, "A swimsuit body is just a body with a swimsuit on it," all my fears flew out the window.
This movie wasn't about weight. It was about a plus-size girl loving herself—despite society telling her not to.
It seems that much of Willowdean's confidence and self-love is inspired by her Aunt Lucy, another plus-size woman who is described as having taught Willowdean to say "Yes ma'am" and "No sir," and to look people in the eye. Apparently, Aunt Lucy passed down her love of Dolly Parton, too, as she and Dumplin' frequently threw parties in the singer's honor. This portrayal of a close, supportive relationship between two plus-size characters is rare and needed; we get to see what happens when a positive role model supports Willowdean for exactly who she is. Though the beginning of the film reveals that Dumplin's Aunt Lucy passed away six months earlier, her character is prevalent throughout Willowdean's journey, especially when she decides to enter the teen pageant—something her aunt never got to do.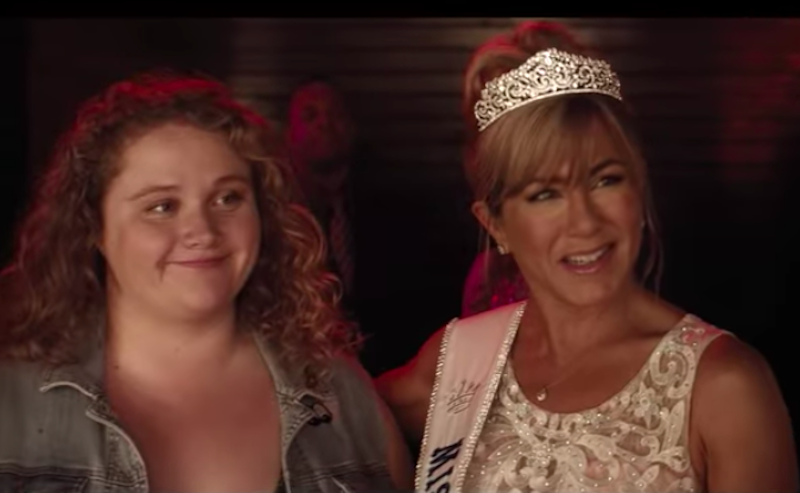 Dumplin' isn't the only character defying the status quo either. She is joined by Millie (Maddie Baillio), a sweet and talented plus-size girl, and Hannah (Bex Taylor-Klaus), a fierce feminist who chants, "Hey hey, ho ho, the patriarchy has got to go" as an option for her pageant show talent. Though these characters have different motives for entering the pageant and different reactions to body-shaming, they band together and genuinely help one another throughout the movie. Their actions demonstrate what it looks like when women support other women. I do wish the movie gave Millie and Hannah more of a backstory, or at least mentioned their own motives for entering the pageant, but for now they are relegated to the roles of Dumplin's friends.
Dumplin' isn't completely free of insecurities, because she is portrayed as a complete human. Just like everyone else, she struggles with confidence, even while feeling comfortable in her identity.
When Willowdean first starts doubting herself, it's not because a cruel classmate calls her a whale—but because her handsome crush starts reciprocating her feelings. This is a rare plot point for a plus-size character, and Macdonald honestly depicts Dumplin's questioning of his intentions. In an interview with Publisher's Weekly, author Julie Murphy says, "I wanted to make sure the book was about Willowdean's internal struggle and not about pressure to lose weight." The movie takes that message and runs with it; despite years of criticism from her mother and her classssmates, not once does Dumplin' consider changing herself. Not for a handsome boy, not for anyone.
What makes Willowdean so revolutionary is that she doesn't inherently hate her size.
For that matter, none of the characters do. The closest we get to that kind of storyline is when we watch Dumplin's mom diet in her attempt to fit into the gown she wore at her own teen pageant, a tradition she struggles to uphold every year. This movie was a breath of fresh air among so many failed attempts at portraying plus-size people in the media. This time, the story has a happy ending and tackles important issues without presenting the backwards idea that Dumplin's problems would just go away if only she were thinner. Dumplin' gives us strong friendships, a fierce body positive heroine in Willowdean, and a message that young women need to hear regardless of their waist size.