The new cast of "DuckTales" sings the "DuckTales" theme song, and suddenly 2016 isn't that bad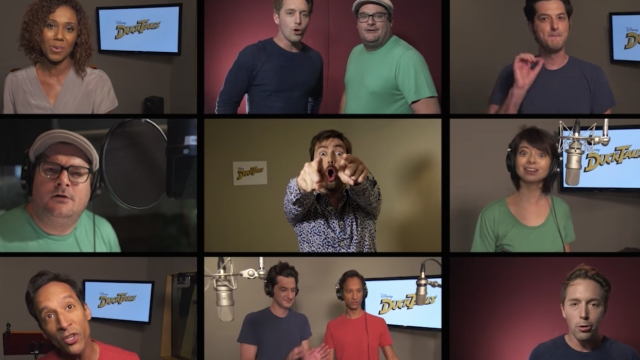 As we inch closer to the end of 2016, we're looking for anything — whether big, or small — that might save this year in even just the tiniest way. Seriously. We've all lived through this year and it was like, #$5&@#*&!!!! We're looking forward to 2017 SO MUCH, and with roughly two weeks to go before we can bid '16 adieu, we've got something that just might salvage the past 365 days, and also gets us so much more excited for what's coming up: The new cast of Disney's DuckTales has been announced, and all these famous funny people just joined together to sing the DuckTales theme song.
Suddenly, 2016 doesn't seem so bad, huh?
The cast list was announced today and includes the likes of David Tennant, Danny Pudi, Ben Schwartz, Bobby Moynihan, Beck Bennett, Toks Olagundoye, Kate Micucci, who will all be living in Duckberg when the newly rebooted show picks up, and ohmygosh, can't wait. If you think you're excited about this, just think about how excited they are. They're so excited, clearly they broke out into song.
https://www.youtube.com/watch?v=zZek9PFMYOw?feature=oembed
Pause to note the fact that Danny, Ben, and Bobby are all wearing red, blue, and green, for their respective ducks.
While this probably isn't the theme song version that will play at the top of every episode…you know what, let's ago ahead and hope that it is.
If you're just raring to go to check in with the likes of Huey, Dewey, and Louie (and Uncle Scrooge) once again, you don't even have to wait forever for it. DuckTales will launch on Disney XD THIS SUMMER. Summer 2017 is going to be THE BEST.