The people who brought you Drybar are now getting into the massage biz
Massages are no longer just something to splurge on when you're suffering from a knot in your neck or sore back. In fact, they can be a welcome addition to anyone's regular self-care routine. But making the time to get a massage, finding a reputable spa or salon, and knowing which therapist to choose can be difficult, which is why the founders of Drybar, the blow-dry salon, are launching a new massage concept they hope will make the whole experience way easier.
Drybar founders Alli Webb and Michael Landau, in collaboration with their former VP of marketing, Brittany Driscoll, said they recognized that discount massage chains don't always give their customers a quality experience, and visiting a more high-end spa isn't necessarily an affordable or accessible option for many people—so they created Squeeze. It's a user-friendly app and brick-and-mortar spa combo created by Webb, Landau, and Driscoll that they say will fill the gap between high-end and low-end massage chains by giving customers personalized massage options at the touch of a button—with the same affordability and luxury feel that made Drybar so unique.
So how does Squeeze work? Think of it as Lyft, but for massages.
Guests will be able to use the Squeeze app to book, pay, tip, and rate their therapist. Not only that, but guests will also be able to select their preferred pressure, and adjust the room's temperature, lighting, and music using an in-room iPad; their preferences are saved to their guest profile and reviewed by therapists before an appointment is made.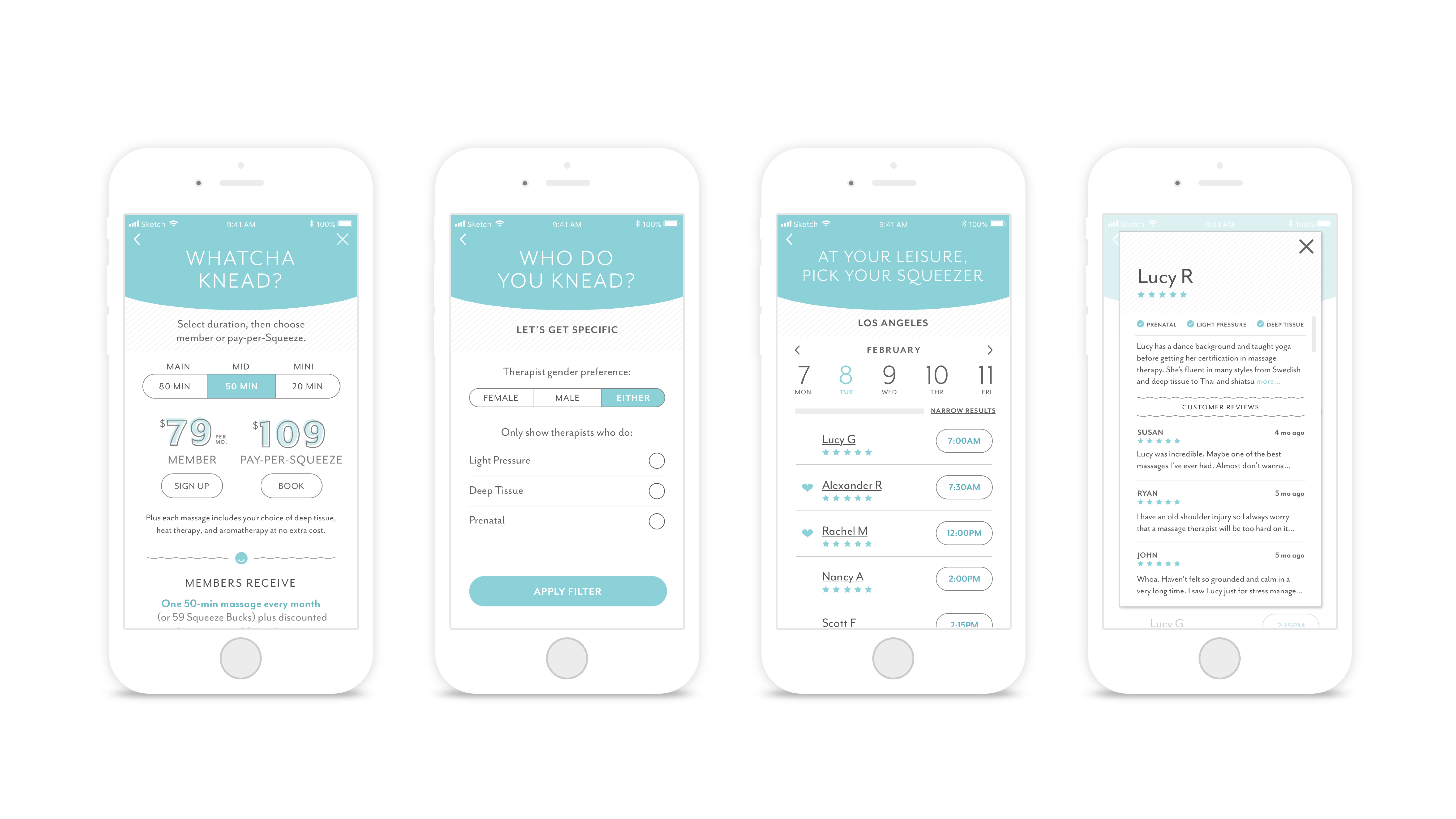 In a press release, co-founder and CEO Driscoll said, "Our mission at Squeeze is to use the power of massage to improve the health and happiness of our guests and team members. We believe we're creating a convenient, personal, quality experience that will enable people to live their best lives.
Squeeze will open its first location in early 2019 in Los Angeles, and will offer its users monthly membership options and massage prices starting at $39, with no additional charges for add-ons like aromatherapy and deep tissue.