This miracle face oil actually helped my foundation match my skin tone better
Like an unwelcome ex brazenly sliding into your DMs, my skin is perpetually thirsty. Dry skin patches stake claim on my forehead and nose, planting their flag, and staying put no matter what season. As winter rolls along, the desertification of my face expands, exacerbated by the arid heaters of New York City buildings, and the bitter wind that whips any prayer of moisture away. For most of my adult life, I've watched on as the growing flakiness eventually made my face look dull, attempting every remedy that I knew of. For awhile, I was the queen of sheet masks. There was a time when you'd pop open my medicine cabinet, and find a slew of products, luxury, and drugstore, all latent with hyaluronic acid. I've tried oils, serums, and overnight remedies. I even began to drink more water, but alas, dry patches would disappear in the morning only to firmly plant themselves on my face later that afternoon.
Browsing through reviews on Sephora, I found that a lot of shoppers recommended Drunk Elephant products for stubborn dryness that got worse in the winter.
As a newb to their products, I decided to try the Drunk Elephant Virgin Marula Antioxidant Face Oil. Initially, I was drawn to the fact that the oil had a lot of ingredients I hadn't used previously, specifically antioxidants found in vitamin E, and Marula seed oil—a lightweight oil easily absorbed by skin, known for its moisturizing and brightening properties. I also very much liked the idea of mixing a few drops of the oil with a moisturizer I already had. While the price tag for this product was high at $72, I was curious to see if I could use the product as a way to improve other products that were almost there but weren't hydrating enough. To find out how truly moisturizing and versatile this product could be, I put it to the test in a few key ways.
Long story short, the results were magic in a lot of ways I didn't expect.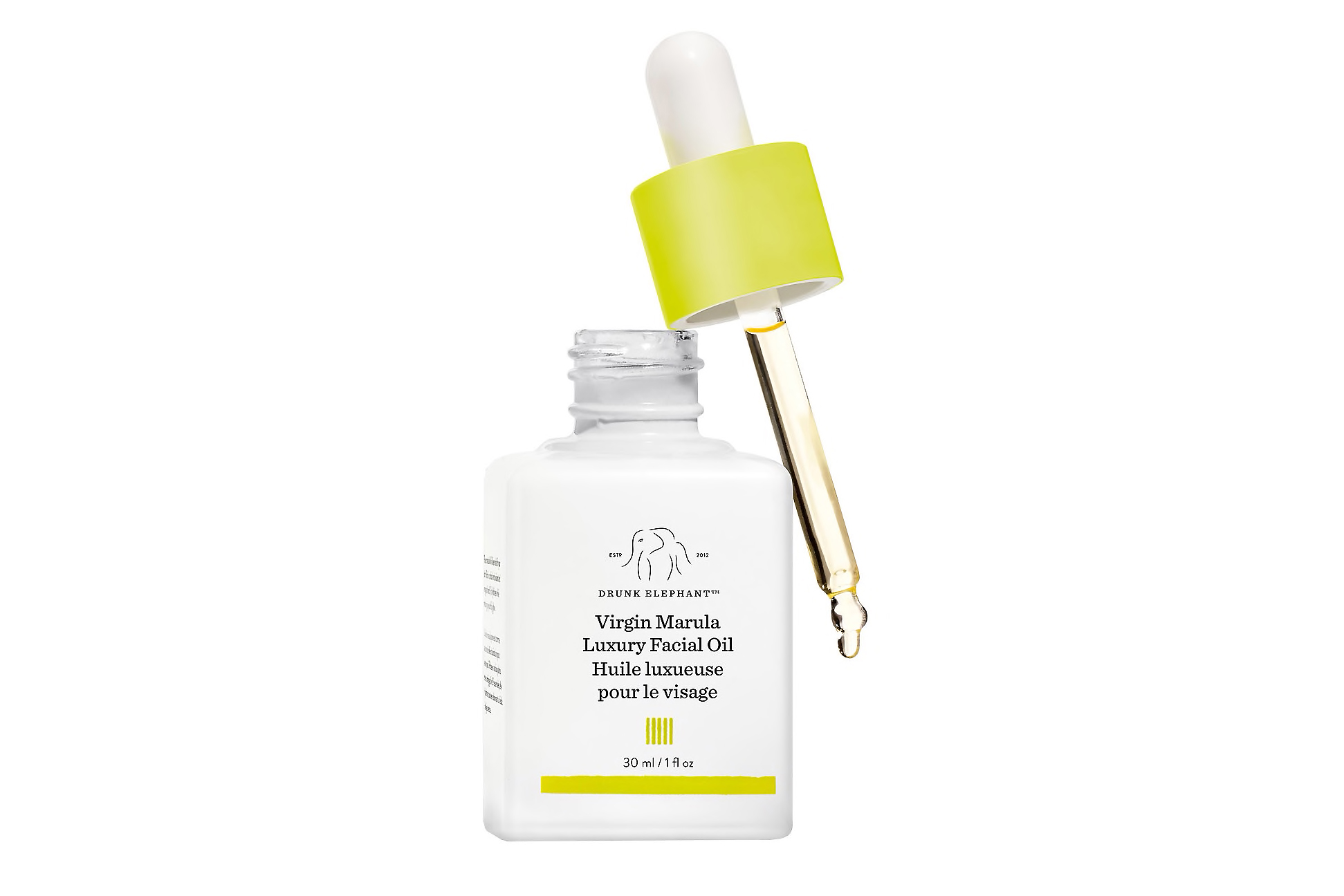 Drunk Elephant Virgin Marula Antioxidant Face Oil on its own for my dry skin
To start, I decided to see what the face oil felt like on its own. Fresh out of the shower, with absolutely no makeup or other products on my face, I applied a drop to my forehead, a drop to each cheek, and one on my nose. I also put a drop in my hand to rub into my neck. The first thing I noticed was that the product didn't smell like anything, and it absorbed quickly. My skin already looked a bit brighter, including my dark under-eye circles, and the oil sat slightly on top of my skin, keeping it refreshed without making me look too oily. The picture below shows what my face looked like before and after I put the face oil on. I felt smooth and hydrated for the first time in a while, but I wasn't fully convinced yet.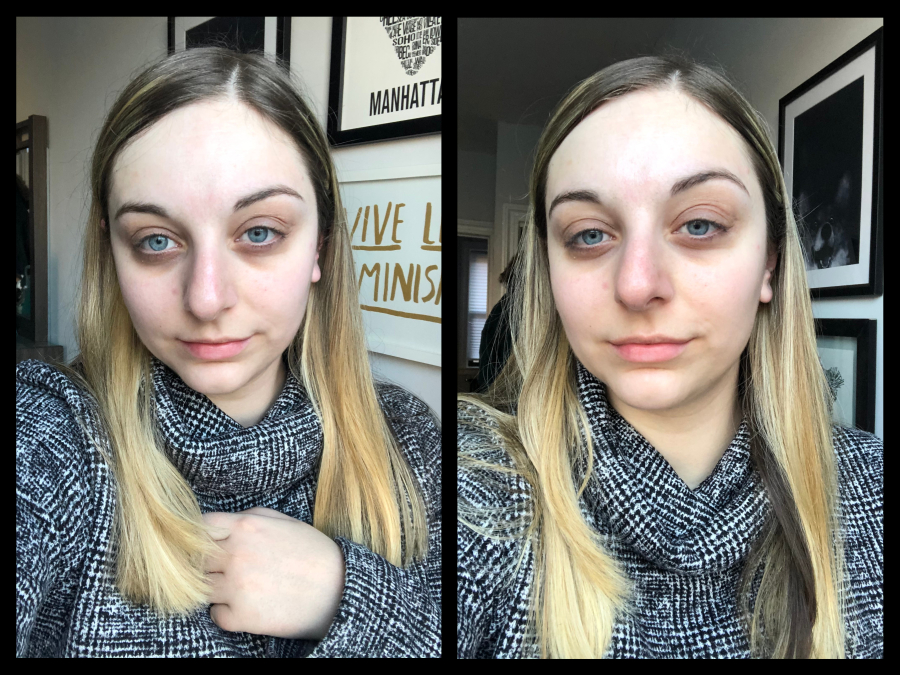 The Drunk Elephant Virgin Marula Antioxidant Face Oil with other Drunk Elephant moisturizers
Full disclosure: The oil didn't feel like it would be enough to wear on its own for a day of pure moisturized bliss, but that wasn't my intent anyway. I wanted to see how it worked mixed with other moisturizers. First, I tried about three drops of face oil on the back of my hand on top of one pump of the Drunk Elephant Protini Polypeptide Moisturizer. This moisturizer came highly recommended to me as the best conduit for my face oil, and holy hydration bomb, Batman, I instantly fell in love.
With most moisturizers I've tried, the initial feeling of hydrated skin lasts all of five seconds while you rub the product in. Then, as the day goes on, it's like you never applied it in the first place. The Protini + Marula Oil combo felt like I just splashed water on my skin, but then that water made my skin its home and decided to never leave. My poor face had spent days in the desert, and I just gave her a glass of water. And she looked like it.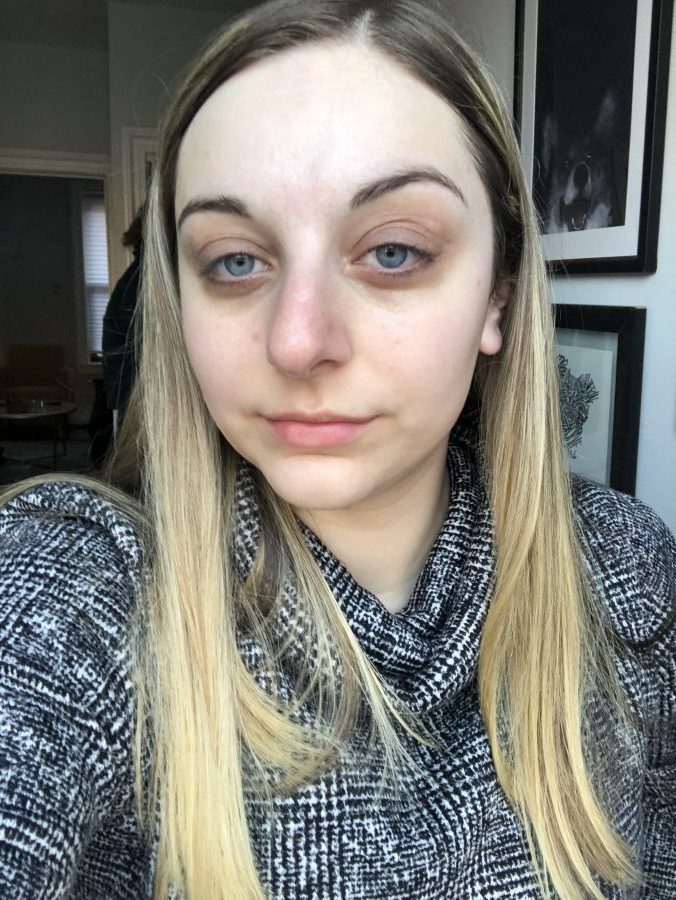 Then, the true miracle happened. I went to apply my foundation—a shade I was all but ready to chuck, because its orangey hue didn't match my pink undertones, and was starting to make me look like I had a bad spray tan. But, for whatever reason, when I dabbed the product onto my face with my blending sponge, it matched. In case you do not believe me, I swatched the foundation on my hand, which didn't have any oil or moisturizer on it. Not only did my foundation look more like my skin, but it also glided on and made my face look dewy.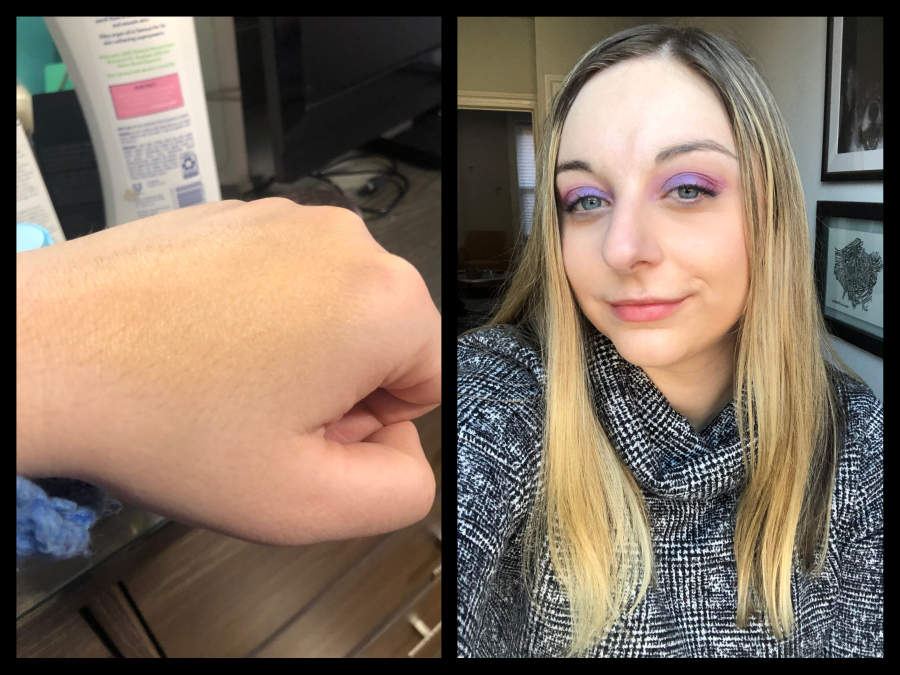 The rest of my makeup also went on very smoothly. My usually dry eyelids didn't look more powdery with the addition of eyeshadow, and they held onto that shadow for most of the day. My blush also looked brighter than it normally does when I applied it. Looking in the mirror later in the day, I saw my dry patches starting to form on my forehead, but they were significantly smaller than before. As the week progressed and I continued to use that product combo, the dry patches disappeared completely. Even after washing my face, my skin still felt great.
The Drunk Elephant Virgin Marula Antioxidant Face Oil with my own moisturizer
My final test involved mixing the face oil with a moisturizer I already had. I often use the CeraVe Moisturizing AM Lotion, mostly because I like that it has both SPF and hyaluronic acid. However, I wasn't in love with it—it felt great when applied in the morning, but by midday, I was dried out. To switch things up, I added three drops of the Virgin Marula Oil to the Protini Moisturizer, mixed them on the back of my hand, and smooshed it all over my face. Full disclosure, my skin needed a bit extra love this morning after happy hour the night before. But similar to my Protini + Marula Oil cocktail, my skin looked a lot more glowy than it usually does. Trust, my face was actually a lot puffier before I moisturized.
My face did feel more hydrated than it typically does when I use the moisturizer on its own. Similar to my first results using the face oil, I found that my previously orange foundation blended seamlessly with my skin tone. By this point, I was pretty convinced it was the Drunk Elephant Virgin Marula Face Oil that was doing the heavy lifting in terms of moisturizing my skin. I had been using the CeraVe AM Lotion for a few months now, and when applied with that moisturizer, my foundation made my face look a completely different color than my neck. Now, I was able to use the foundation without feeling like a two-tone nightmare.
My dry skin isn't that dry anymore
After using this product for over a week in every capacity I could think of, I must say that I'm sold. Not only did it work to hydrate my skin for the whole day, but I also noticed that as the week went on my dry patches began to vanish. Waking up in the morning, before I even applied the product, my skin already felt more moisturized and bouncier. When I took all my makeup off at the end of the day, my skin maintained the same glowiness and it still felt like the product was working its magic. Having said that, I will add that the moisture factor was definitely upped when I combined the face oil with the Protini Moisturizer. I would give this product my blessing when used in conjunction with any moisturizer. Simply put, if your face feels like the Sahara at any given time, Drunk Elephant Virgin Marula Antioxidant Face Oil is worth a try.