This Gentle Retinol Gave My Very Sensitive Skin the Smoothest and Brightest Complexion Ever
Retinol typically irritates my skin, but Drunk Elephant's formula works wonders for me.
Welcome to Game Changers, a weekly series in which we reveal the holy- grail beauty products we're loving now—the ones that saved our hair, cleared our skin, and, in some way, changed our lives.
As someone with incredibly sensitive and redness-prone skin, the idea of applying retinol to my face never entered my mind. Sure, as a reporter I've written about the vitamin A derivative more times than I can count, but the idea of actually applying it to my face? Nope, never. Instead, I've happily reached for gentler retinol alternatives for similar anti-aging results. I could have very well gone on with my life relying on those, but then one of my favorite skincare brands launched its formulation, and I was inspired to give the ingredient a go.
Drunk Elephant is mother to some of my must-have products, including its E-Rase Milki Micellar Water, T.L.C. Framboos Glycolic Night Serum, and the Beauty Crush Award-winning Lala Retro Whipped Cream. So, when the Drunk Elephant A-Passioni Retinol Cream launched, I finally caved. I've trusted the brand with my sensitive skin for years, so I decided to make the leap and am so glad I did.
I started out slow, applying a pea-sized dollop evenly across my forehead, cheeks, and chin and dabbing only ever so slightly around my orbital bone twice a week. Each time I applied it, I followed up with the brand's Virgin Marula Luxury Facial Oil to hydrate and soothe any potential irritation. After a week of zero retinol-related issues at all, I amped up my use of the Drunk Elephant A-Passioni Retinol Cream to every other night, still following up with facial oil each time to keep my skin healthy and happy. The result? Smoother, brighter, and clearer skin in just four weeks' time.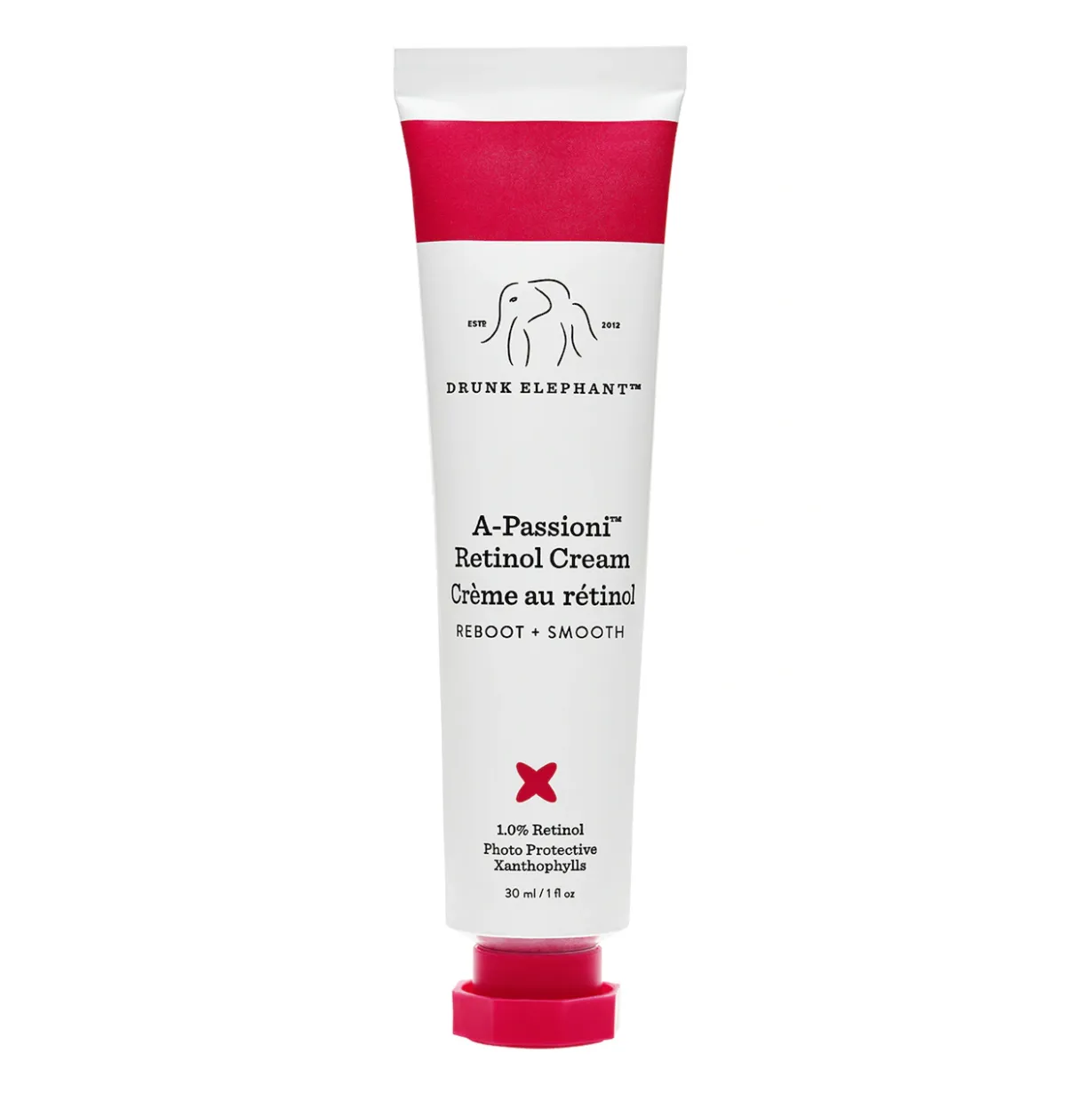 Drunk Elephant A-Passioni Retinol Cream
$$74
Shop it
Sephora
All this is to say: If you've been on the fence about trying retinol, take it from a fellow sensitive gal and go right on ahead. The Drunk Elephant A-Passioni Retinol Cream is made with 1% vegan retinol—which is actually considered to be on the higher side, percentage-wise—alongside xanthophylls (which help with free radicals); a skin-strengthening triple peptide blend; antioxidant-rich kale leaf extract; and hydrating passionfruit, apricot, and jojoba oils. I've used it for a month and have had stellar results, so once I build more tolerance to retinol, I might just work it into my routine nightly.