Here's a drunk Ed Sheeran rapping Nicki Minaj's "Monster" verse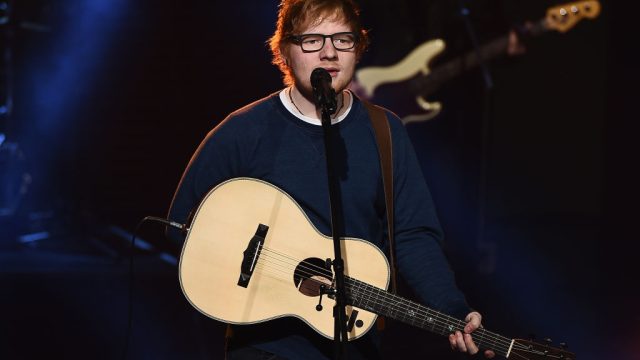 In case you were wondering, here's how to not encourage Nicki Minaj to do a feature on your song: You pull an Ed Sheeran and drunkenly rap her "Monster" verse. During a recent appearance on The Breakfast Club's morning show, the "Shape of You" singer tried his hand at delivering Minaj's rapid-fire bars from the 2010 Kanye West track, and oof, you guys — his sloppy, slurred attempt was hilariously painful to watch.
Obviously, Sheeran's one of our all-time faves, but after he botched what is rightfully regarded as one of Minaj's best verses ever, we're thinking he should dedicate one his signature tender love songs to the rapper on his next album.
Srsly, Ed: You're gonna have to beg, plead and sing your heart out to make up for this disaster.
To be fair, Sheeran had already downed some shots beforehand, which makes us feel like Rihanna's "Pour it Up" would've been an easier (and more fitting) song for him to try. But since he was asked to weigh in on the brewing rap feud between Minaj and Remy Ma, he offered up the most diplomatic opinion ever (like the sweetheart he is) before claiming to know all of the lyrics to "Monster," except no one would know it after listening to this.
The first mistake he made was starting with Rick Ross' verse instead of Minaj's, but then he got on track — sort of.
https://www.youtube.com/watch?v=8wYTx3kZXHk?feature=oembed
LOL. Oh, Ed. We're cringing a little bit but it doesn't really matter because Minaj gave Sheeran's rap her official seal of approval via a Twitter shout-out, which obviously makes it all better:
Ah, well! You can't win 'em all, but you can blame it on the alcohol.
And also, if at all possible, avoid drunk rapping in the future. We still love you, Ed!