25 drugstore beauty products you'll love way past summer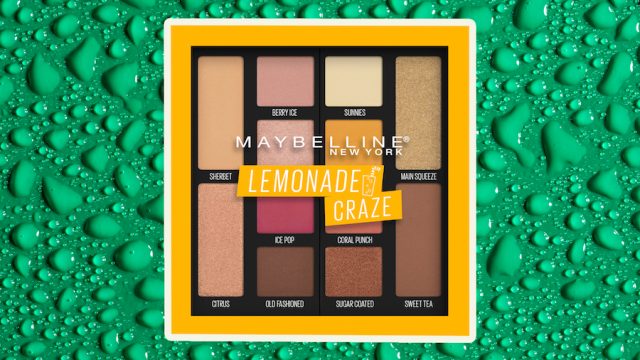 Our favorite drugstore brands have released so many high-quality beauty products this year, we're still wondering how they're so affordable. From highlighters to mascaras to foundations, some drugstore products are just as good as the ones in Sephora and Nordstrom, making them irresistible at their price point.
If you love affordable beauty products just as much as we do, we've rounded up some of our faves. Trust us, you'll want to stock up on these hot ticket items. Not only are they perfect for the summer season, but you'll love them all year round.
1Shea Moisture 100% Virgin Coconut Oil Facial Wipes
These facial wipes are infused with coconut oil, coconut milk, and acacia senegal, which helps get rid of impurities. They will also leave your skin hydrated and supple.
2Hask UnWined Color Connoisseur Rosé Wine Conditioner
Your wash day just got 10x better. This conditioner is enriched with wine extract (yes, really!) to give your hair just the boost it needs. It also helps to hydrate and protect color-treated hair. We'll cheers to that.
3Covergirl TruScented Eyeshadow Palette
Craving something sweet? This chocolate-scented palette is just what the doctor ordered. It comes with eight creamy shades in matte and shimmer finishes.
4Wet n Wild Zodiac MegaGlo Highlighting Bar in Fire
We already know that Wet n Wild makes the best affordable highlighters on the market, and this zodiac-inspired one is no different. If you want an intense highlight, spray your brush with a mist and then dust it on. You'll be lit, just like the fire sign.
5The Seaweed Bath & Co. Purifying Gel Cleanser
Give your body a good scrub with this detoxifying cleanser that also removes dirt and impurities. Your skin will feel cleansed, refreshed, and purified.
6Olay Foaming Whip White Strawberry & Mint Body Wash
This whipped foam gently cleanses your skin while also leaving it softer than ever. Plus, we love the deliciously sweet strawberry and mint scent.
7Yes To Tomatoes Detoxifying Charcoal Zit Zapping Dots Facial Treatment
In this hot and humid weather, you're bound to break out, but this acne spot treatment will zap your blemishes in no time.
8Eco Style Gold Gel
Eco blended its top-selling hair care ingredients into one super item. The pure olive oil helps moisturize your scalp, while the shea butter protects your hair. The black castor and flaxseed oil repair and promote healthy hair growth.
9Shea Moisture Silicone-Free Miracle Styler Leave-In Treatment
This high-slip, leave-in formula is infused with sugarcane, meadowfoam seed oil, marshmallow root, and nourishing botanicals to help detangle and soften your tresses.
10Soap & Glory Hydrating Body Butter
This fruity-scented body butter will intensely hydrate your skin.
11NYX Away We Glow Liquid Booster
Give your skin a boost with NYX's liquid drops. With summer Fridays in full swing, your highlight will be poppin' from the office to happy hour.
12Maybelline Lemonade Crazy Eyeshadow Palette
When life hands you lemons, buy this Lemonade palette. The fruity shades, like the shimmery pinks and bright yellows, will make your eyes pop all summer long.
13NKD SKN Instant Shimmer Body Bling
If you didn't get your hands on Fenty Beauty's Body Lava, this body shimmer lotion is a great alternative. Your skin will have a radiant glow.
14Milani Soft and Sultry Eyeshadow Palette
If bold-colored eyeshadows aren't your thing, you'll want to indulge in this sultry palette.
15Pixi by Petra Rose Glow Mist
This lightweight mist is infused with seven types of rose extracts. Not only will it give you glowing skin, but it protects against free radicals, improves elasticity, and provides intense moisture.
16Essence Holo Wow! Dewy Lip Shine
You can't go wrong with a clear gloss. Wear it alone or give your fave matte lipstick some mega shine.
17Catrice Cosmetics Light Correcting Serum Primer
This light-reflecting serum primer will give your skin a candlelit glow. You can mix it with your body lotion or foundation for an extra dose of luminosity.
18E.l.f. Cosmetics Mix to Match Foundation Shade Adjuster
Your days of purchasing a new foundation to go with the season are officially over. This shade adjuster allows you to lighten, brighten, or deepen your foundation shade.
19L.A. Girl Cosmetics Holographic Gloss Topper
Bye bye, matte lips. Holographic lip shades are all the rage right now, and this L.A. Girl gloss is perfect for all of your summer lewks.
20Pixi by Petra Retinol Tonic
This rosemary-scented tonic is like the fountain of youth in a bottle. The retinol helps preserve the skin while the antioxidants and botanicals keep it feeling smooth and supple.
21Pacifica Gem Serum Radiant Drops
The perfect shimmer product for summer. Its rose quartz, watermelon, and lemongrass ingredients come together to boost your skin's aura and glow.
22Olay Luminous Whips with SPF 25
A weightless cream that will leave your skin feeling soft, smooth, and radiant. Plus, the added SPF will protect your skin from harmful rays.
23Wet n Wild Renegade Mascara
For under $6, this mascara will curl, lengthen, volumize, and define your lashes. You'll have fluttery, full lashes in no time.
24Nubian Heritage Hand and Body Scrub
An ultra-moisturizing scrub that hydrates and exfoliates your skin.
25CeraVe Hydrating Facial Cleanser
Give your skin a burst of hydration with this deeply moisturizing facial cleanser. It's also super gentle, so if you have sensitive skin, you'll want to stock up.