25 crazy-affordable drugstore beauty products that might as well be high-end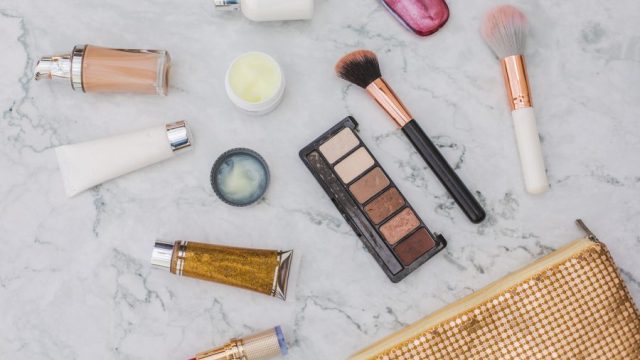 Watch out, Sephora — these low-end beauty buys will give even the fanciest makeup a run for its money. Makeup should make you feel happy and good about yourself—and you don't need to feel left out of that happiness if you don't have the budget for a $52 foundation. From the makeup to skincare, here are 24 high-quality,  wallet-friendly products that will make you feel pampered and regal AF.
Our favorite drugstore makeup products:
1Best drugstore primer: Revlon Photoready Color Correcting Primer
Smashbox's primers are iconic. It even has a primer called Iconic Photo Finish Foundation Primer…for a heart palpitation-inducing price of $36. If you're not easily seduced by brand names, Revlon's Photoready Color Correcting Primer feels and works exactly like Smashbox primers. It has a subtle light purple tint that works wonders to neutralize redness on all skin tones, plus its lightweight formula works well for layering under makeup.
2Best drugstore concealer: Maybelline Instant Age Rewind Eraser Dark Circles Concealer + Treatment
I love this product so much, I got poetic about it for HelloGiggles. It's the perfect light concealer that hides your dark circles (and can also function as an overall face-brightener) that will make you look like you slept for 12 hours straight.
3Best drugstore liquid eyeliner: L'Oréal Paris Infallible Super Slim Liner
Say what you want about higher end liners, but this drugstore eyeliner has been my go-to since I first started wearing makeup. Not only is it super easy to apply, but the deep, matte black really does stay put all day.
4Best drugstore liquid foundation: L'Oréal Paris Infallible Pro-Glow Foundation
Our senior beauty and fashion editor reports that this budget-friendly foundation is basically the drugstore version of Armani's cult-favorite Luminous Silk foundation. The hydrating, medium-coverage formula gives the perfect healthy finish and radiant complexion. It also contains SPF, which is important for any foundation.
5 Best drugstore powder foundation: Maybelline Super Stay Full Coverage Powder
A full-coverage, long-lasting powder like this one is ideal for people with oily or combination skin because it won't slide off as the day wears on. Just make sure to clean your makeup brush once a week to avoid product and skin cell buildup that could cause breakouts.
6Best drugstore mascara: Maybelline Great Lash Mascara
There are tons of mascaras out there, and we mean tons. But this tired and true classic has outlasted many of the trendiest drugstore mascaras, and that's because it works. With a brush small enough to work into each and every one of your lashes and deliver the perfect black finish, it's no surprise that one of these bad boys is sold approximately every two seconds in the U.S.
7Best drugstore blush: Honest Beauty Crème Cheek Blush
We love the creamy, buildable color of this clean beauty product from the company founded by Jessica Alba. It comes in four different colors, each delivering a subtle, dewey finish.
8[Best drugstore bronzer: Physician's Formula Murumuru Butter Bronzer
There are hundreds of beauty expert reviews raving about this buttery-soft, blendable bronzer, and as a user myself, and I can tell you that you won't be disappointed with the results. Not only does the formula smell amazing (think: coconut and tropical vacation), but the creamy, moisture-packed powder glides on skin for a truly natural glow.
9Best drugstore powder highlighter: Milani Stellar Lights Highlighter Palette
This highlighter palette has everything you need: three pigmented, high-payoff shades, a blendable formula, and super-shine finish. Glide your brush across all three or use each shade individually for when you need a pop of glow on your cheekbones, bridge of the nose, and forehead.
10Best drugstore liquid highlighter: NYX Born to Glow Liquid Illuminator
Want to look dewy and fresh, like you just got back from a restful vacation? Here's your secret weapon. The liquid formula melts into skin. Just tap a tiny bit onto the places where the sun would normally hit your face for a natural, lit-from-within glow.
11Best drugstore lip balm: Burt's Bees Tinted Lip Balm
Need a balm with a hint of tint? Here you go. The all-natural ingredients nourish your lips, and with no toxins or harsh chemicals, you don't have to worry about ingesting anything unsafe. We love this line because it has such a wide range of shades — from deep purples to beery reds and everything in between — so you can find the perfect match for your skin tone and desired look.
12Best drugstore liquid lipstick: Maybelline Superstay Matte Ink
Our senior fashion and beauty editor swears by this incredibly long-lasting matte formula that she deems the "holy grail of lipsticks." It comes in 30 deeply pigmented shades, features a unique arrow-tip brush for precise application, and won't dry out your lips. Plus, it always delivers a flawless matte finish. Just beware: It really does last all day, so use an oil-based cleanser to wipe it off at night.
13Best drugstore press-on nails: Kiss Nails
Press-on nails are NOT just for kids. These press-on nails mean very serious business, and they're glam as hell. Many of KISS's options come pre-glued, so you can really just press them on and go (our beauty editor always keeps a set at her desk for emergencies). Just remember to press at the base of your nail. They'll stay on for up to 10 days and look fabulous.
14Best drugstore eyeshadow: L'Oréal Paris Infallible 24HR Eye Shadow
This drugstore eye shadow really delivers on intense pigment, and it comes in several different shades, from neutral, shimmery champagnes and browns to bright purples and deep blues. If you're looking for a go-to one-shade eye shadow, this one is for you.
15Best drugstore lip tint: Flower Sheer Up Lip Tint
Drew Barrymore's beauty line is lovely, and so is this lip tint. It's a luxurious, moisturizing crayon balm that comes with a self-sharpening point and provides your lips with both nourishment and a little extra color. Perfect for an added everyday pop.
16Best drugstore eyebrow kit: e.l.f. Cosmetics Eyebrow Kit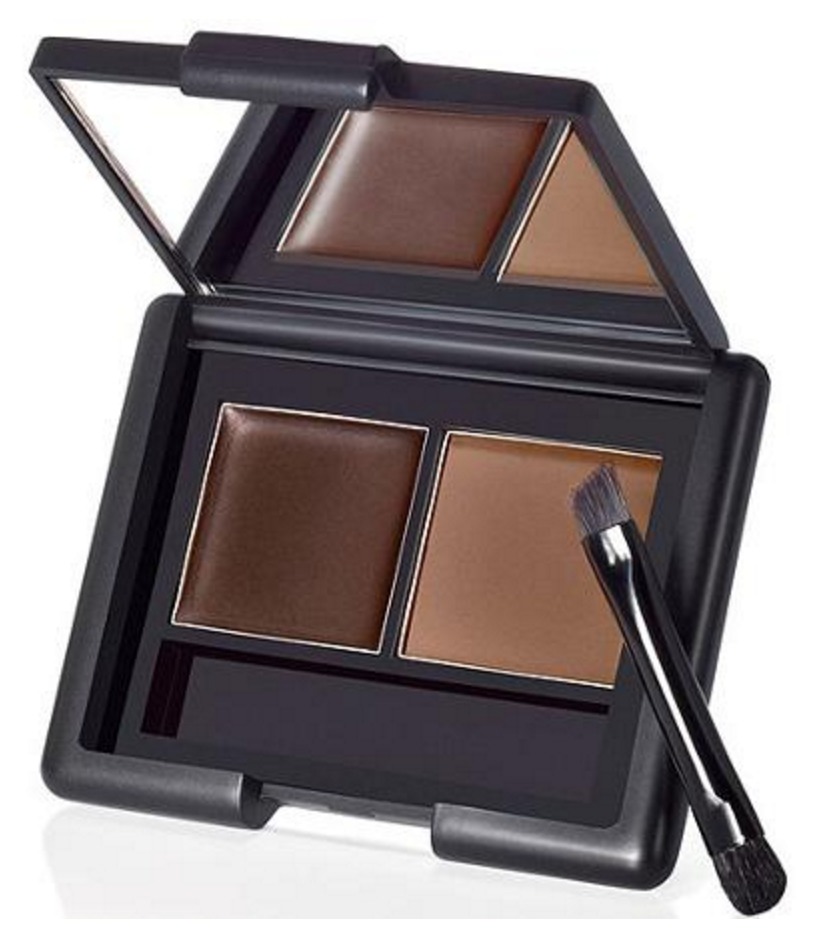 No, you do not need an expensive brow kit to get bold, natural-looking, Jennifer Connelly-worthy brows. You just need this three dollar palette, because it's pure magic. It comes with a tiny, angled brush, which you can gently tip into the cream formula, then apply with light, hair-like strokes to darken and fill in your brows.
Our favorite drugstore skincare products:
17Best drugstore face wash: CeraVe Hydrating Facial Cleanser
This drugstore face cleanser is fab for all kinds of skin types thanks to it's ultra-hydrating ingredients that include hyaluronic acid and ceramides.
18Best drugstore makeup wipes: Almy Biodegradable Micellar Makeup Remover Wipes
Not only do these do a stellar job of removing stubborn makeup, but they're biodegradable, so you can feel good about using them on a daily basis.
19Best drugstore toner: Pixi skintreats Glow Tonic
This toner literally makes you glow. It's made with glycolic acid, aloe vera, and ginseng, which do wonders for calming, hydrating, and plumping skin.
20Best drugstore face mist: Olay Mist Ultimate Hydration Essence
A wake-me-up in a mist. Apply whenever you need to liven up your look and yourself. Talk about vitamin C's brightening effects.
21Best drugstore hydrating moisturizer: Neutrogena Hydro Boost Hyaluronic Acid Gel Face Moisturizer
You'll want to slather this all over your pretty face every day because it'll feel so smooth.
22Best drugstore anti-aging cream: CeraVe Skin Renewing Retinol Face Cream Serum
Because it's never too early (or too late) to combat fine lines and wrinkles, this affordable face serum is totally worth it. It contains retinol, a key ingredient in skin cell turnover, which helps smooth fine lines and diminish the look of wrinkles. We're big fans of this gentle formula that also won't clog your pores.
23Best drugstore acne treatment: Differin gel
Proof that you don't need to spend a ton of money to rid your face of nasty breakouts, this drugstore buy features adapalene, a vitamin A derivative (type of retiniod) that decreases swelling and inflammation. Make sure to wash your hands throroughtly before using your fingertip to apply a tiny dab on active breakouts.
24Best drugstore body lotion: Cetaphil Moisturizing Lotion
This lightweight, fast-acting formula does wonders for keeping all skin types smooth and hydrated.
25Best drugstore body scrub: Dr. Teal's Epsom Salt Body Scrub
This drugstore body scrub is surprisingly luxe. Formulated with pure Epsom salt, as well as essential oils and minerals, it gently exfoliates skin and soothes your senses with a spa-like smell. Apply in the shower using small, circular motions to exfoliate and leave your skin feeling fresh and moisturized.