These are the minimal drugstore beauty products a student living in Silicon Valley swears by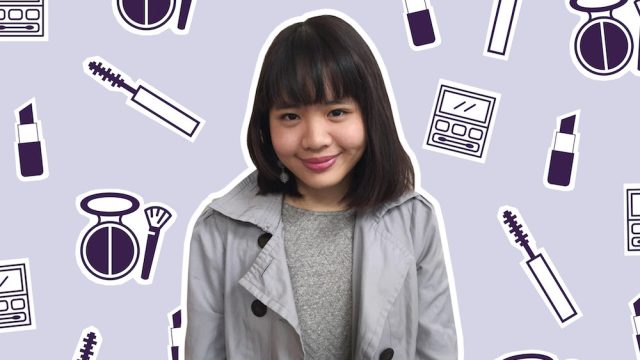 Welcome to The Beauty Files, where HelloGiggles editors and contributors share what exactly they put on their faces, and why. We want to take you on this voyeuristic journey because we believe makeup means something different for every single person — applying makeup is a conscious, intimate decision we make almost every single day, and there's usually a method behind the madness. Join us every week as we spill the beans on beauty products, and feel free to submit your own Beauty File. E-mail us at [email protected]!
A few months ago, I left my full-time job in marketing to pick up skills in video production and film criticism at my local community college. So far, it's been a crazy ride. I currently take classes and keep up with my side hustle as a freelance writer. Because of my schedule, my beauty routine is quick and simple.
And since I'm back in school (and living in the very expensive Silicon Valley area), my budget is tight when it comes to beauty. That said, makeup gives me raison d'etre and I couldn't possibly part from it. It gets my creative juices flowing first thing in the morning and it makes me feel ready to tackle whatever the day brings. I'm diligent about keeping up with sales at Target and Ulta, which is where I get most of my beauty products. With affordable makeup by my side, I honestly feel ready to do anything.
5:45 a.m. — Waking up to the dulcet sound of my generic iPhone alarm.
It surprises me how much I've become a morning person. After turning off my alarm, I put a warm towel on my face and leave it there for five minutes. It helps me wake up. My skin gets dry easily, so I skip the face wash to preserve my natural skin oils. (I learned the towel trick by reading Kristen Bell's interview with Elle.) After, I toss a few fruits and snacks into my lunch bag to munch on during class.
6:00 a.m. — It's glam time, courtesy of my fave drugstore beauty products.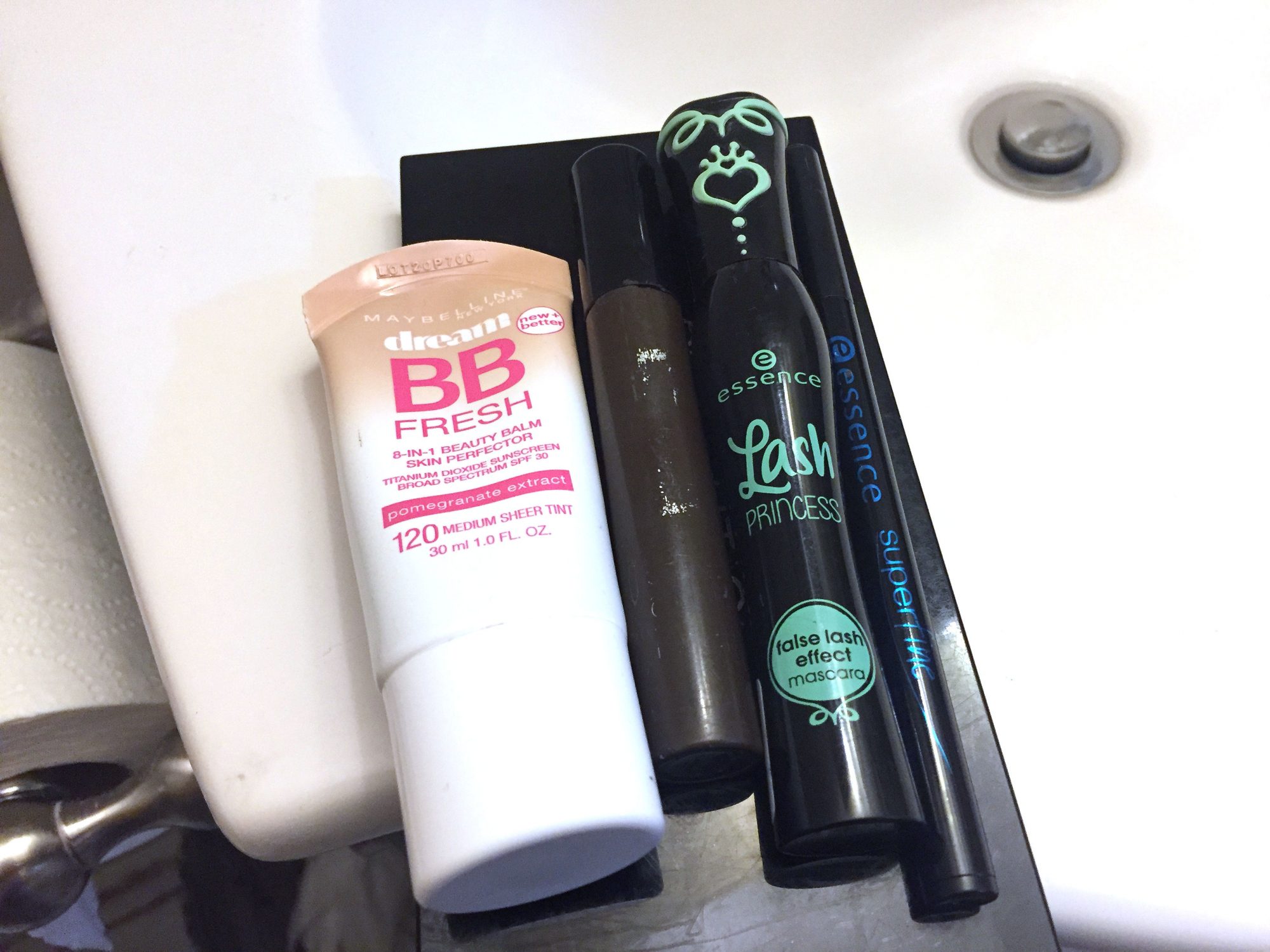 After "packing lunch," I put on makeup.  Many of the wiser ladies in my life emphasize the importance of SPF, so I always begin my routine with sunblock, specifically Neutrogena's Ultra-Sheer Sunscreen Lotion with SPF 30 ($7.49). I slather on my holy grail balm, or, as it's commercially known, Maybelline's Dream Fresh BB Cream ($8.99). This stuff smooths out my complexion and moisturizes my skin without making it distressingly greasy. In addition to having an SPF of 30, it's also paraben- and sulfate-free. Then, I dust on some blush, highlighter, and bronzer, all from my wonderful Makeup Revolution Golden Sugar 2 Rose Gold Blush Palette ($10). The pigmentation, quality, and quantity are hard to beat for the price.
Most days, I'll skip eyeshadow and go straight to my Superfine Waterproof Eyeliner Pen ($2.99). It's a competent eyeliner that produces a super skinny, bold line, but in order to saturate the tip, I shake it a bit. Brows and lashes are an absolute must for me. My brow hairs grow like cowlick, but I tame them with CoverGirl's Easy Breezy Brow Mascara ($6.94). A little bit of fiddling, and I almost have Janelle Monáe's impeccable eyebrows. For lashes, I pull out my Essence Lash Princess Mascara ($4.99). My lashes are stubbornly straight, but this formula gives them curling power.
6:30 a.m. — Making my way downtown, literally.
By 6:30 a.m., I'm out the door. I drive my dad downtown to run errands before he goes to work  — it gives me a chance to squeeze in driving practice during my hectic day. (Yup, I'm 23 and I'm still trying to get my license!) I wait for my dad at Starbucks for a few hours so that we can drive to my bus stop when he's done. While I wait, my black coffee pumps life into me as I check my emails and catch up on freelance work.
9:30 a.m. — The wheels on the bus go round and round…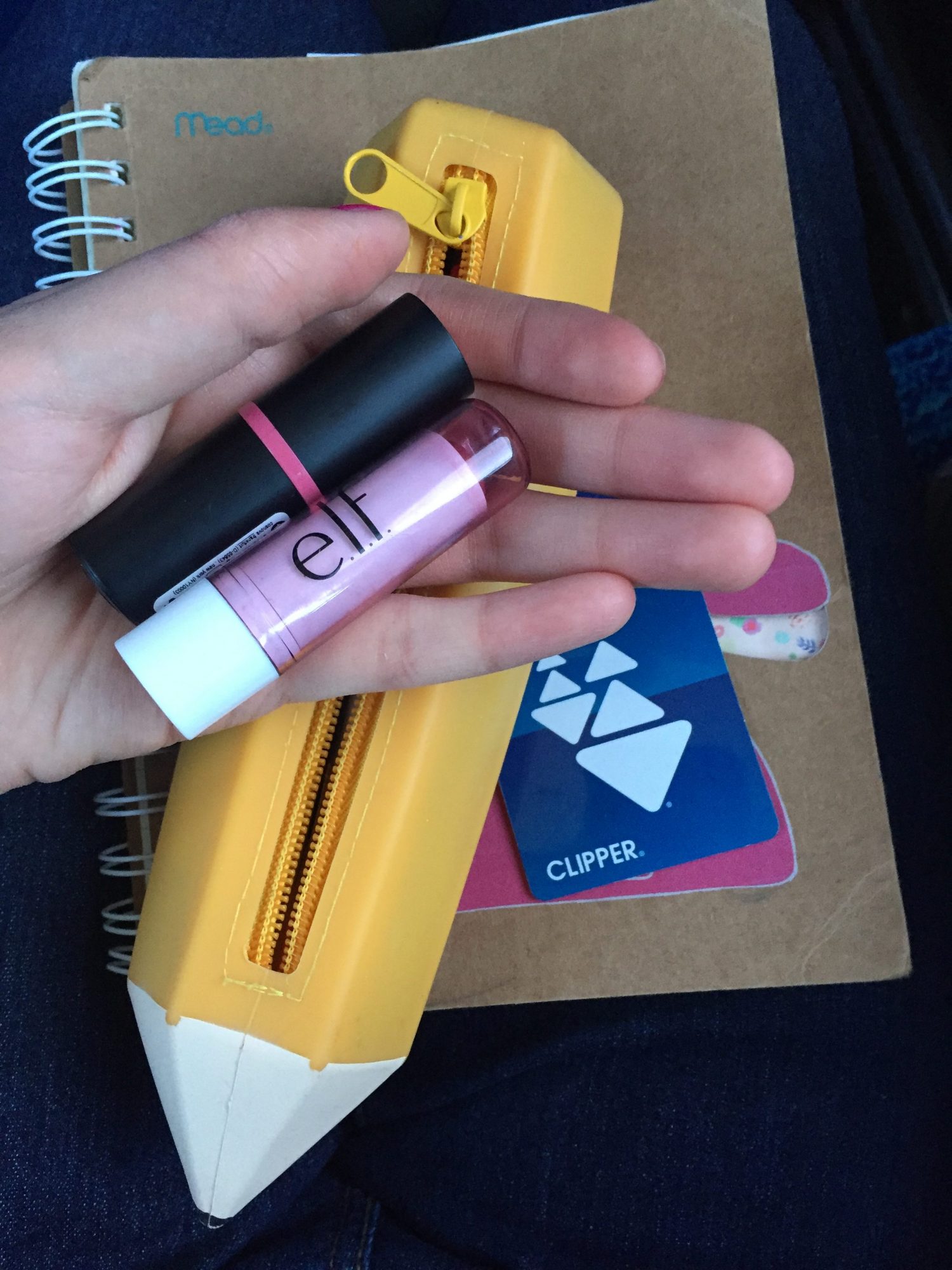 On a regular school day, I take two buses, but I have a ride today, so I only take one. Before I crack open a book or play a podcast (I'm convinced that Terry Gross will get me through anything), I fix up my lips. If I'm a sucker for anything, it's lipstick. After applying e.l.f.'s Lip Kiss Balm in Berry Sweet ($2.77), I reach for one of the many lipsticks in my pencil case. Today is a low-key kind of day, so I use Essence's Longlasting Lipstick ($1.49) in the shade Barely There. The formula feels creamy and moisturizing on my lips, and the color looks fresh in an understated kind of way.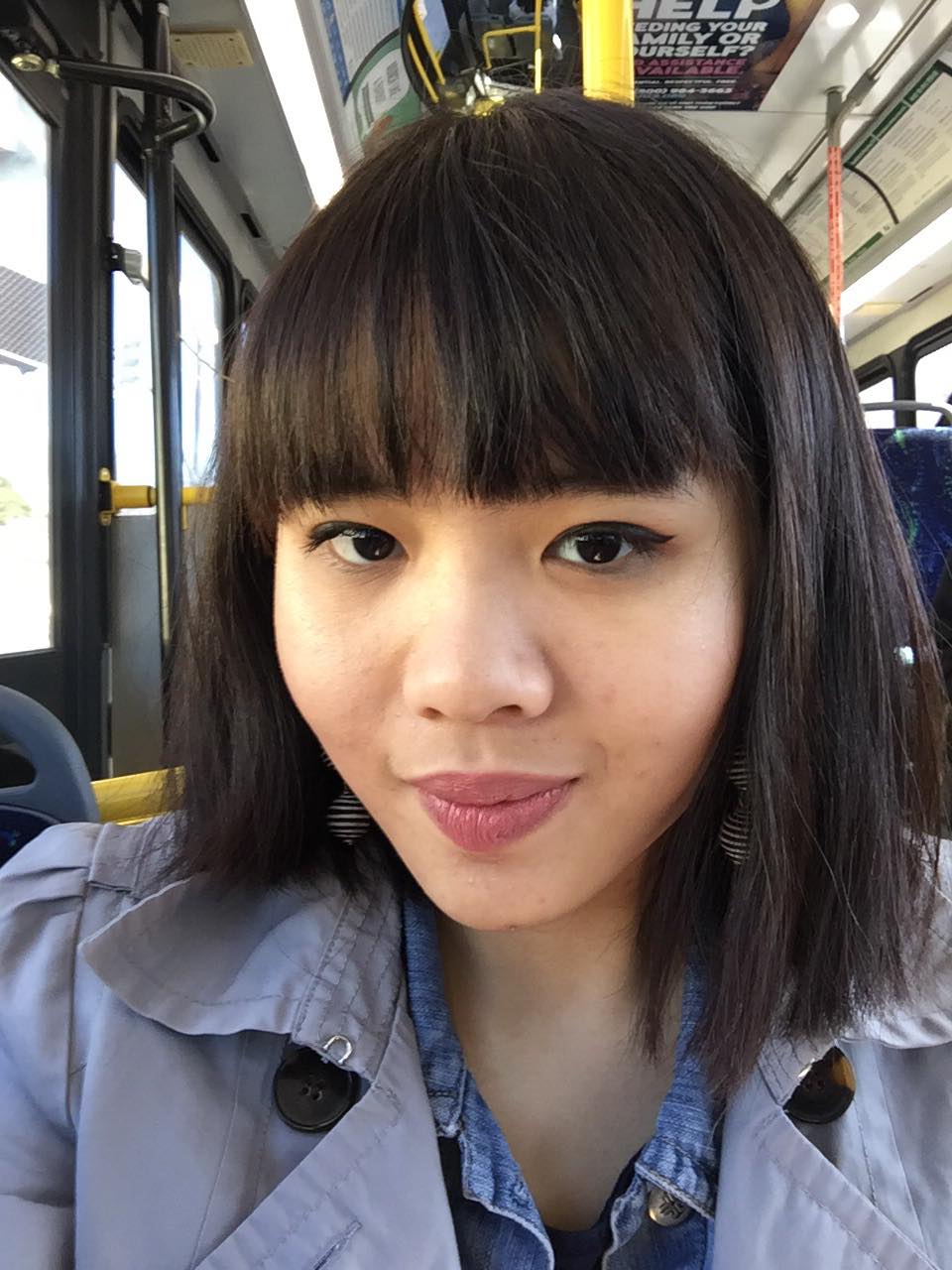 On fancier days, I like to use my higher-end lipsticks, like Kat Von D's Everlasting Liquid Lipsticks ($20), Urban Decay's Vice Lipsticks ($17), and Estee Lauder's Pure Color Envy Sculpting Lipsticks ($32). They're usually splurges, gifts, or my mom's. Side note: One of the perks of being a boomerang baby is sharing makeup with my objectively more stylish mother.
10:00 a.m. — At school, with a couple hours left until class.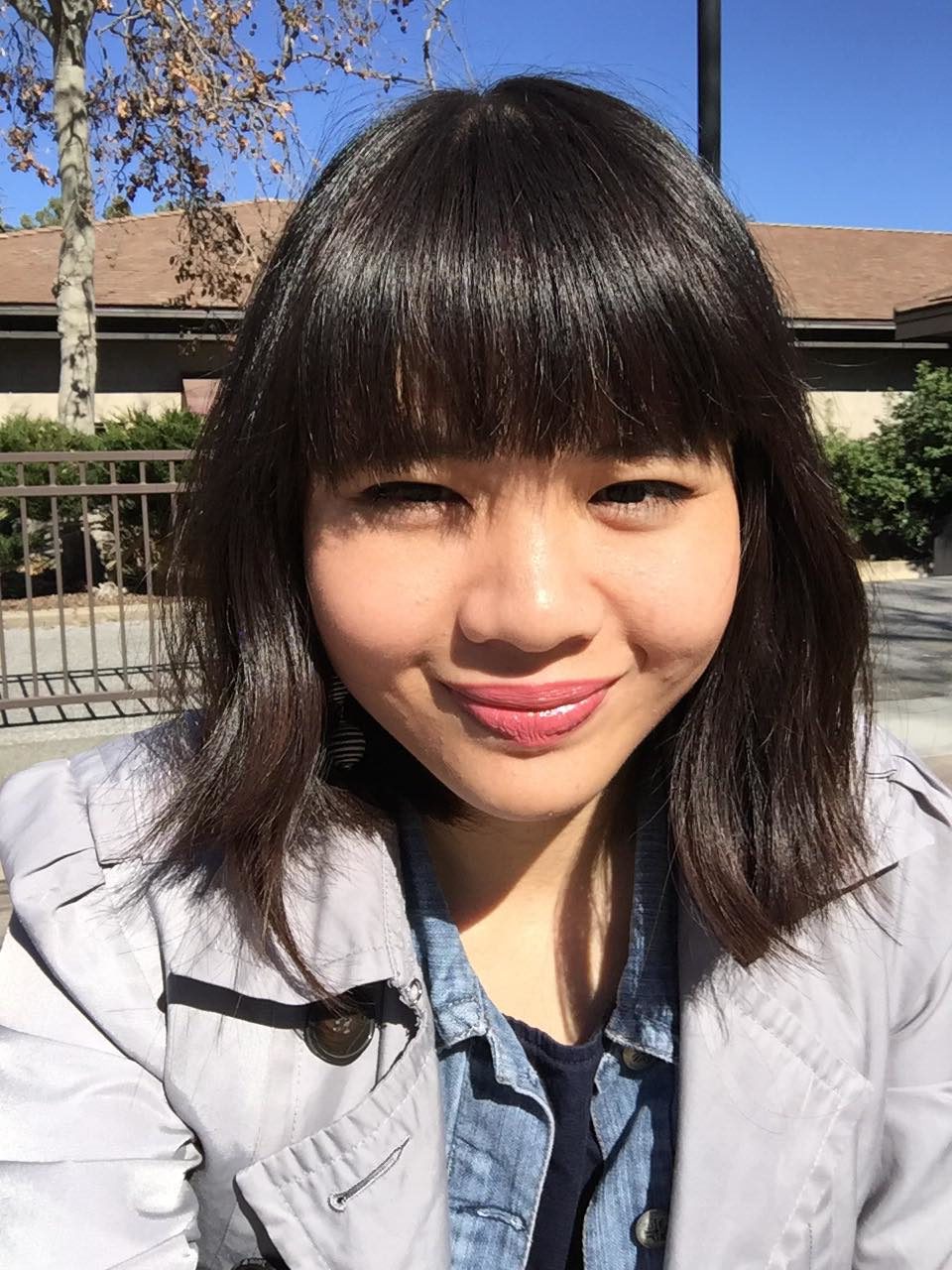 I'm studying for my midterm in the basement of the film department before my screenwriting class starts at 12:30 p.m. Half an hour before class starts, I go outside and listen to some Kendrick Lamar and finish reading the screenplay for Groundhog Day.
4:30 p.m. — The wheels on the bus, the reprise.
As I wait for my bus, I put on a little bit of the e.l.f. lip balm to soothe my chapped lips. I'm taking two buses to get home, which takes about an hour. At this point in the day, I'm zoning out.
10:00 p.m. — It's self-care o'clock!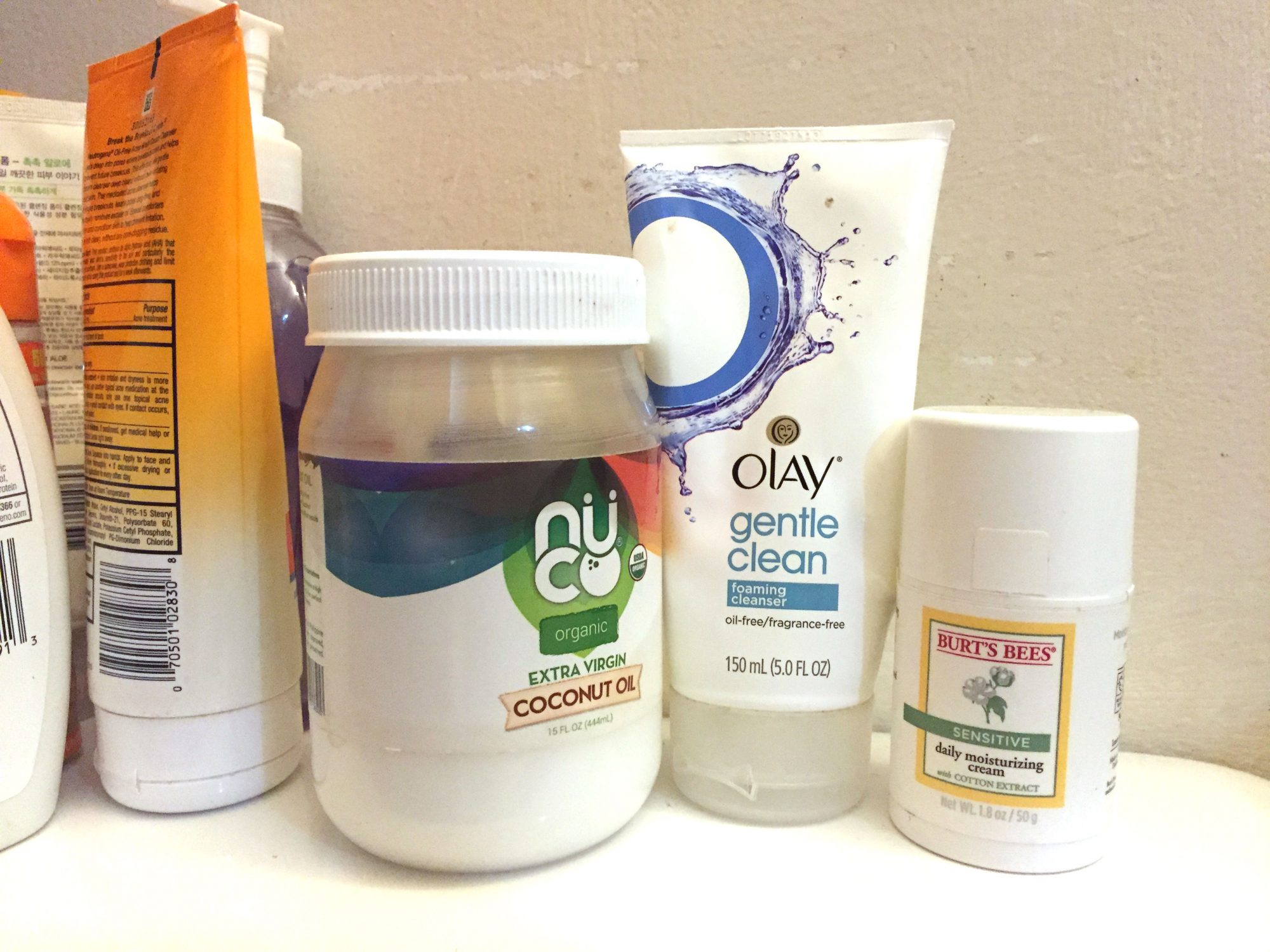 After a long day of classes and bus transfers, I pamper myself with a simple skin care routine. Before I wipe off the day's grime from my face, I'll usually let a romantic comedy play in the background (if it's a Richard Curtis movie, even better). It's my self-care hour, after all. My favorite makeup remover of all time is coconut oil. It removes my stubborn waterproof eye products and it makes my face smell like a macaroon. I use NuCo's Organic Extra Virgin Coconut Oil, which costs $6.99 online. I got my jar for around $4 at my local Grocery Outlet. It's worth checking out if you have a store near your location.
Then, I wash the coconut oil off with cool water and get rid of the oily residue with Olay's Gentle Clean Foaming Face Cleanser ($4.99). My mom has been recommending this face wash to me for a while, and it really does work. It doesn't feel harsh or drying on my skin at all. The most important step in my skin care routine is applying Burt's Bee's Daily Moisturizing Cream with Cotton Extract ($14.99) after I shower. This cream hydrates my skin, and I swear that the smell helps me fall asleep.
Before bedtime, I fix myself some honey lavender tea and brush my teeth. I'm pretty serious about flossing and brushing my teeth —Gingivitis is serious, y'all. After a little bit of writing (or, to be honest, watching Saturday Night Live), I put on my eye mask and conk out.
And that's all! Drugstore beauty products are the light of my life, and I hope that you find some use for them too.
Indulge in beauty-themed voyeurism by reading all of our past Beauty Files, here.