The vivacious 91-year-old woman who embarked on a road trip after her cancer diagnosis has passed away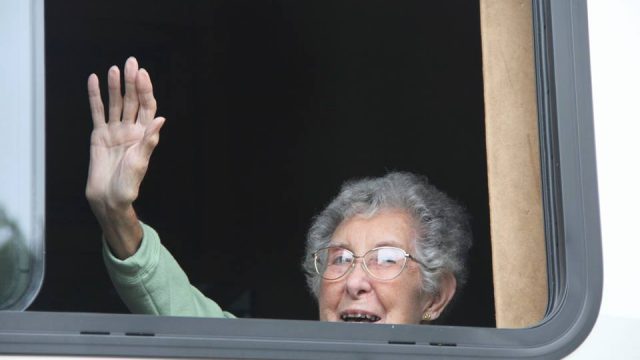 The name Norma Jean Bauerschmidt may not be as familiar to you as her nickname, Driving Miss Norma. Last year, at the age of 90, Norma was diagnosed with uterine cancer only two days after the death of her beloved husband. Her doctors told her that she could undergo a high-risk surgery that may or may not be successful — or she could simply continue living her life for as long as she can.
The queen told her doctor:
"I'm 90 years old. I'm not interested in going through that. I'm hitting the road."
Instead of moving to a nursing home or moving in with her son, Tim, and his wife, Ramie, she embarked on a year long road trip like the bossest lady of all time.
Tim and Ramie started a Facebook, Driving Miss Norma, that documented all of her grand adventures: The Grand Canyon, Old Faithful, Mount Rushmore — she even got her first pedicure! 91-year-old Norma did more in one year while battling cancer than most folks will do in a lifetime. She saw 32 states, slept in 75 different places, and drove 13,000 miles.
For quite a while, the joyous journey helped improve Norma's health — but prior to a whale watching trip in Washington last month, Norma's health took a turn for the worse. She cut her road trip short and began hospice care in the gorgeous San Juan Islands — but she remained as vivacious as ever.
Her family documented the bold woman's final days — sharing her effervescent beauty and incredible worldview.
And on September 30th, Norma's adventure-filled existence came to a peaceful end.
Norma is legendary.
Her son and his wife chose to document the entirety of Norma's end-of-life journey in hopes it will help families have those difficult conversations about how the people they love want to spend their final days on Earth.  If you are inspired by Norma's powerful last year, Ramie asks that instead of sending flowers or donations, you follow Norma's lead and "Infuse some joy in the world."
Rest in peace, Norma. Let's hope we all get to be as amazing as you.
H/T Cosmopolitan