Drew Barrymore wore an entirely unglamorous face mask before the Golden Globes, and this is why we love her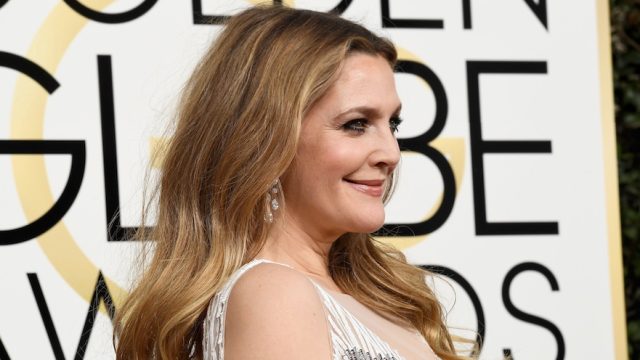 Despite being one of the most well known actresses around, Drew Barrymore is known for keeping it real. She is always so honest, and great at being herself at any given moment — you can't help but relate to her.
Which is why it's totally fitting that Barrymore posted a decidedly *unglamorous* selfie of herself getting ready for the Golden Globes. Several hours before the show, she posted this adorable pic of herself donning one of those weird paper face masks we've all been secretly wearing.
Seriously though, her adorable goofball levels are off the charts!
Her deadpan expression in the awkward mask is seriously making us smile. Also, we can totally relate to how the mask is totally not staying on her face in any normal way. (Seriously! Whose face do they make these for?!).
But it clearly was all worth it, because check out her gorgeous after pic:
We're loving her big, beautiful waves and that smoky eye! Hard to believe she was in PJs and a creepy mask just hours before. And by the looks of things, her night only kept getting more glam. Take a gander:
And here is every single piece of jewelry she wore last night (jealous!).
More cute selfies!
Thank you for all those fun Insta pics, Drew! It looks like you had a totally awesome night, and we seriously enjoyed watching every bit you documented!
Also, thanks for reminding us that even the most beautiful of Hollywood stars start of their evenings looking just like the rest of us. It serioulsy makes us feel so much better knowing that nobody wakes up red carpet-ready, no matter how much movies and magazines may try to make us believe differently.
OH, and CAN'T WAIT for Drew's new Netflix series, Santa Clarita Diet, which premieres February 3rd!