Drew Barrymore revealed why she believes having two daughters was "karma" for her past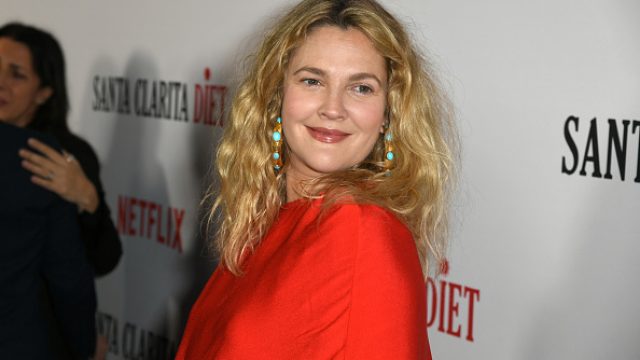 Drew Barrymore is our hero. Between opening up about her past costars and dropping some serious truth bombs about how much she hates dieting, the actress always knows how to keep it real. And as someone who routinely comes home covered in fake blood after filming Santa Clarita Diet, Barrymore is a master at handling sticky situations with her kids. In her most recent interview, Barrymore gave some insight into what it's like to raise her two daughters, joking that it sometimes feels like "karma" for her past.
In a preview of her Sunday with Willie Geist interview obtained by People, Barrymore said that her own antics make her feel like her daughters won't be able to get anything past her. The 43-year-old actress is mother to three-year-old Frankie and five-year-old Olive, whom she co-parents with her ex-husband, Will Kopelman. And even though her girls are young now, she's already braced herself for the antics they'll get up to in the future. She said that her past experiences had readied her for being a mom.
"I was born for teenage girls. You're my karma and don't worry, I know everything you're up to," she joked to Geist. "I'm basically in my 80s, and I've seen it all darling. You can't pull the wool over my eyes. That's literally how I feel and that's how I felt when I found out I was having two daughters. I was like, 'Yup, we're working out mother issues and we're working out how to live the perfect existence they can coming from what I've seen and done and learned.'"
Of course, parenting isn't all stressful. In November, Barrymore posted touching tributes to both of her daughters on Instagram, referring to Olive as "the love of my life" and Frankie as the "other love of my life."
https://www.instagram.com/p/Bb94zL-BSZF
We have no doubt that Barrymore is an awesome mom and can handle whatever Frankie and Olive get up to. You can catch her full interview on NBC's Sunday Today on March 25th.