Drew Barrymore's tattoo tribute to her daughters is making us melt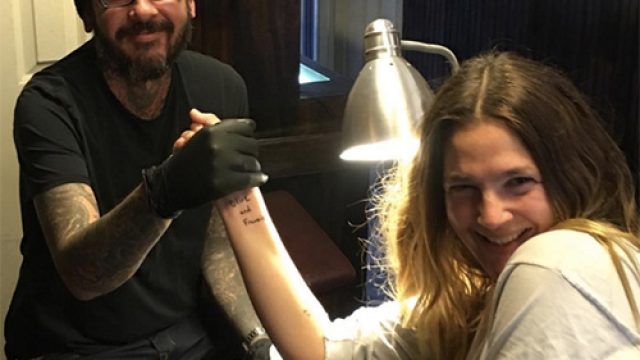 Drew Barrymore has won April Fools' Day (and technically April Fools' Eve), and didn't even need to prank anyone. The actress/CEO/overall rad lady posted posted a series of photos on Instagram on Thursday — one of her getting a tattoo (very mysterious), one of her and the artist post-tattoo, and one of a close-up of the tattoo: a very precious "lifetime note" of her daughters' names.
So cute! And we're sure her fans agree, judging from the comments. In fact, we wouldn't be at all surprised if we saw a sudden surge of tattoos like this from a deluge of moms and dads. A few of her commenters have already mentioned getting similar tats, but in their kids' handwriting. Is this the beginning of a new trend? If so, it's one we can get behind.
The cute factor aside, kudos to the actual piece placement — if Barrymore ever decides to have more kids, it'll be super easy to add on another name to her arm!