Drew Barrymore says her "Santa Clarita Diet" character helps her live her best life IRL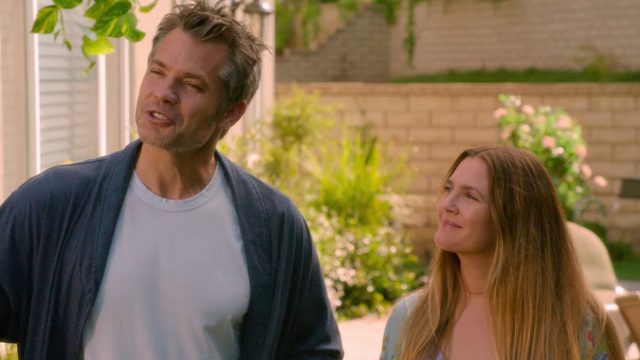 The wait is finally over! Season 2 of Santa Clarita Diet arrived on Netflix today, Friday, March 23rd. And we can't wait to see what messes Drew Barrymore's character Sheila Hammond gets into this time around.
We love Sheila. She's a positive woman with a can-do attitude. Where does she get her endless energy and confidence? Unfortunately, Sheila's regimen is not exactly something we can replicate 1:1 for ourselves at home. That's because she's a zombie who is driven by animalistic instincts and a desire for, um, devouring human flesh. But we can adopt her positivity and her hunger for success. (Sorry.)
At a recent Netflix press event, Barrymore spoke about how her Santa Clarita Diet character inspires her own life IRL, even when she's off-camera.
"I really am my tightest and best at being her, Barrymore explained of Sheila. "She is in this Oprah, live your best life, empowered, thin, healthy — almost like when you do a juice cleanse and you're like, 'I fucking kind of feel euphoric right now!' That is the way she feels on a permanent basis. So I try to put myself into that and take really good care of myself and just be on this natural high of health and fitness. I'm trying to give it the full Oprah. Live my best life."
Barrymore also talked about Sheila's transformation from awkward real estate agent to confident zombie and how she carried it into Season 2.
"In the first season, she goes from being a little nebbishy and a little more, like, 'I wish I was a more overt person' to being so fucking confident. So I was like, 'Where am I picking up? Am I picking up in her confidence? And if it's just confidence, is that going to get kind of pat and boring?' So I was just trying to figure out the balance because she really does have a nice arc in the first season," Barrymore said. "It was a little heady the first week, but then I got right back into it."
You're the best, Sheila. Never change.
Season 2 of Santa Clarita Diet is now streaming on Netflix!