Drew Barrymore loves the mundane parts of Sheila's life in "Santa Clarita Diet," because things can be boring even when you're a zombie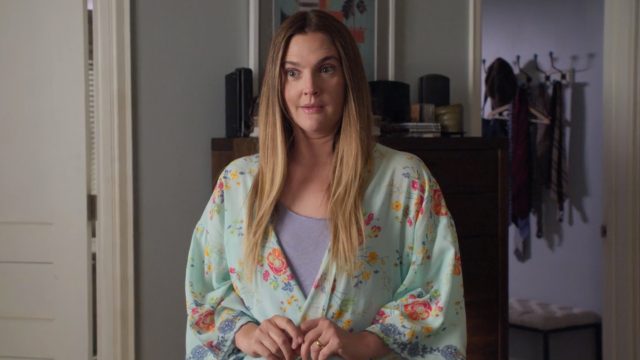 The moment that Season 1 of Santa Clarita Diet ended, we were ready for more. And now, the wait is finally over. Season 2 of Santa Clarita Diet landed on Netflix today, Friday, March 23rd. And things are about to get suuuuper messy for Sheila (Drew Barrymore) and Joel (Timothy Olyphant).
If you haven't seen Santa Clarita Diet, it's about a suburban family living in California. Sheila and Joel are real estate agents raising their teenage daughter Abby (Liv Hewson). Everything is completely fine, and there's nothing special to see here. Except for the fact that Sheila is a zombie, and they need to kill people for her to eat. Did we mention that?
The Hammond family's massive secret makes for some hilariously outrageous situations. But what makes the show so loveable is that at the root of things, they're still just a family. Despite their wild circumstances, they still deal with the same day-to-day things that all families deal with. And it turns out that extraordinary circumstances can actually be pretty boring sometimes.
We spoke with Barrymore and Olyphant at a Netflix press event about the balance their characters strike.
"I don't know why, but I was obsessed with — and I've been talking about it all day," Barrymore said of a scene in Season 2. "[Sheila and Joel are] really getting to the crux of what's really going on, and the mystery is 'unsolving.' And so everything is on high octane. We're speaking faster than ever, and then I interrupt him to go, 'By the way, where are the garden hoses, and why the fuck do they keep disappearing?' And then Joel has a theory about it. And for some reason, the term 'garden hose' is so real life, normal, mundane bullshit."
"And we suspect our gardener has taken our garden hose," Olyphant chimed in. "And then we have to try to put that into the list of priorities to deal with. Which falls like, down to fourth, I think."
Barrymore continued, pointing out that all of us have mundane moments like this in our lives, zombies or not.
"I think that's any couple who is in these circumstances. If a person has something tragic going on in the world, they still try to talk about other things. Life can't help it. It's a 24-hour cycle. I just like some of the stuff they talk about in that mundane, suburban life as well as the next sentence will be something shockingly abnormal."
Olyphant summed up the contradiction well.
"Well, I think it gets to what the very essence of the show is: the contradiction between these extraordinary circumstances where we have to kill people for her to eat them to survive, and also maintain some sense of sanity and normalcy of a marriage and a family and raising a teenage daughter."
Season 2 of Santa Clarita Diet is now streaming on Netflix!