Drew Barrymore revealed some of her favorite makeup products in this quick "get ready with me" video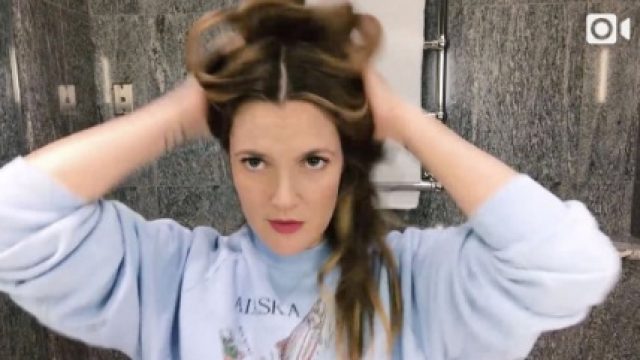 We've all been there: Navigating through that annoying struggle of finding the right makeup products that really work wonders on our skin, last throughout the day, and also won't break our bank. Ugh!
In her recent Insta video for Vogue, she reveals some of her fave makeup products — and there's nothing fancy here. It's literally Drew in the bathroom, applying everyday foundation to her face. And everything she uses can be applied when you only have a few minutes to spare, because that's the whole idea. Quick, efficient. Ready to smash the day looking fresh.
As you can see, it starts with Skincognito Stick Foundation (which is $12.99 on Amazon btw), and moves onto highlighter and blush. The MAC lipliner in Magenta and Colorscience mineral powder with SPF definitely kicks things up a notch, and then comes the product that Drew swears by…the super reliable Diorshow Mascara. And while a few of these are more expensive than your typical drugstore brands, for the most part they're way more affordable than a ton of "luxury" products. Nice work!
And we love that she emphasizes moisturizer and uses products with sunscreen, because those really are necessities for any on-the-go beauty bag. (Plus, our skin thanks us for going the extra mile).
You can see what all the products were here, along with the whole tutorial. Incidentally, Drew also revealed that she's a beauty junkie, and we can soooooo relate to this. We don't have quite this many products maybe, but…
Wait, there's more! Yes, products.
Thanks for sharing your #commuterbeauty secrets with us Drew (and your beauty cabinets). We're totally taking a page out of your makeup routine, because let's be real — when are we ever not in a rush?