Drew Barrymore poses with raw steak (and still looks chic) at the "Santa Clarita Diet" premiere
Netflix's new original series, Santa Clarita Diet, had a unique premiere to match its unique plot — lead actress Drew Barrymore posed next to some raw steaks, a funny twist on the show's storyline.
The premiere was held at the Cinerama Dome, complete with a blood-and-gore theme.
In the series, Drew Barrmore plays a woman who lives with her husband and teenage daughter in the suburbs, the epitome of a nuclear family. Things start to get a little strange, though, when Drew's character develops a taste for human flesh.
Talk about a lifestyle change. We're thinking this suburban zombie will be right up your alley, The Walking Dead fans.
Interestingly enough, Drew said that the horror comedy came to her at the right time in her life.
"The show is about human relationships and family. It goes beyond wacky. When you think something could be the wrong timing for your life, it can be the thing that actually ends up making you a lot happier. This show gave something to my personal life. I needed a wake-up call. I was not in the best place, and it totally liberated me," the 41-year-old actress revealed to Variety.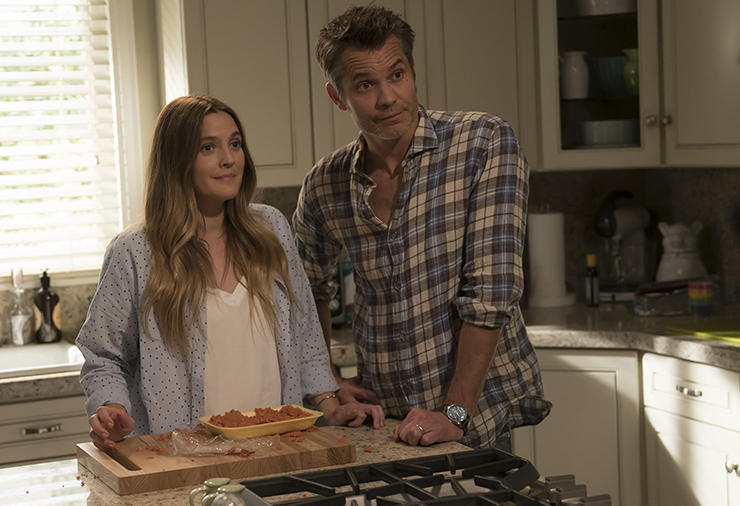 We're, of course, wondering how this idea came to life.
"I wanted to try something with a big hook. I wanted to see a couple who had unconditional love for each other, which these two do, and what happens when something goes extremely wrong and how do they keep that love going?"  Santa Clarita Diet creator Victor Fresco said.
Santa Clarita Diet premieres on Netflix tomorrow, February 3rd, 2017.