Hold up, Drew Barrymore's new Netflix show is about zombies, and we are here for this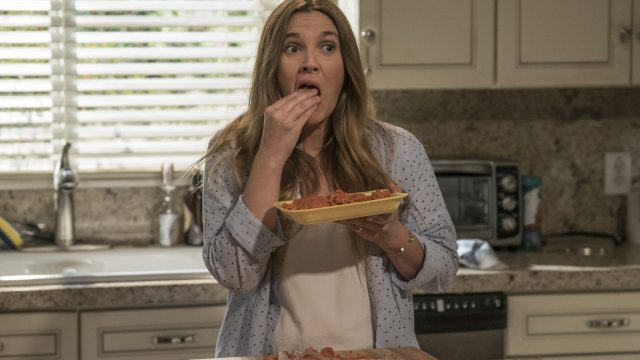 Soooo if you've heard about Netflix's new show The Santa Clarita Diet, you've probably thought the same thing most of us did upon reading the title — eh, meh. But, now we've learned something new and suddenly we're SUPER interested because it turns out Drew Barrymore's new Netflix show is about cannibals. 
Now, we, like most civilized people, have loved Drew Barrymore 5ever, so we have faith in her, but the show was originally billed as your average romcom. And it's not that we're not here for romcoms, it's just that it didn't scream WATCH ME NOW. But now it SUPER does.
Apparently, an ad has come out for The Santa Clarita Diet that shows a super glam and gorg Drew Barrymore sitting in a chair holding a glass of something that looks like a Bloody Mary…only it's filled with eyes and fingers and blood???
None of this explicitly says zombies, but we're definitely thinking zombies. Or just straight up cannibalism — like Hannibal, for soccer moms. If the Deadline report is to be believed (and they usually are), the show sounds like an automatic add to our queue as it revolves around:
"Husband and wife realtors Joel and Sheila in the dark comedy. They're leading vaguely discontented lives in the L.A. suburb of Santa Clarita with their teenaged daughter Abby, until Sheila goes through a dramatic change sending their lives down a road of death and destruction…but in a good way."
That dramatic change? DEATH.
We'll have to wait and see The Santa Clarita Diet to find out exactly how Sheila dies (or if she just suddenly wakes up as a zombie one day, who knows!), but we're suddenly SUPER into this new show. Drew Barrymore + zombies + Netflix? This sounds like a diet we want to life off of for the rest of our lives.