Drew Barrymore said she cried "every day, all day long" when she started homeschooling her kids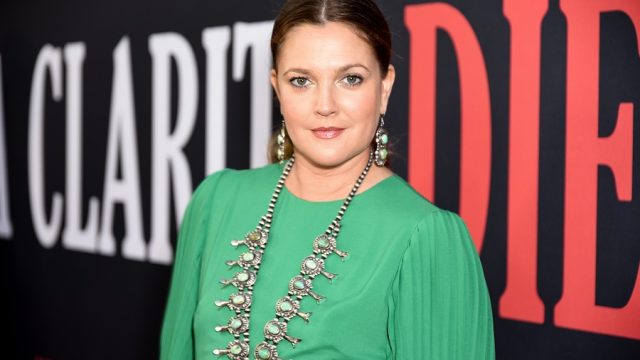 Like millions of parents around the world, Drew Barrymore is struggling to juggle all of her roles amid the coronavirus (COVID-19) quarantine. With schools closed, parents are stepping into the shoes of teachers, caregivers, and disciplinarians all at once. And for many, these roles are added on top of their own jobs, partnerships, friendships, and maintaining their own sanity through this stressful time. It's a lot to handle, and Barrymore isn't sugarcoating her experience.
In an April 13th interview with Savannah Guthrie on The Today Show, Barrymore opened up about how she's handling quarantine. The actress has two kids with ex-husband Will Kopelman: 7-year-old daughter, Olive, and 5-year-old son, Frankie. Barrymore noted how creating a routine with her kids worked well as they settled into this new normal. But then homeschooling started, and things changed.
"I just tried to find routine with my kids," she told Today. "Go on a bike ride, take a car ride, break out the chalk and do hopscotch, board games…make signs and be inventive."
"And then school started. And it all went out the window," Barrymore said. "The minute I thought, 'Oh, I'm three weeks in. I've got this,' I cried every day, all day long."
We relate to this on a deep level. Crying is completely normal during this time, and it's refreshing to hear celebrities admit that they're struggling to transition, too.
"It was like every church and state," Barrymore said. "It was the messiest plate I've ever held in my life, to be the teacher, the parent, the disciplinarian, the caretaker. And I thought, 'Oh my god, and teachers have children.' Do they survive it because they get to go away and work with other kids?"
The actress explained how her experience has been a roller coaster of emotions.
"I don't know if there are good days and bad days. I think there are good hours and bad hours," Barrymore said.
Other celebrities have opened up about the stress that quarantine is putting on their relationships, with both their kids and their partners. Kelly Ripa teared up on a recent episode of Live with Kelly and Ryan, revealing that she wasn't speaking to two of her three kids at the time. Always-candid Kristin Bell and Dax Shepard told Katie Couric that they've been "at each other's throats" during quarantine.
Every relationship, marital or parental, is under stress during this time, and there's no use pretending otherwise. However, Barrymore noted how she stays optimistic during these times of hardship.
"Happiness is a war you fight every day, and the victory is if you accomplished any of those wins, that is a win," she said. "I march in the army of optimism and I am looking for recruits, but I am very real about it. I am not some vapid hippie who's like, 'You just gotta be happy, man.' This is the way and the direction I will point my compass."
We'd like to mentally join Barrymore's "army of optimism."
As information about the coronavirus pandemic rapidly changes, HelloGiggles is committed to providing accurate and helpful coverage to our readers. As such, some of the information in this story may have changed after publication. For the latest on COVID-19, we encourage you to use online resources from CDC, WHO, and local public health departments, and visit our coronavirus hub.