Drew Barrymore Said She Got Stood Up For a Date—and How Dare They??
Who has the audacity? We just want to talk...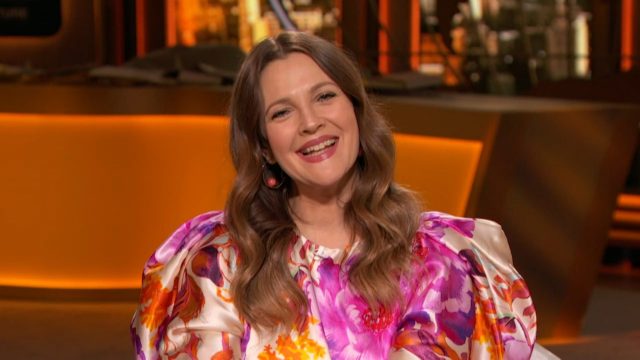 Back in a September appearance on Watch What Happens Live With Andy Cohen, Drew Barrymore opened up about getting stood up after setting up a date with a man she met through the exclusive dating app Raya. "It was a car wreck," Barrymore disclosed, and honestly, it sounds like it—but not because of anything she did. It's the fault of the dumb-dumb who stood her up. Barrymore went into more detail about her dating app experience with comedian Nikki Glaser during the January 4th episode of The Drew Barrymore Show, and dudes on Raya need to stop being rude to Drew Barrymore. Full stop!
"I went on an app—I think you've been on this app, too—where every guy was a surfer, a photographer, had a dog and definitely their best friend's kid," Barrymore said during her conversation with Glaser. "I was like, 'Wow this is like a cookie-cutter. It's like the same thing over and over and over.'"
Glaser agreed, saying that the photos men have on their profiles (mainly selfies and pics of themselves holding fish) "never accurately represent who they are." And then when you find one potential suitor amongst the masses…it never seems to pan out, as Barrymore found out the hard way.
I booked a date with one guy, finally, and then he stood me up at the exact time we were supposed to meet, Barrymore said. I was like, 'Can't you be a jerk an hour before? That would have been such a time-saver.'
"I felt so stupid," Barrymore said, agreeing with Glaser that it's such a disappointment to get all dolled up and then have nowhere to go. Our only hope is that this is the same dating app experience as the one she talked about with Andy Cohen because if there are two men on this planet who stood up Drew Barrymore…We have no choice but to form a militia and revolt.
"I'm sure he was just extremely intimidated by you," Glaser said. "That's what I always convince myself of when they cancel." But Barrymore disagrees. "I think he's just an uncourteous person who has reasons that are completely fine to him but is going about them all the wrong way," she said. "Screw that." Agreed!
It sounds like Barrymore, who divorced from husband Will Kopelman in 2016, may be scarred by her dating app experience and it's unclear if she'll give Raya another go in the future. It's utterly impossible to imagine cancelling a date with the one and only Drew Barrymore, but some dudes really do have the audacity.
Thank you, next. She doesn't have time for scared, "uncourteous" little boys.