Why Drew Barrymore was my '90s style icon and still is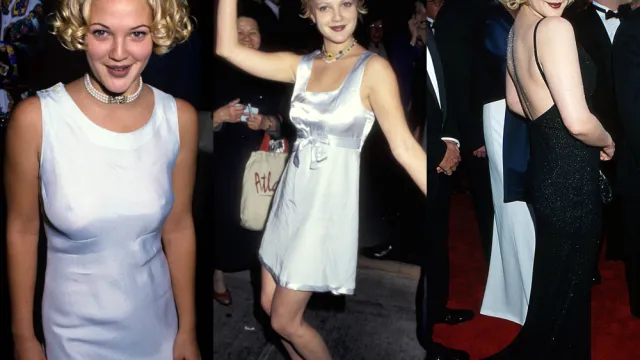 The '90s were filled with many glorious fashion idols. There was Nancy from The Craft, Romy and Michele, Clarissa Darling, and of course, Cher and the uber-fashionable Clueless squad. Along with all of these fictional style icons there was also a very important real-life one: the incomparable Drew Barrymore.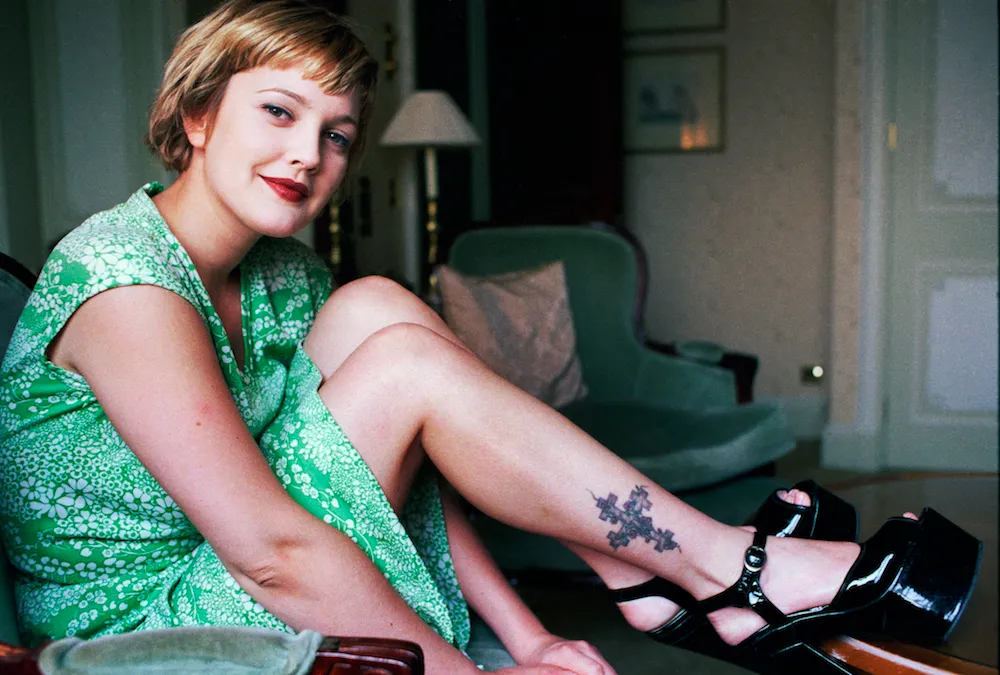 When I was a teenager, I looked to many of these fictional style mavens for wardrobe inspiration, but Drew's IRL style seemed to constantly spill over into the roles she played. This meant that I wasn't restricted to only seeing her dress in cool outfits in Poison Ivy, Wishful Thinking, or Mad Love (which had many outfits I recreated myself). She would consistently kill it on the red carpet and on talk show appearances while wearing slip dresses, platform heels, and chokers. Her clothing was almost like a complement to her carefree persona and the good-hearted rebelliousness I admired so much as a teen, and still do.
Many people can recall when she famously flashed David Letterman, but I distinctly remembered her outfit that night: a cropped baby blue tee that said, "I'm bananas," and a short choppy haircut with a daisy barrette (which I would also recreate).
The way Drew's style embodied her happy-go-lucky vibe still inspires me today. I believe that if you dress in a way that is fun and puts you in a good mood, it will affect how you think and feel. Kind of like the Law of Attraction for your closet.  Now, let's take a trip down memory lane and swoon over Drew Barrymore's fiercest looks from the '90s.
Chokers, Chokers, Chokers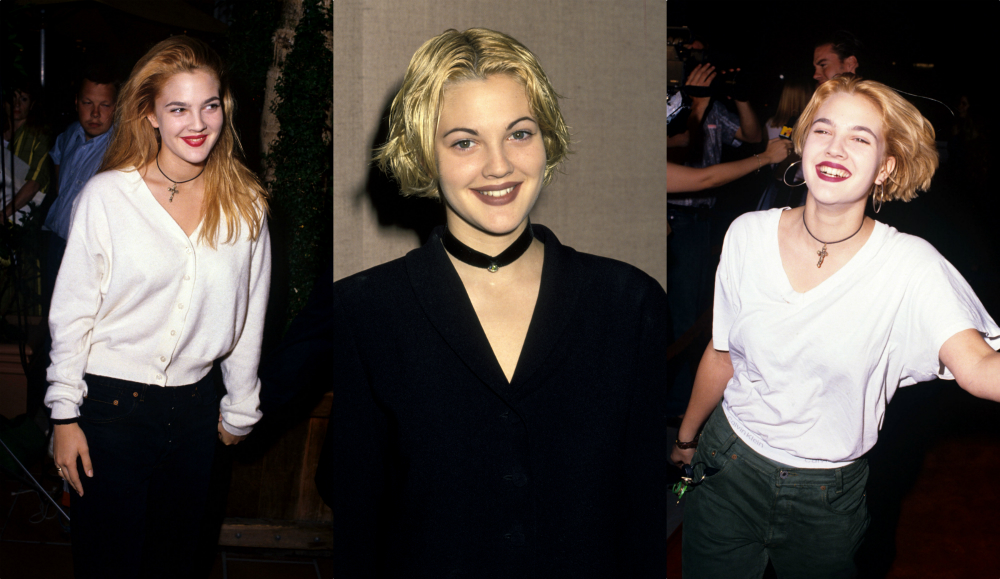 Move over, Taylor Swift. This was the OG queen of the choker. She was especially fond of the ones that had crosses. SO '90s.
Disney steeze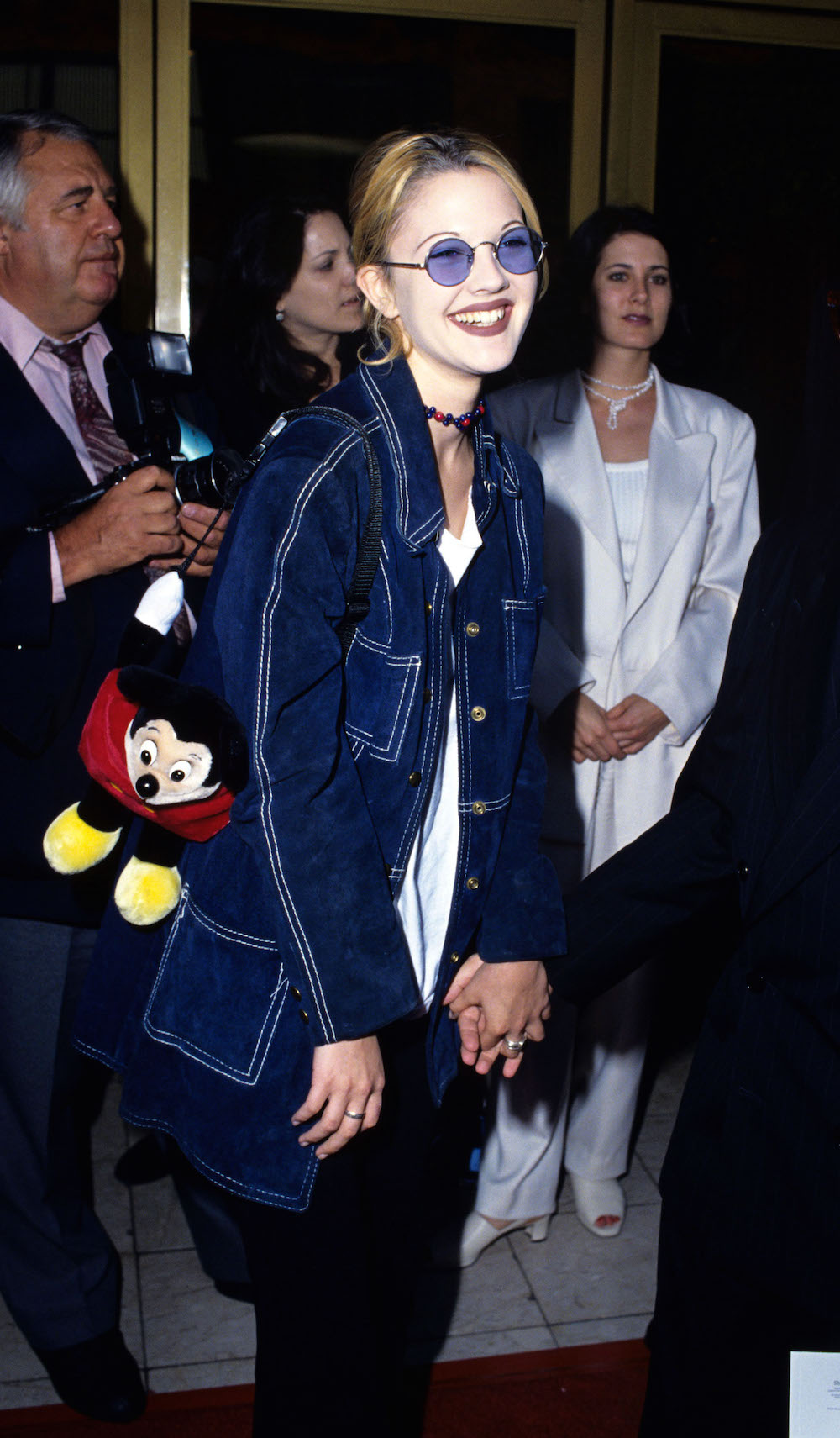 Drew accessorized with a Mickey Mouse backpack! Too cute.
Amazing animal print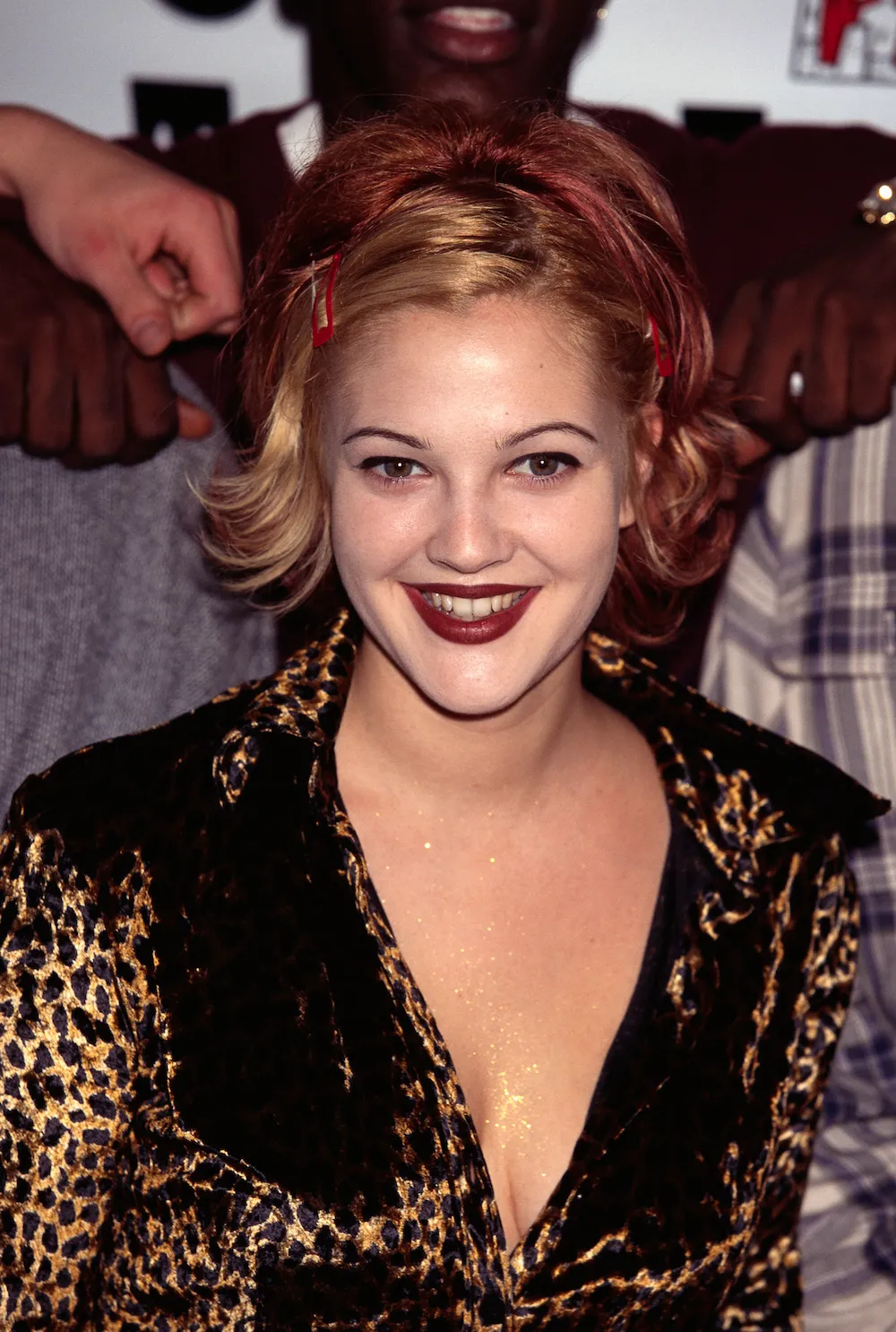 Snap barrettes, two-toned hair, leopard print, and body glitter?! Drew was killing multiple trends at once.
Thrift store chic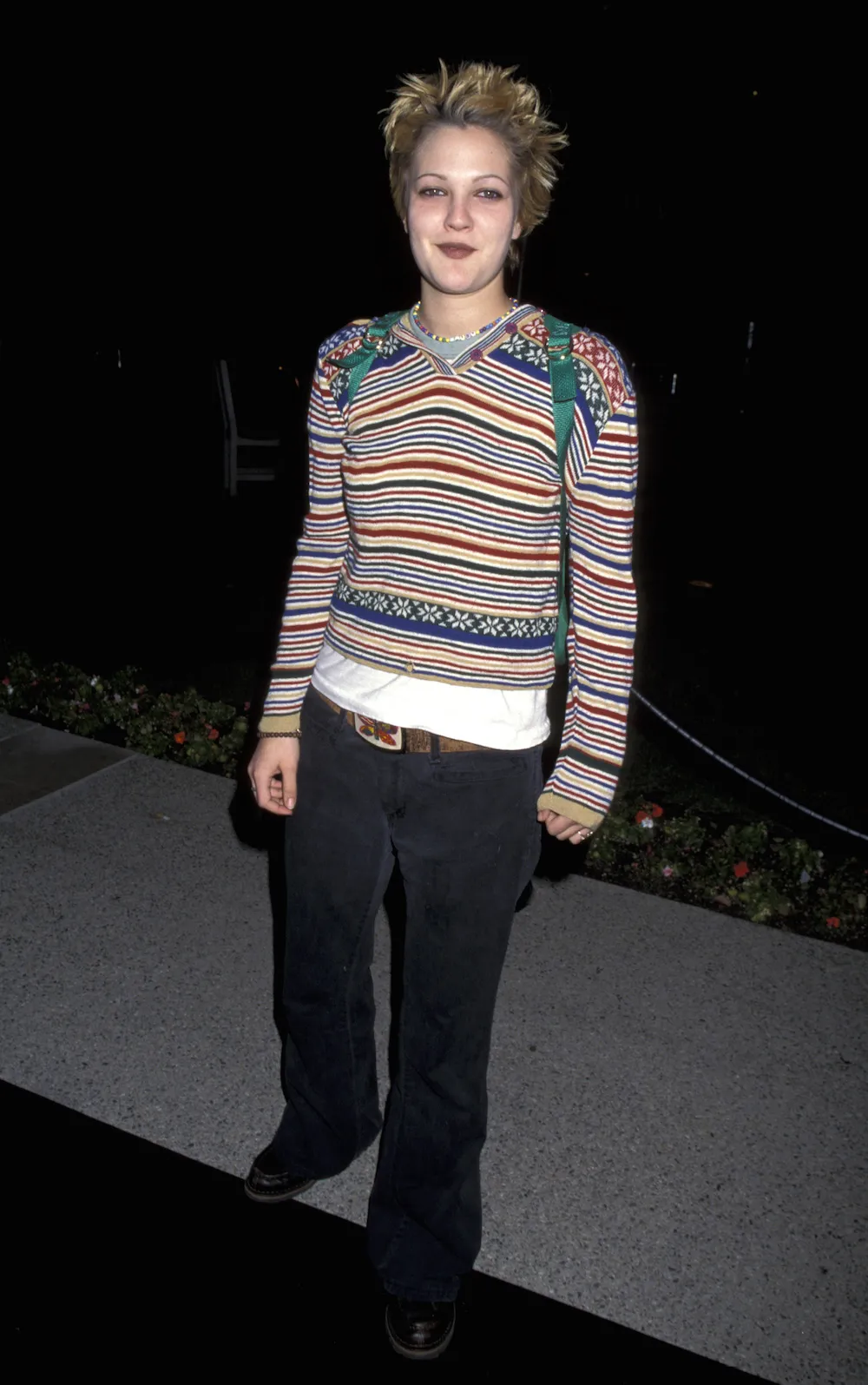 This look spoke to every alt-teen queen.
All white everything
As recently proven by Jennifer Lawrence, this choker and slinky dress combination is a classic.
Satin and bows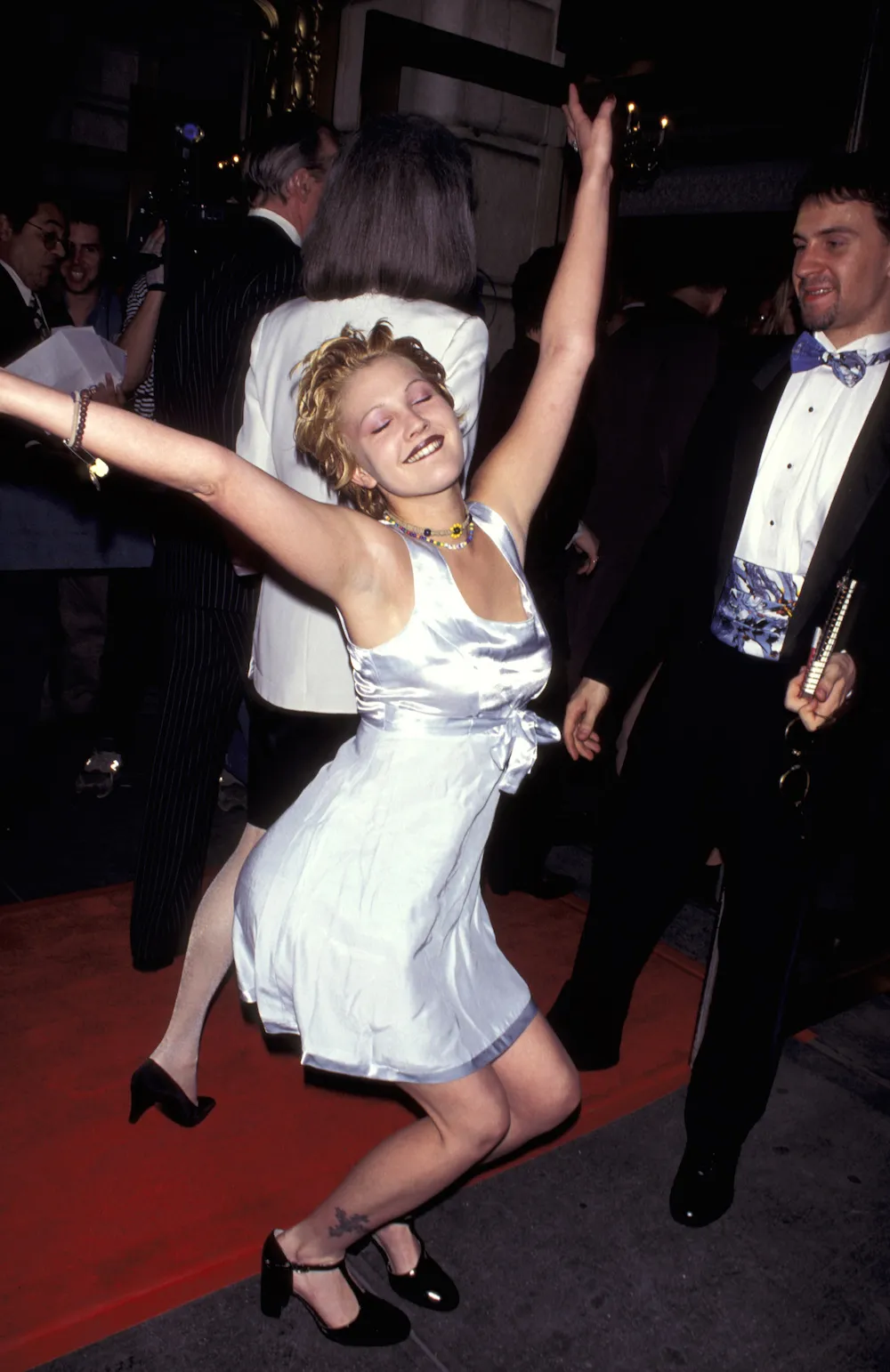 She looks like she's having such a blast here. That is all.
Double slip dresses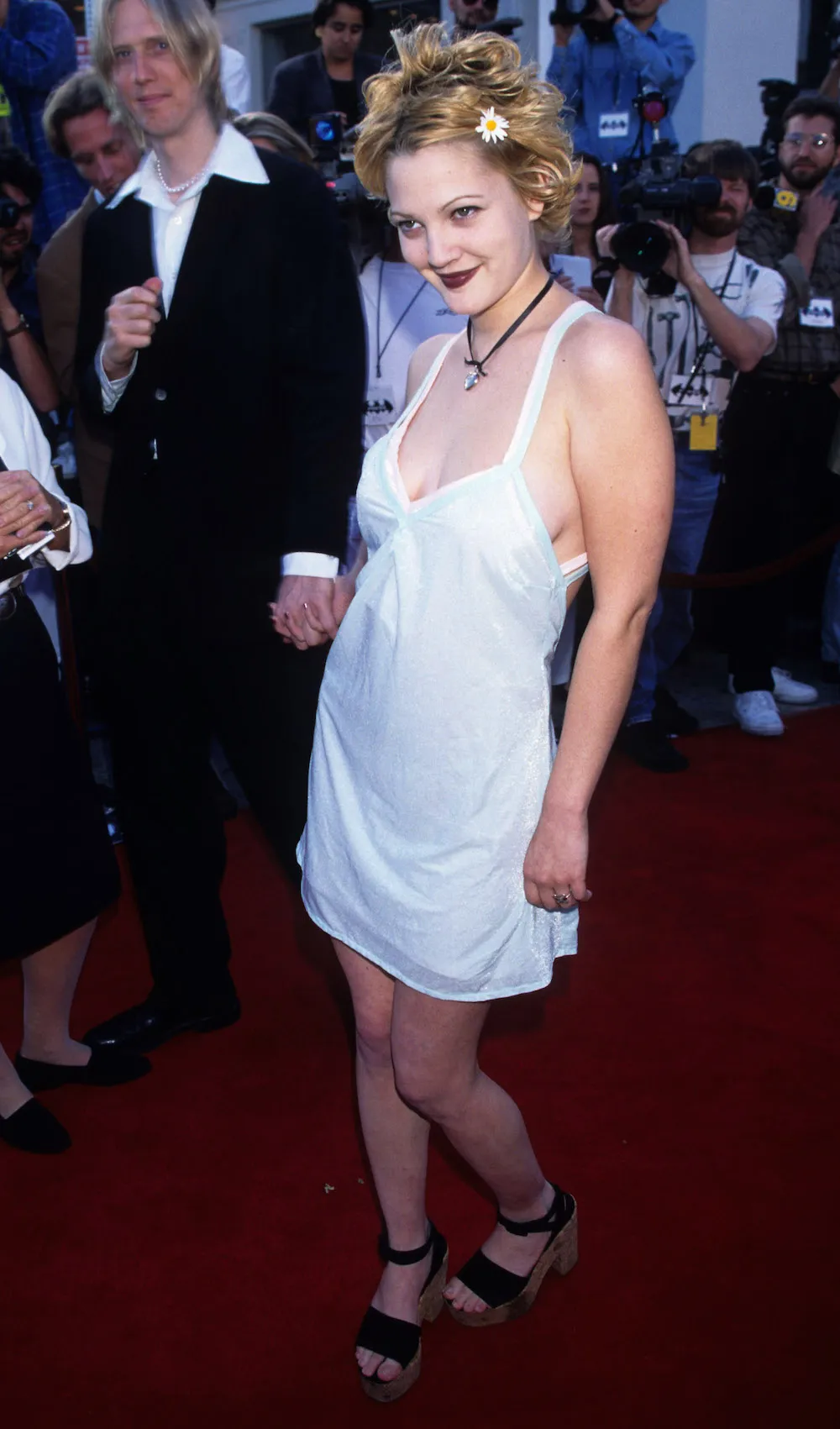 With the slip dresses and the choppy 'do, Drew was dressed so much like her Mad Love character at the premiere for Batman Forever.
This is her in Mad Love.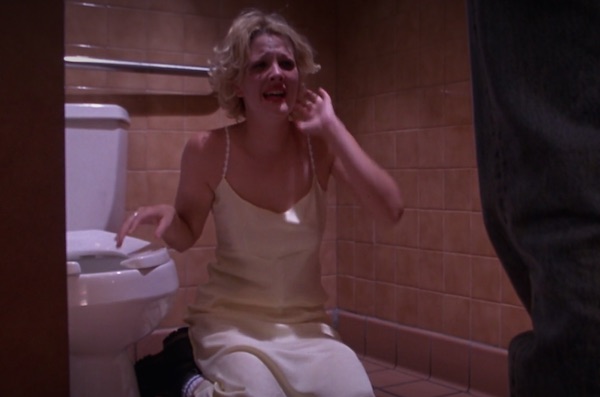 Speaking of Batman Forever, her look as the character Sugar (with Debi Mazar as Spice) was a MOMENT in itself.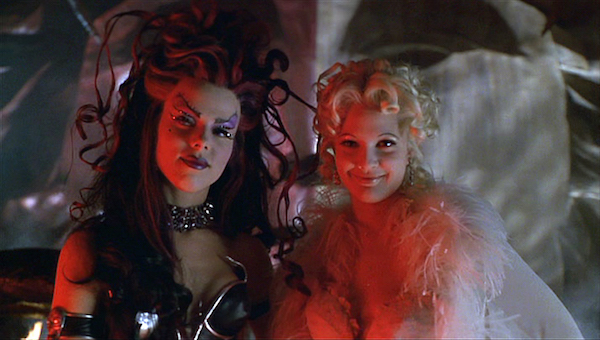 Blonde goth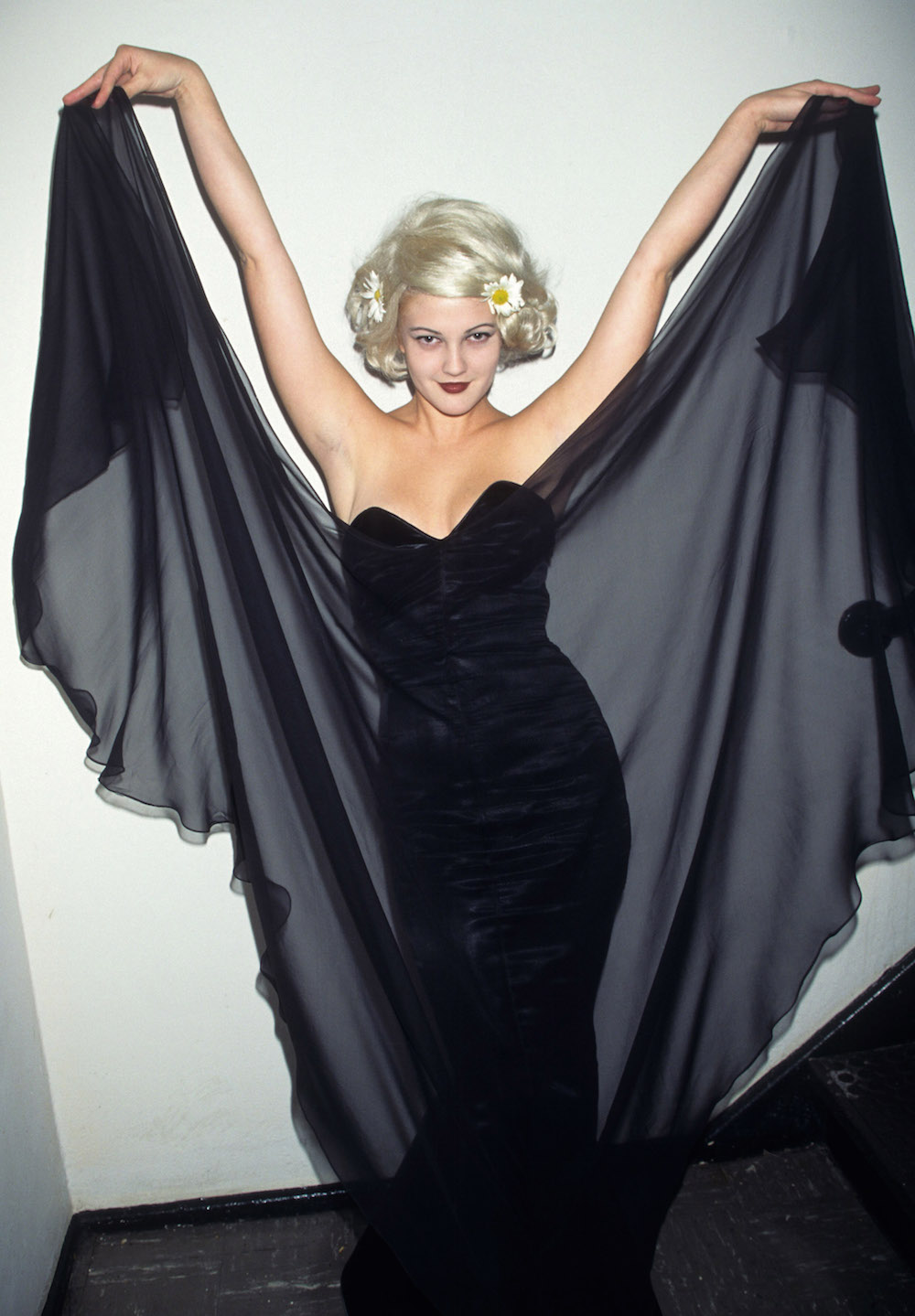 This GOTH goddess lewk was definitely one of her best. It makes me scream with joy to this day. She's so VAMPIRA!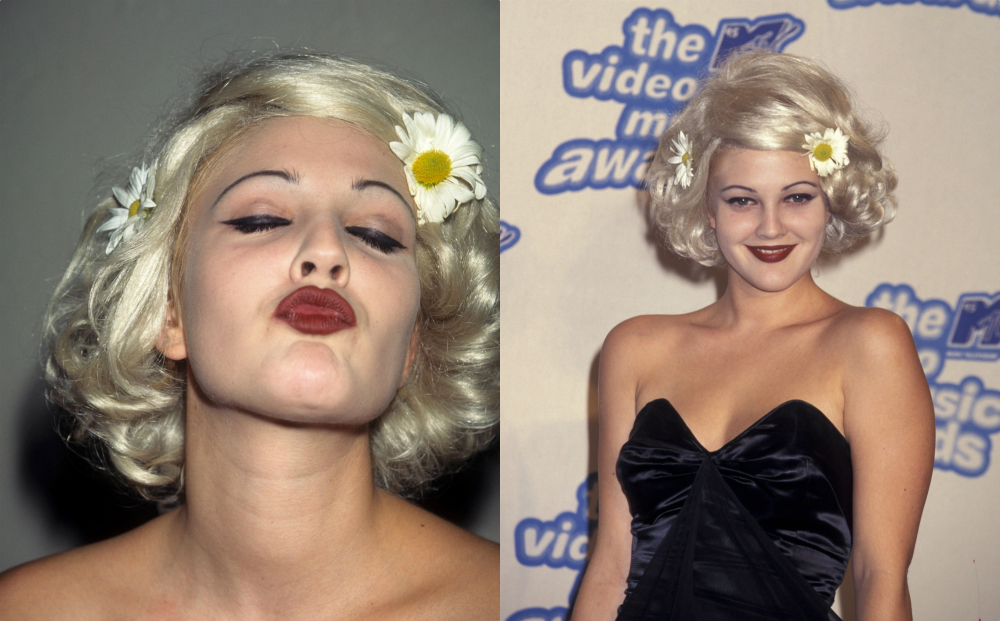 Daises and sparkles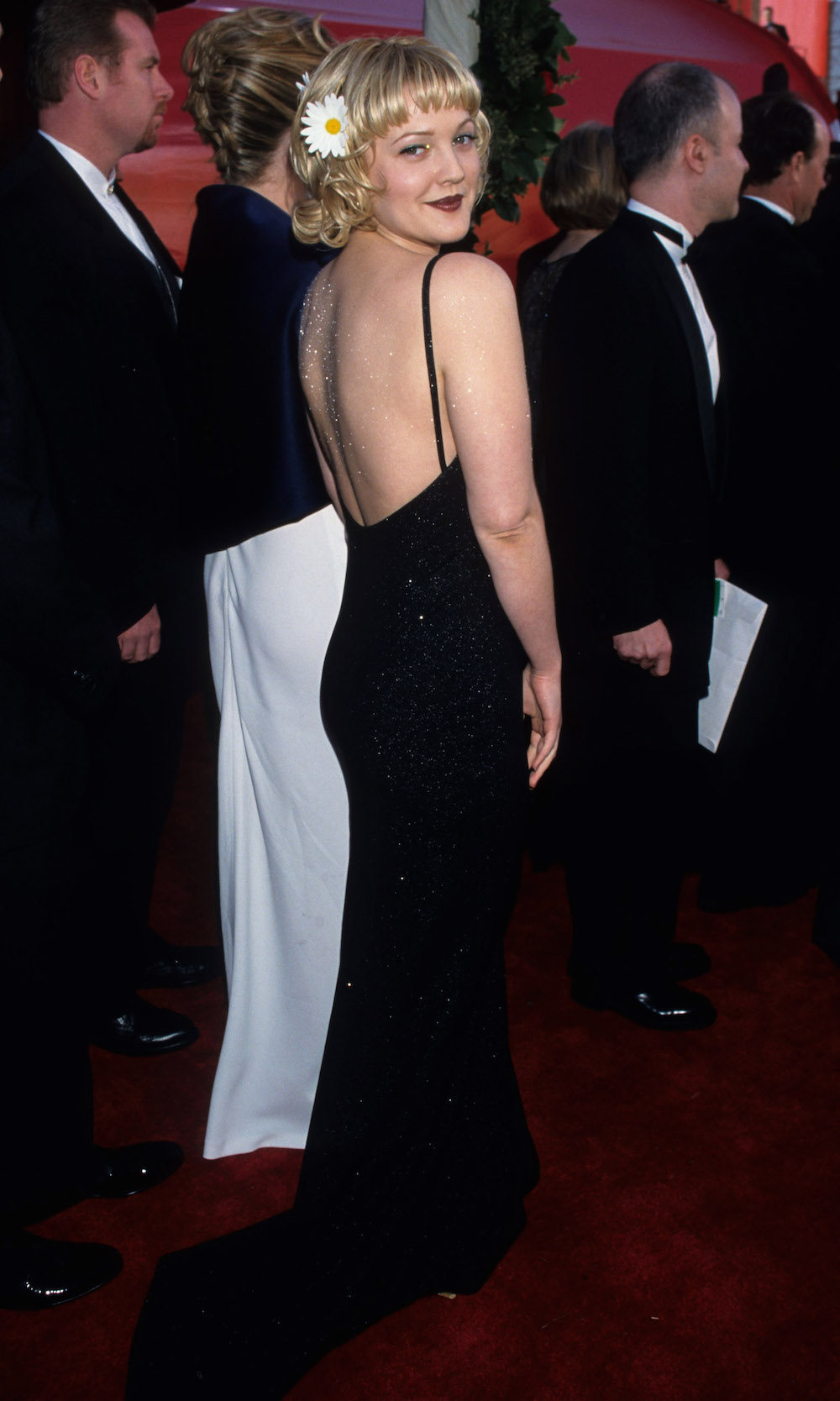 Did you know Drew's nickname is "Daisy"? She wore these little flowers in her hair from time to time.
Sophisticated florals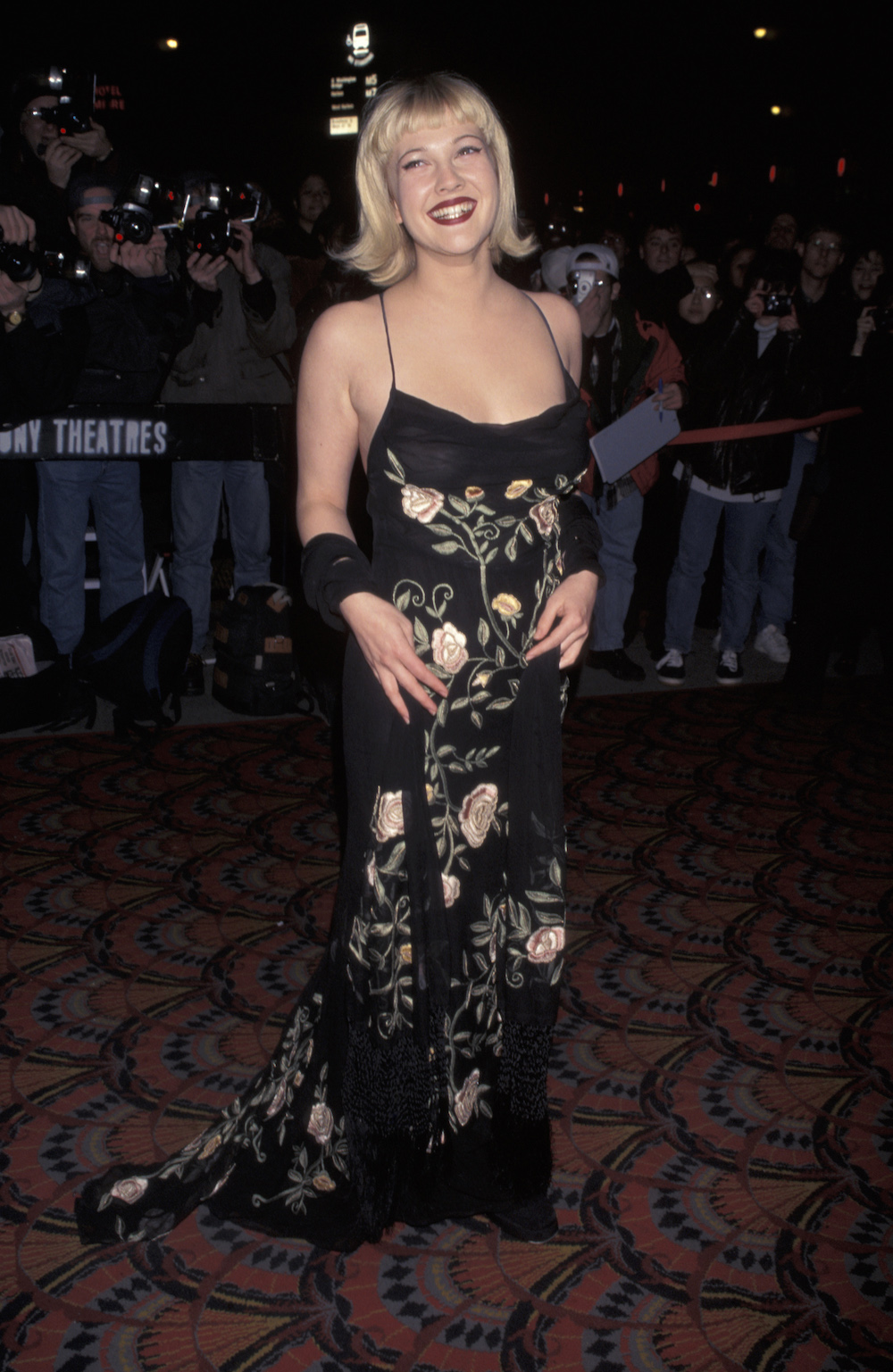 How romantic was this floral-embroidered gown? With the bangs and flippy 'do? I can't.
Butterflies everywhere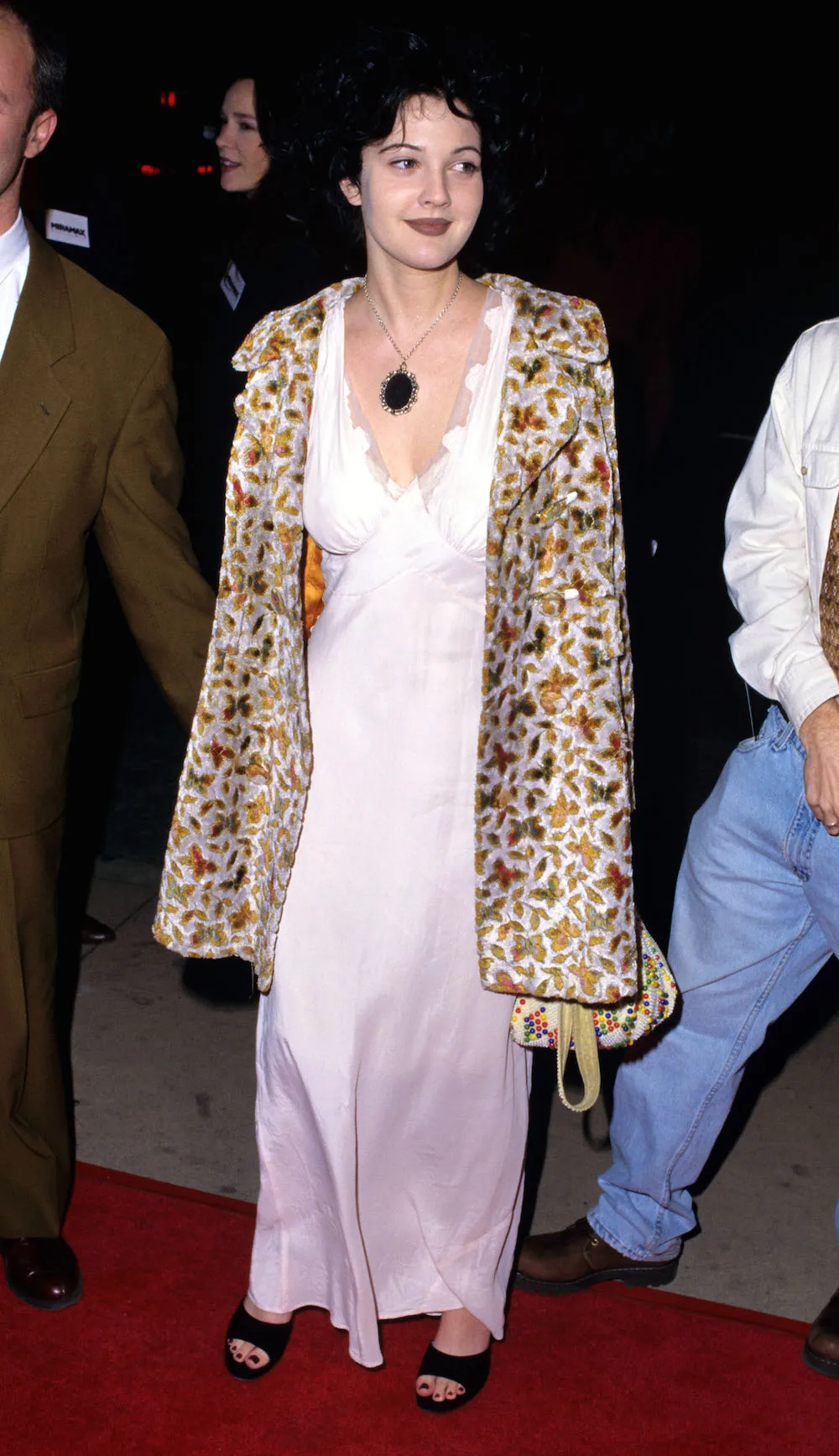 There are no words for the gorgeous work of art that is this patterned coat. It looks like it was covered with holographic butterfly stickers!
Colorful shades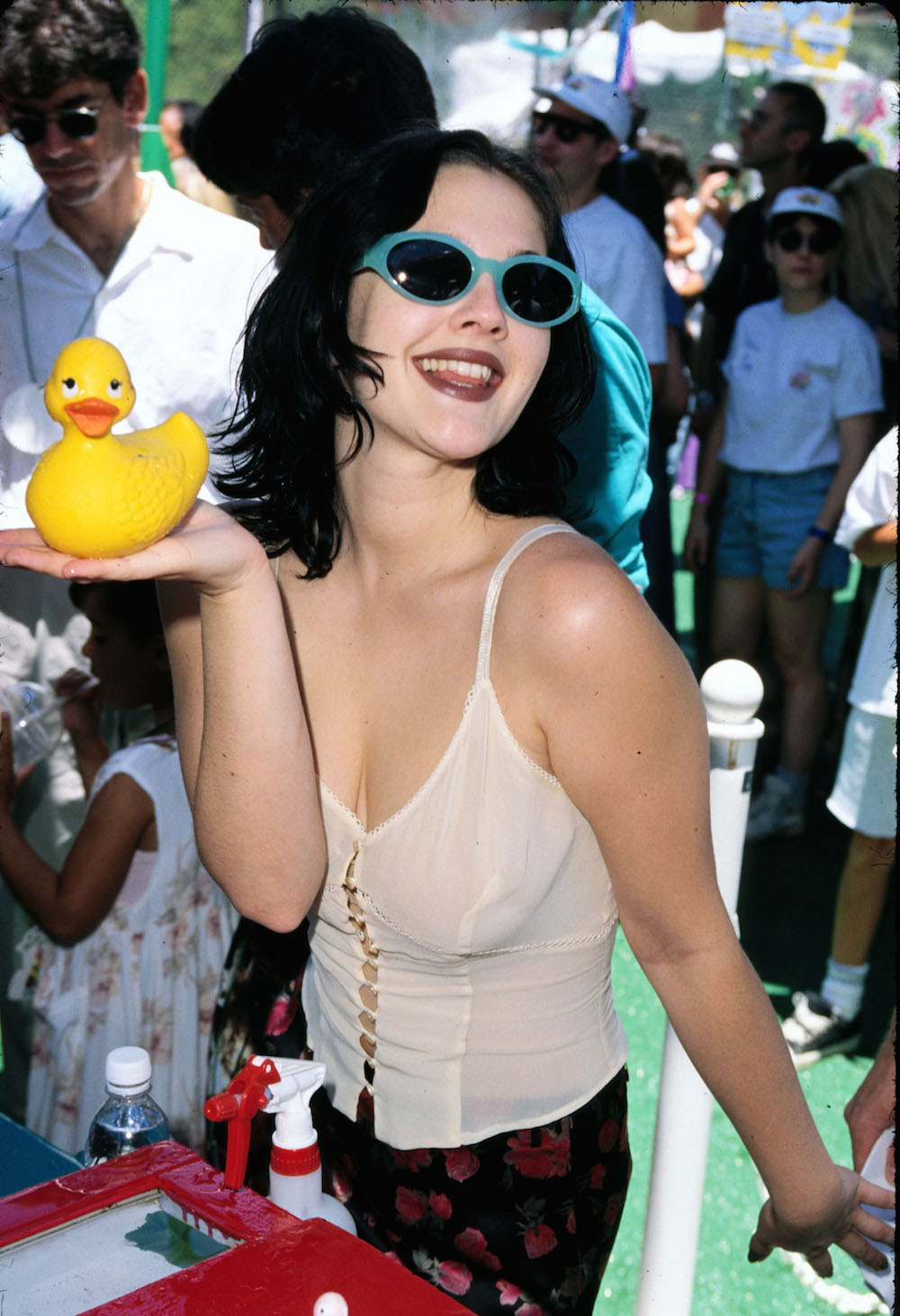 The teal sunnies looked striking against her black hair — which she pulled off just as well as blonde!
Flower brooches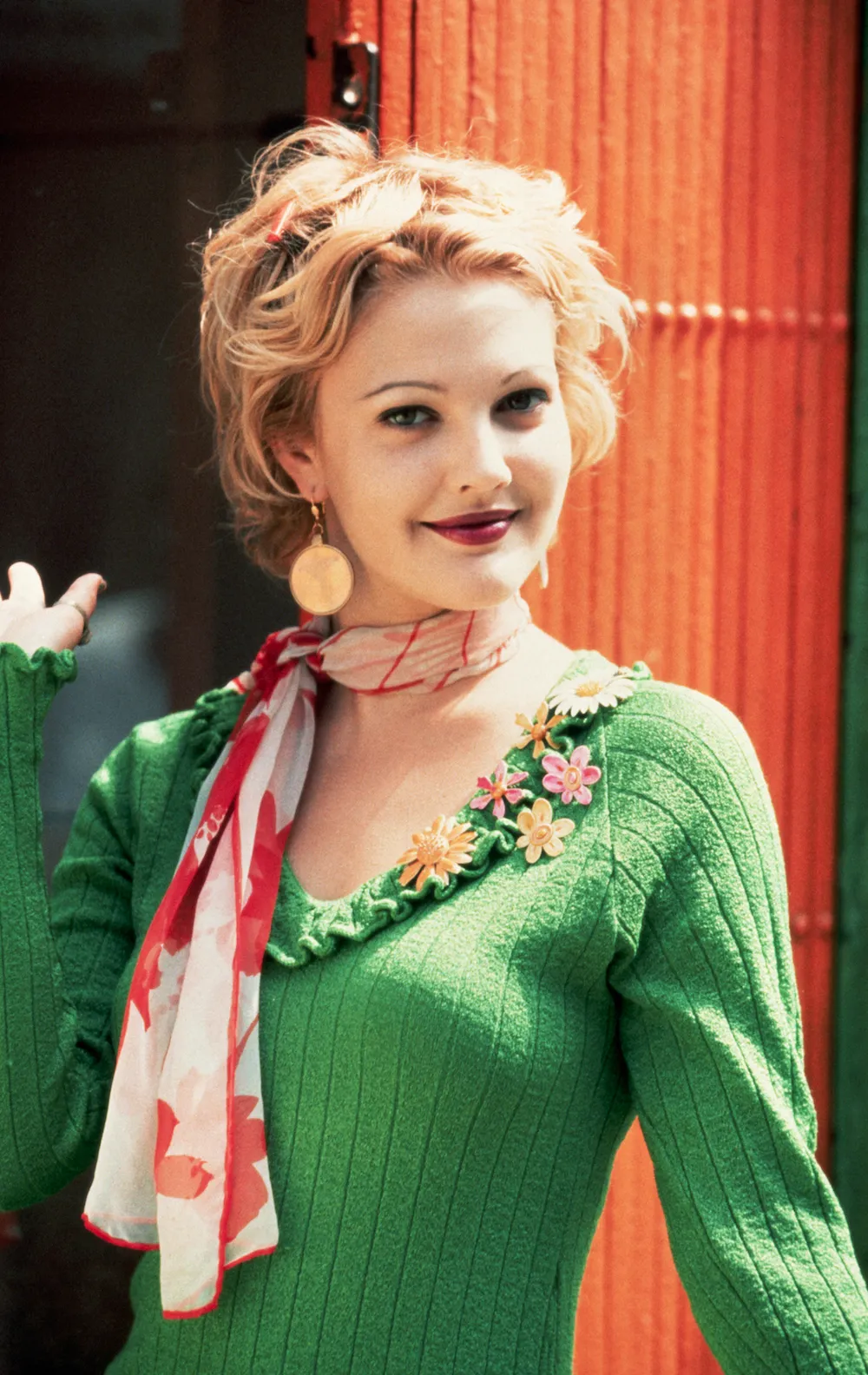 This was another case of fiction imitating real life. The quirky outfits Drew's character wore in the 1997 film, Wishful Thinking, were almost TOO perfect. What if those daisy brooches were from her own collection?
Here's another one from the film.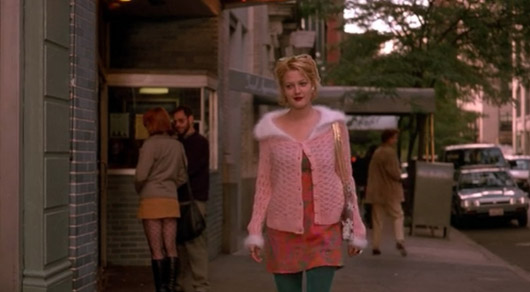 With a monkey!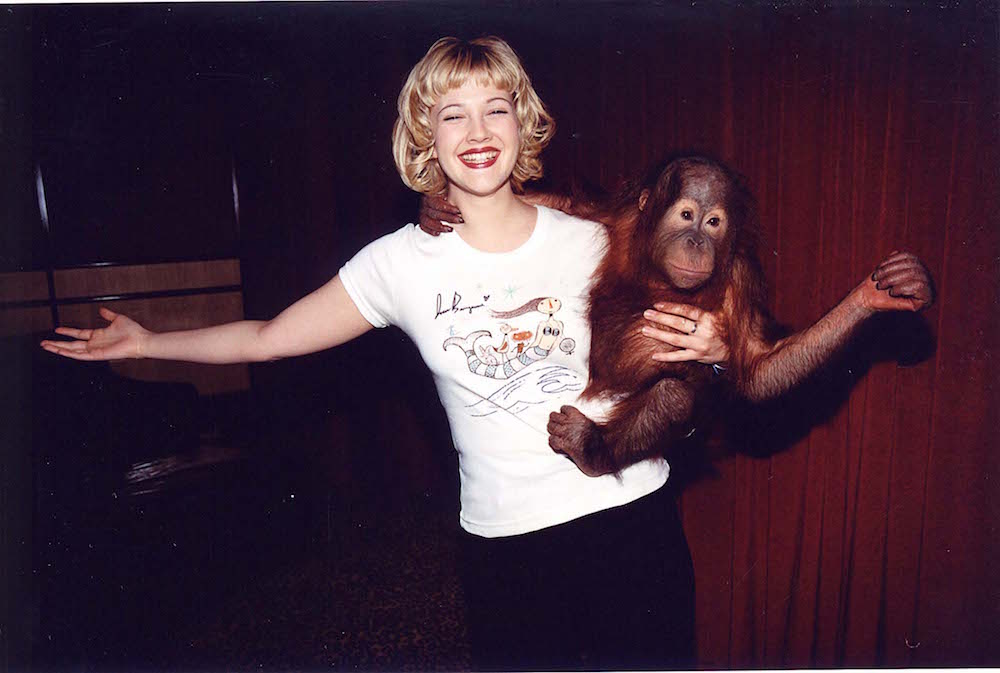 Because nothing is more adorable than this pic of Drew and a monkey!!!