I wore jeans while working from home every day for a week—and my productivity skyrocketed
Before you call me crazy—jeans? at home?—you should know that when I first started self-isolating, I stayed in my pajamas all day long. As someone who used to wake up three hours before leaving my apartment to work out, shower, do my hair and makeup, and put together a professional outfit, it was refreshing to simplify my morning routine (aka eliminate it altogether). Working from home gave me the opportunity to roll out of bed at 8:15 before signing online at 8:30 with major bedhead, a makeup-free face, and my pajamas and glasses still on. I looked like a total mess all day long, and it felt good—for a while.
Now, seven weeks into working from home, I decided that enough was enough. I only packed a tiny carry-on suitcase when I left New York City to quarantine with my family. So, I've mainly been wearing the few clothes that remained in my childhood closet: high school T-shirts, old sweatpants, and Santa-printed socks. This adolescent wardrobe transported me back into my 17-year-old body and had me feeling much less "adult" than I usually do at 22 years old, eight months into my career. In turn, working my 9-to-5 job Monday through Friday began to feel challenging.
While I didn't bring any of my workwear wardrobe home from N.Y.C., I did pack two pairs of jeans, which are significantly more professional than the plaid pajama pants I'd been living in. So, I decided it was denim or bust. And, apparently, I'm not the only one craving a dose of professionalism in my work-from-home outfits.
52% of Americans make an effort to dress up during the week while working from home, and of that group, 4 out of 5 people say it improves their productivity, according to a recent study conducted by Nordstrom Trunk Club.
Of the people who dress up at least one to two days a week, 95% say that it puts them in a more positive mood, according to the brand's press release. To me, a little initial discomfort would be worth these alleged benefits, so I decided to see what swapping PJs for jeans could do.
Honestly, the first day I decided to dress up, my alarm clock went off at 7:30, and in my groggy state, I thought to myself, "What's the point?" After hitting the snooze button twice, I sucked it up and dragged myself out of bed (much to my sleeping dog's dismay), honoring the commitment I made to myself.
Mondays are always a drag, so I decided to go big or go home (er, you know what I mean) in order to start the week off strong. I wiggled into high-waisted jeans (which, admittedly, fit more snugly after six weeks in quarantine), slipped on a blouse and some jewelry, opted for contacts instead of glasses, and even dabbed on a little makeup. Even though I wasn't leaving the house (a girl can dream), I slid into my trusty white sneakers to complete the outfit. I didn't bring a curling iron or straightener back from N.Y.C., so my air-dried hair would have to do.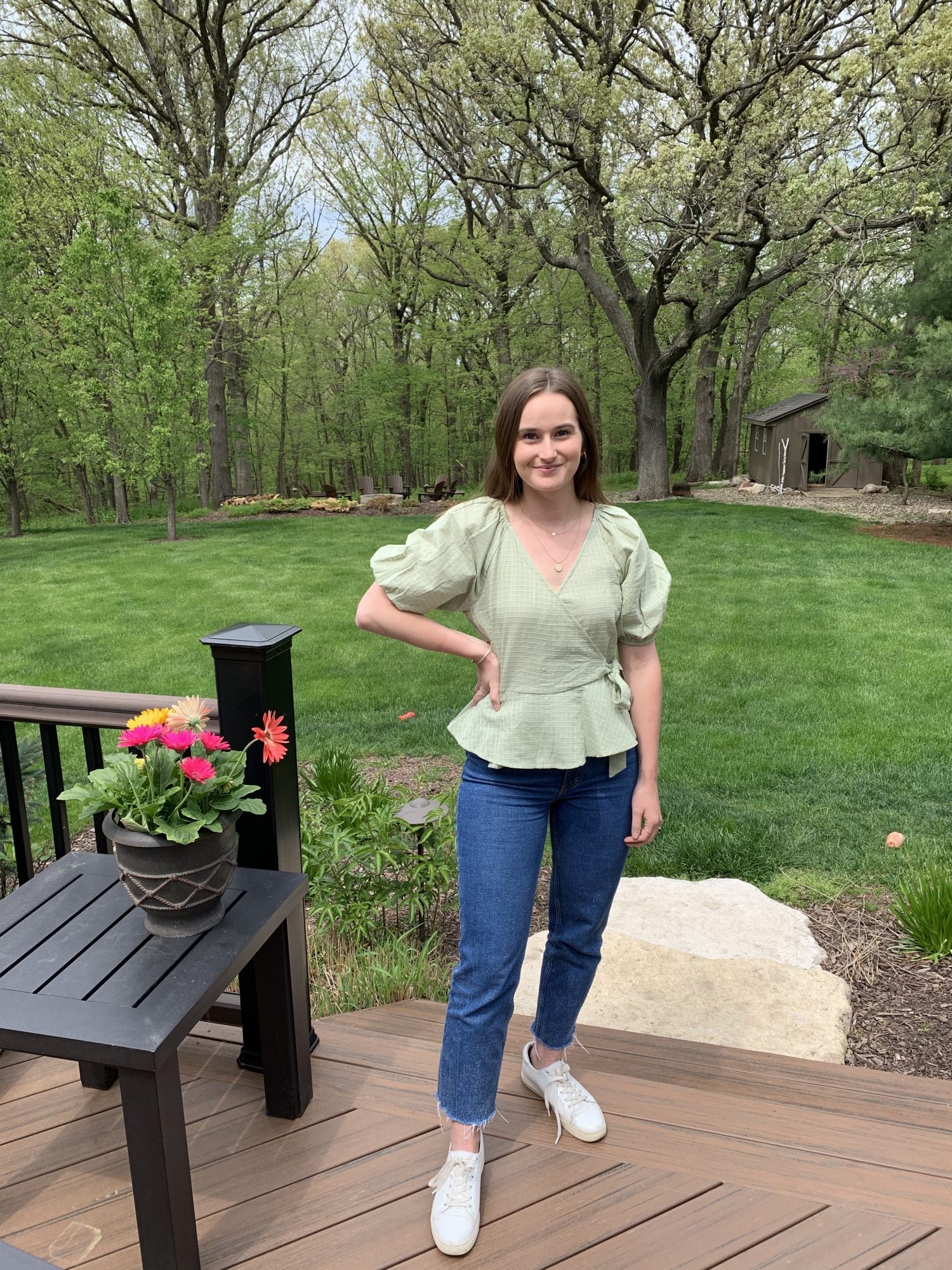 After almost two months of strictly wearing sweatpants, denim felt weirdly tight on my legs, but, TBH, wearing a bra felt even more foreign. Aside from the initial shock of feeling non-cotton, tight clothes on my body, I was even more shocked by how motivated I was to take on the day. I was whipping up breakfast at record speed, sitting up straighter at my desk, and feeling more awake before I even drank a sip of coffee.
What started as an attempt to feel more put-together ended up becoming a huge motivation boost, and, in turn, my overall productivity skyrocketed.
BDG Urban Outfitters '80s Seamed Mom Jeans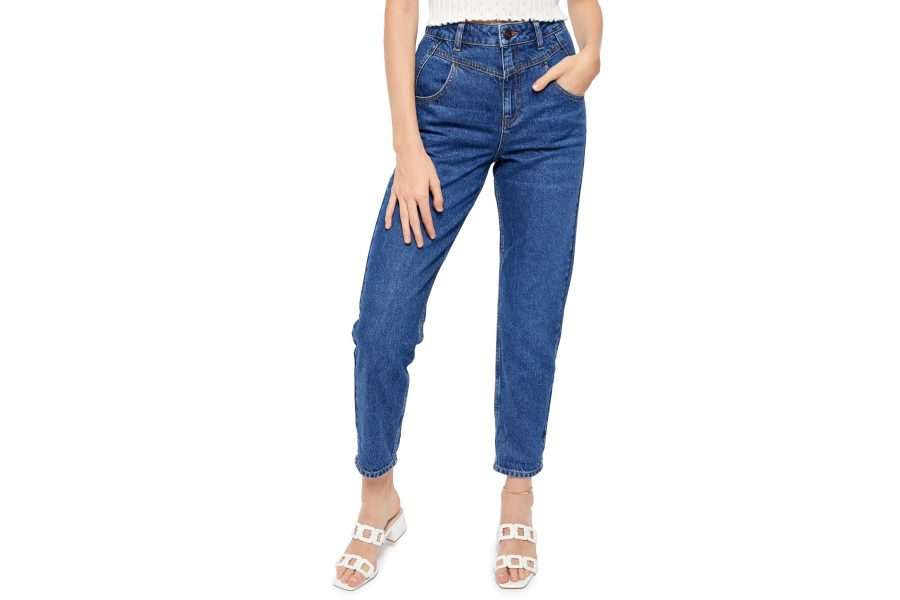 Shop It! $49, [tempo-ecommerce src="https://www.nordstrom.com/s/bdg-urban-outfitters-80s-seamed-mom-jeans/5544145?siteid=93xLBvPhAeE-OlqTlOlhntYd9cqmsG9UOw&utm_source=rakuten&utm_medium=affiliate&utm_campaign=93xLBvPhAeE&utm_content=1&utm_term=772849&utm_channel=low_nd_affiliates&sp_source=rakuten&sp_campaign=93xLBvPhAeE" title="Nordstrom.com" context="body"]
Mom jeans are always a "yes" in my book. They're loose, typically high-waisted, and toe the line between retro and modern perfectly. This blue, slightly distressed pair is similar to the above pictured Abercrombie & Fitch jeans I've been living in for the past year—but these BDG babies are 52% off at Nordstrom right now.
I'm not going to lie: Every morning, I still battle the urge to hit snooze one more time and stay in my pajamas when the clock strikes 8:30 A.M. However, working from home becomes a little bit easier each day as I remember how much I accomplished the day before while dressed up. After one full week wearing jeans every day, here are my biggest takeaways:
1. Getting dressed first thing in the morning is key.
Although this means setting your alarm clock 15 to 30 minutes earlier than you're used to, this step is essential. If you tell yourself, "I'll just get started in my pajamas and change in a little while," before you know it you're knee-deep into five different projects, it's past noon, and you're still in your PJs. It is completely worth a few less winks of sleep to get dressed first thing when you wake up. Starting the morning off strong will set the tone for the entire day.
2. Jewelry makes a world of a difference.
I haven't had a manicure in over two months, so seeing shiny rings on my fingers as I type away (rather than just my naked nails and dry hands) makes a world of a difference. The same goes for earrings. After over a month of being earring-less, looking into the mirror and seeing little gold hoops dangling from my ears somehow made me feel like a functioning human being again. Jewelry is one of the simplest (and most comfortable) ways to elevate your work-from-home outfits.
BaubleBar Hera Link Necklace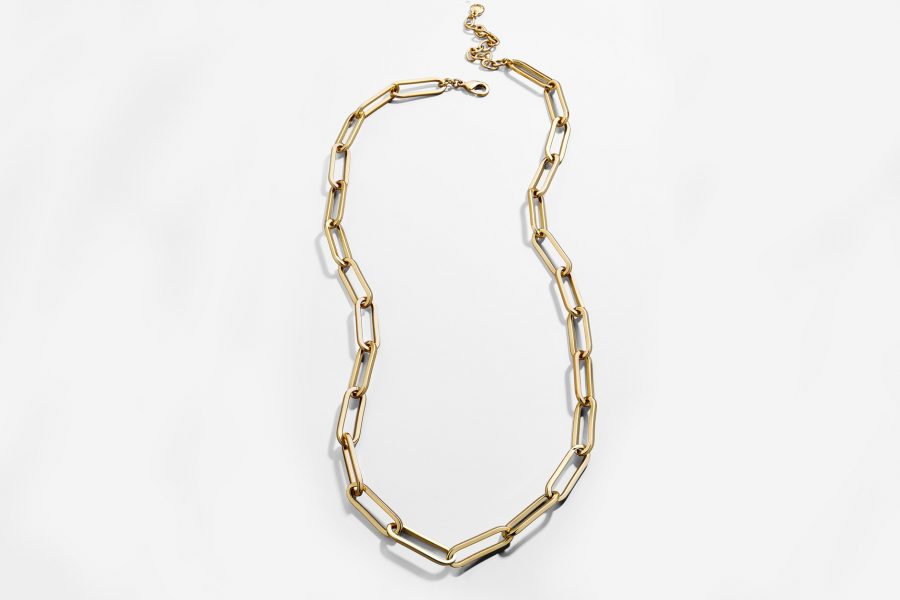 Everyone needs a classic chain link necklace, and this gold one from BaubleBar fits the bill. Throwing this baby on instantly makes me feel feel more professional and stylish, and I know I'll wear it with countless outfits for years to come.
Madewell Chunky Small Hoop Earrings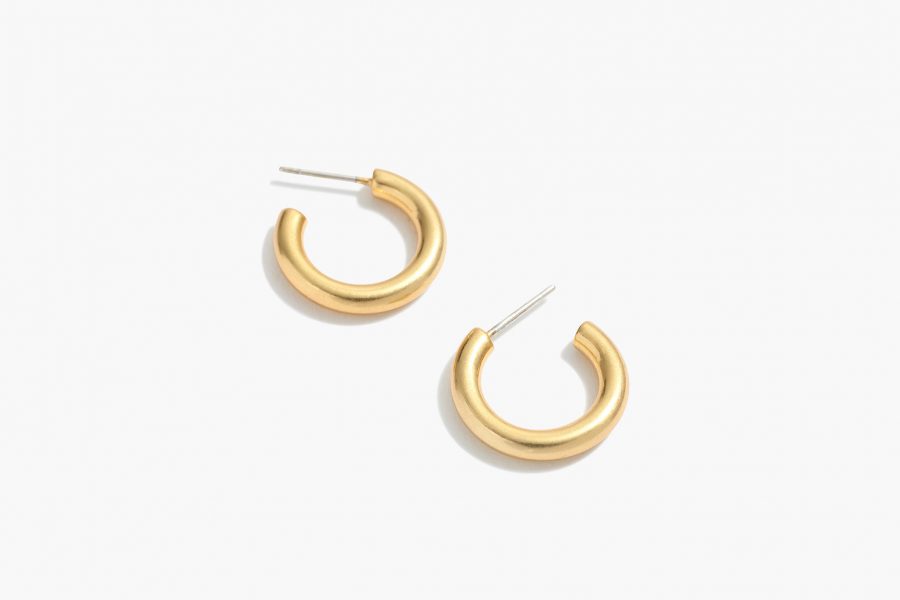 Shop It! $20, [tempo-ecommerce src="https://www.madewell.com/chunky-small-hoop-earrings-K0263.html?srcCode=affiliate|Shopping|Meredith+Corporation|MWAFFI00001&siteId=CJ_8191803_Meredith+Corporation&utm_source=Meredith+Corporation&utm_medium=affiliate&utm_content=Shopping&utm_campaign=MWAFFI00001&cjevent=4df2111acd2c11ea802300430a240612″ title="Madewell.com" context="body"]
These chunky gold hoops from Madewell are my go-to earrings. The small size is perfect for everyday wear, fitting for casual and dressy outfits alike. I've gotten my money's worth on these earrings more than any other piece of jewelry that I own.
3. Dressing up motivated me to continue being productive even after I signed off for the day.
During the early days of quarantine when I'd stay in my pajamas all day long, it was easy to slide onto the couch after I finished working and stay there for the rest of the night. After all, I was already dressed for the occasion. But when I started dressing up in the morning, I suddenly felt more motivated to continue being productive after signing off for the day. I started cooking less-lazy dinners, taking on new creative projects, and going for runs. That snug denim did wonders for my desire to exercise, TBH.
4. Nine out of ten times, you're going to want to unbutton your pants halfway through the day—and that's okay.
Let's be honest: Wearing jeans while sitting down all day long is just unnatural. Five hours into my day and three afternoon snacks deep, the struggle is real. But the good thing about working from home is that no one will care what you look like or do (if there's even anyone around to see). The waistband of your jeans will likely be digging into your stomach around 3:00 p.m. So, by all means: Unbutton those suckers under the table. You've earned it.