For "The Craft's" 20th anniversary, I dressed like Nancy and this is what happened
When The Craft came out on this day in 1996, I was among the many teens back then who immediately became enamored with the character of Nancy Downs and her stylish witch-girl gang. I soon found myself devouring every Silver Ravenwolf book on witchcraft and filling my wardrobe with black fishnets, spiderweb-sleeved tops, and spiked chokers.
Nancy, played by the incredible Fairuza Balk, was the leader of the film's teenage coven. She had the most outrageous style out of her goth squad, consisting of dog collars, layers of rosaries, black-rimmed eye makeup, dark lipstick, and perfectly witchy dresses.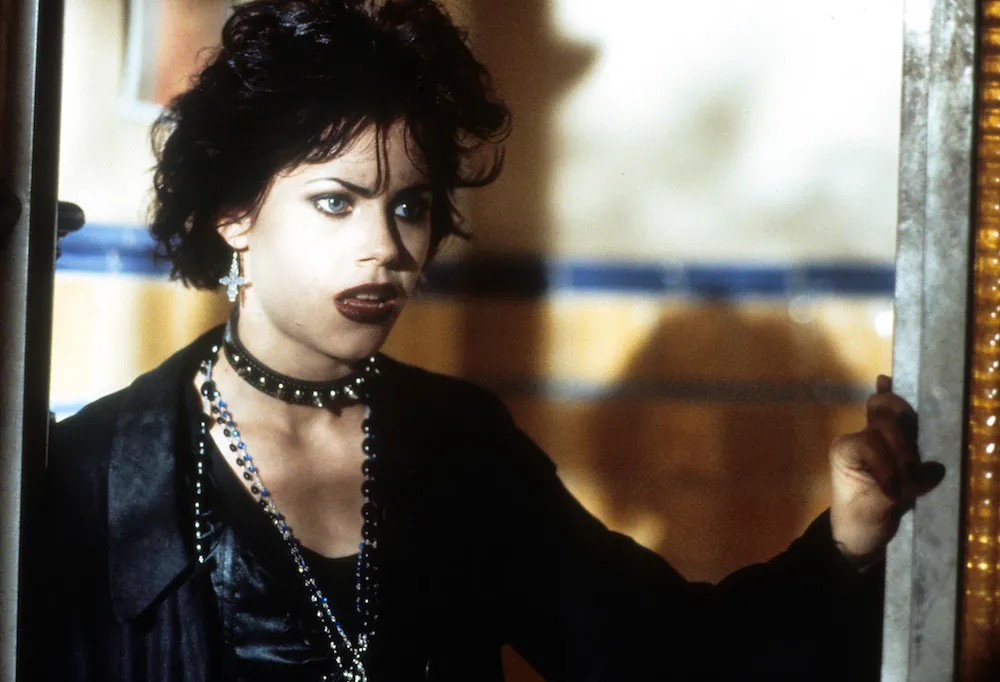 It's interesting to think about how fashion and beauty trends have evolved since then. Certain looks that were considered freakish and weird just a couple of decades ago have now been accepted by the mainstream. Before, it was only punks, goths, and alts dyeing their hair rainbow colors and accessorizing with dog collars. These days, we've seen Kelly Ripa dye her hair pink and Rihanna wear multiple spiked chokers. Now, Rihanna is obviously a badass, but Kelly Ripa? The rebellious teen in me died a little that day.
This sort of "alt-acceptance" caused me to wonder — if Nancy were around today and dressing the same, would anyone even bat an eye? To celebrate the film's 20th anniversary, I decided to test this out by doing a real-life #TBT and went back to my Nancy Downs-inspired wardrobe for three days.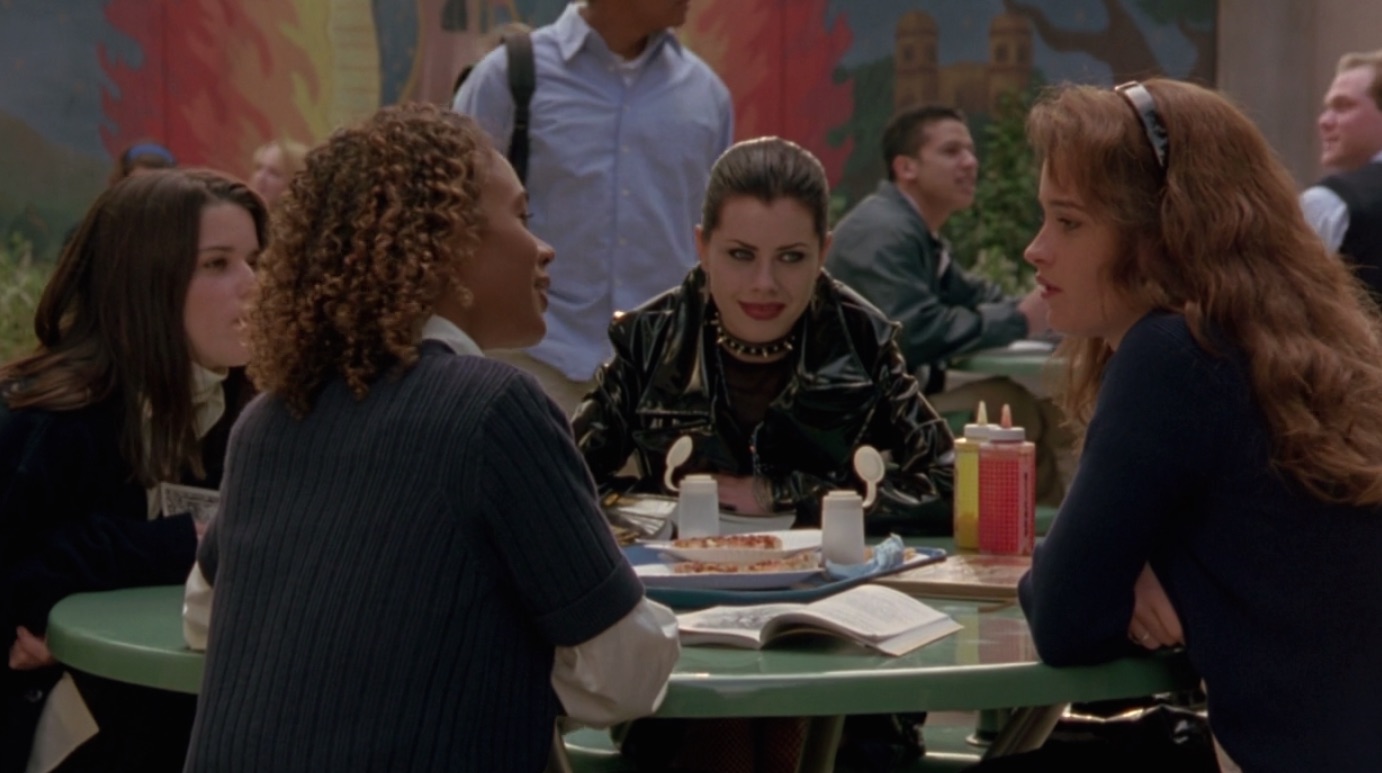 Because a goth is never fully released from their gothic shackles, even after 20 years, I didn't think this would be a difficult challenge. After all, there's still plenty of black lace, velvet, and fishnets in my closet.
To give you more of an idea of how my love for The Craft has remained strong after all these years, here's a photo of a banner that a friend made for me displaying one of Nancy's famous quotes from the film — which I have hanging up in my kitchen.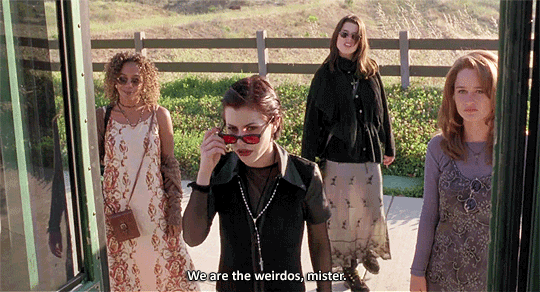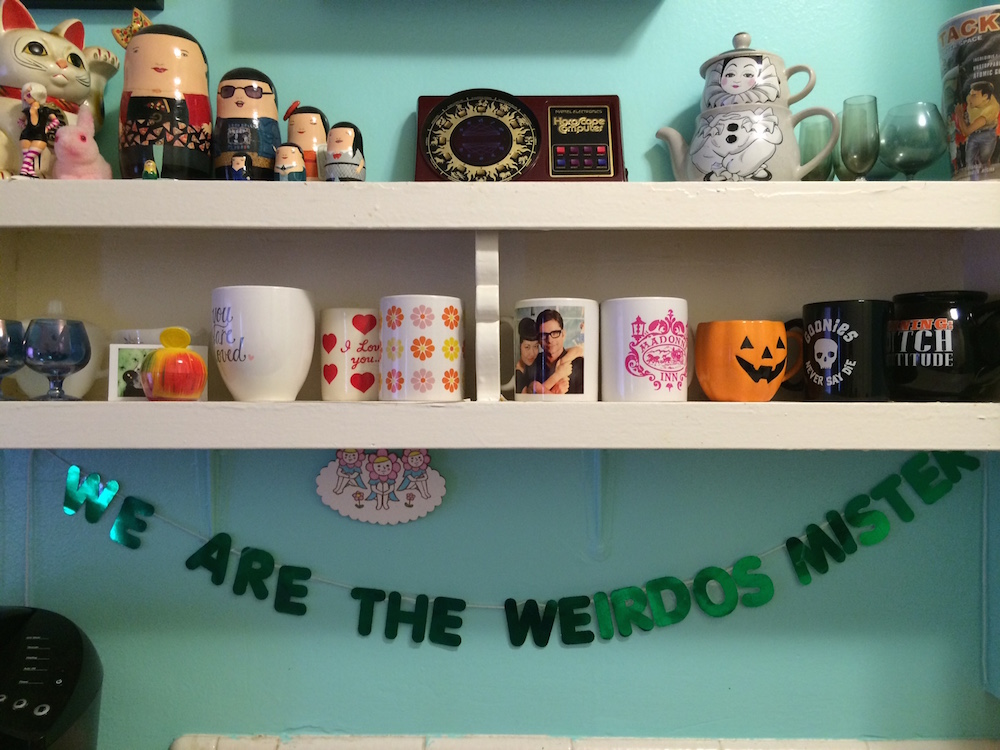 To prepare, I decided to take a trip down memory lane by digging up an old yearbook photo of me dressed up as Nancy on Halloween. How cute was I?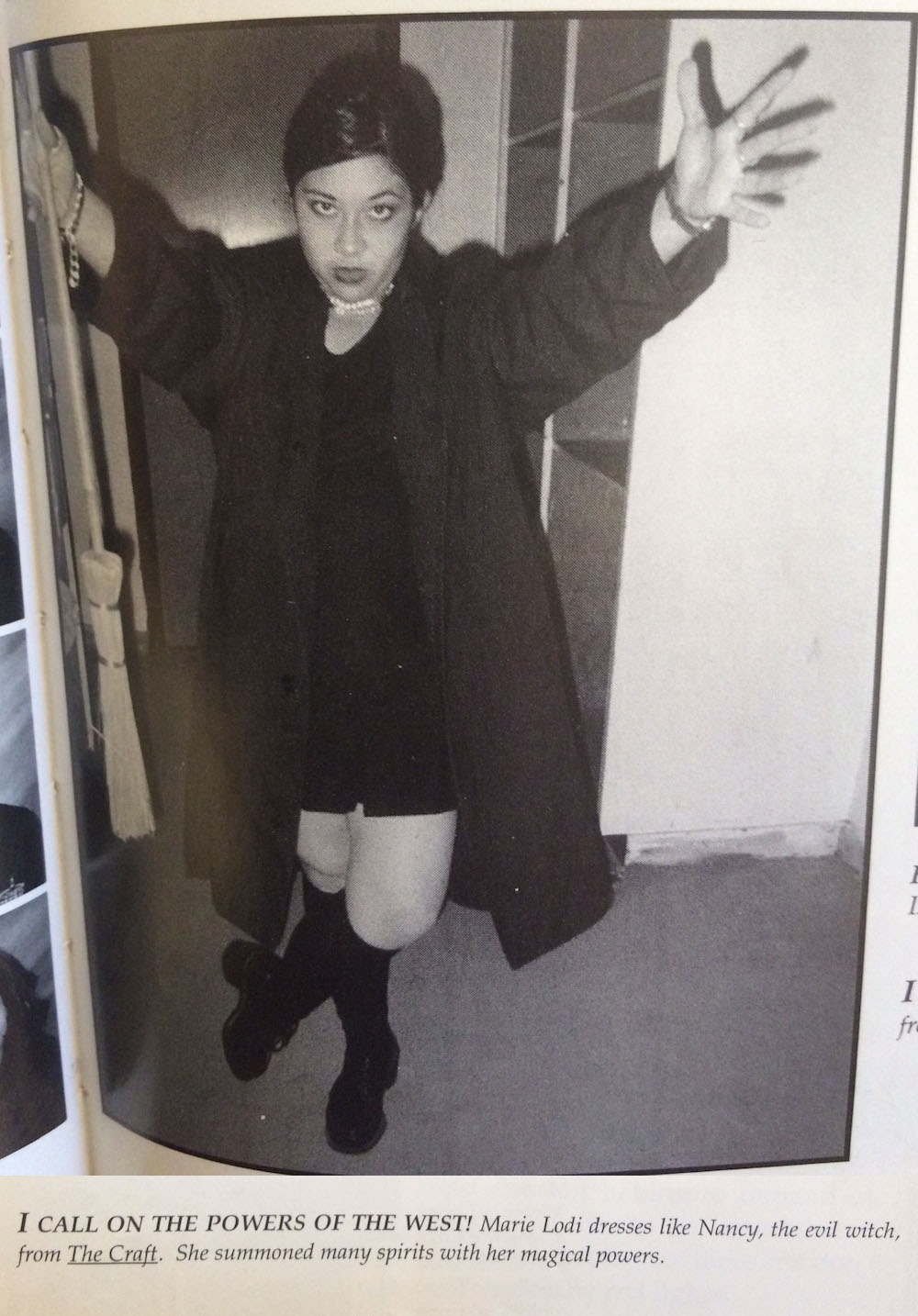 Looking at my wardrobe, I knew that my current goth stock would NOT be Nancy enough for this experiment. I had to get some supplies.
First, makeup.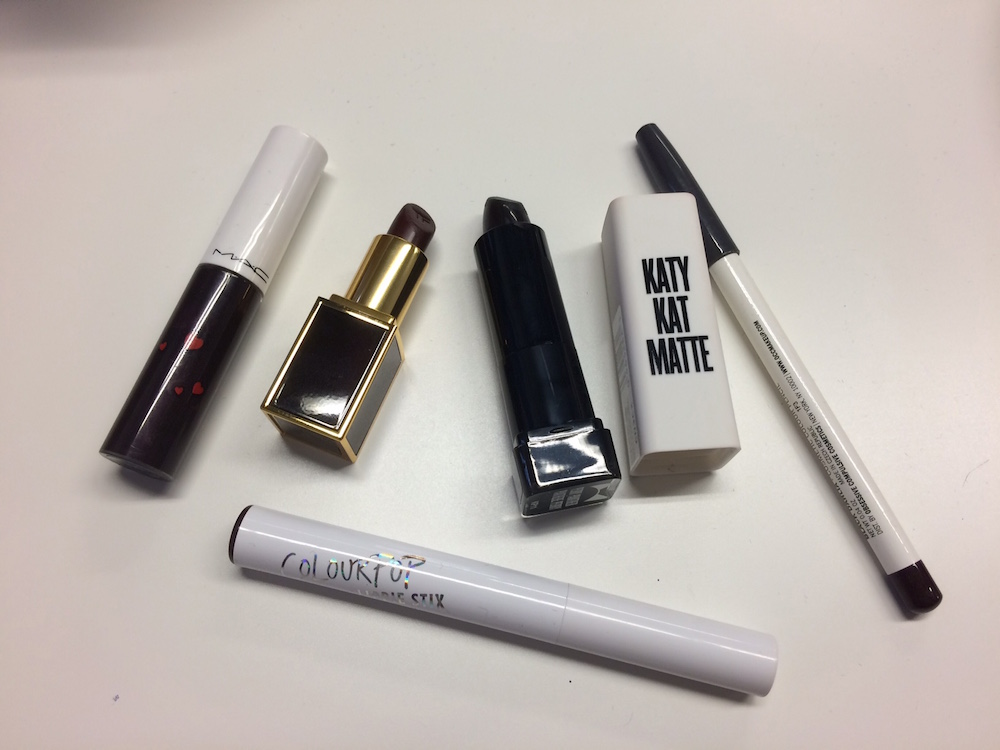 From left: MAC Lipglass in Feelin' So Good from the Archie Girls' collection, Tom Ford Lipstick in Wes, Cover Girl's Katy Kat Matte in Perry, Panther, Obsessive Compulsive Cosmetics Colour Pencil in Black Dahlia, and ColourPop Lippie Stix in Creature.
As a red lipstick hoarder, I was really nervous about wearing a dark lipstick. I experimented with all of these and ended up loving a dark lip! My favorite was the ColourPop lippie in "Creature."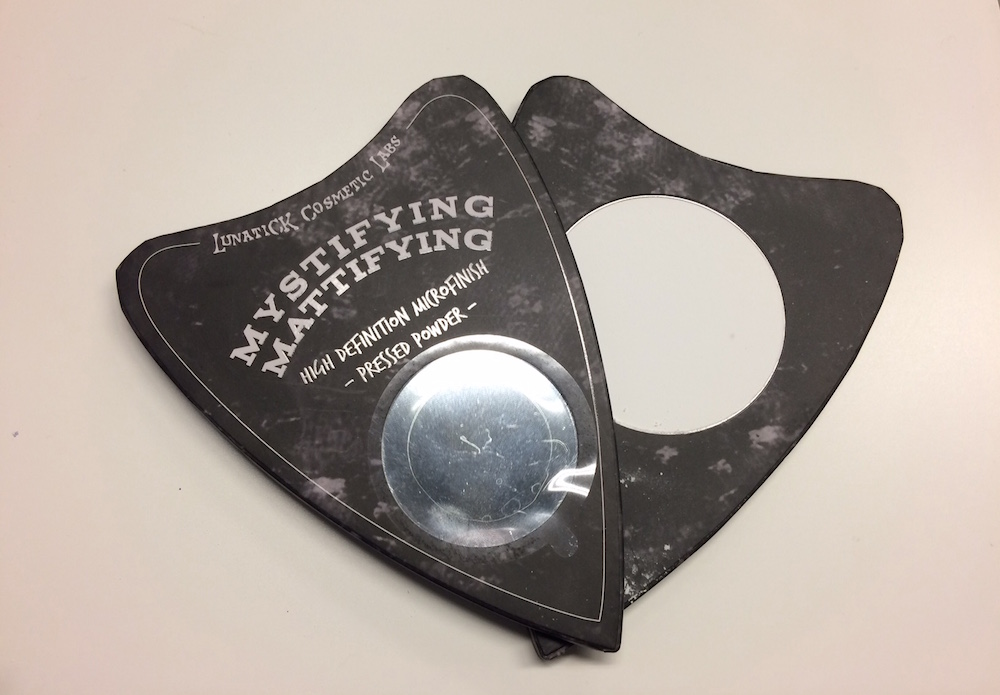 Lunatick High Definition Microfinish Pressed Powder
Since I am forever goth, I already had makeup that fit perfectly with The Craft theme, like this pressed powder and eyeshadow palette from Lunatick that my sister-in-law had bought me for Christmas. I also lined my eyes with black liner, but refrained from doing my regular winged eye.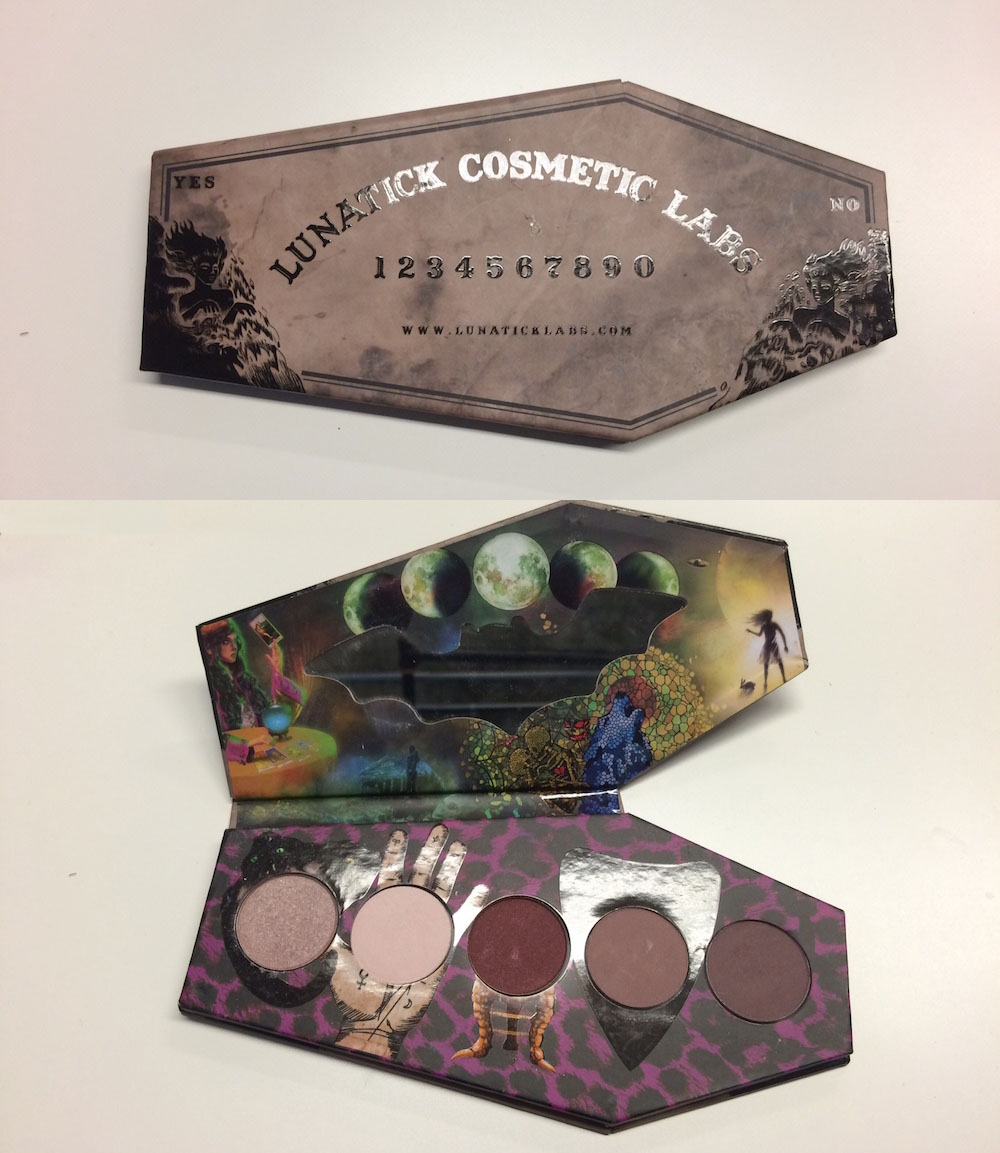 Lunatick Palette in Supernatural
Day 1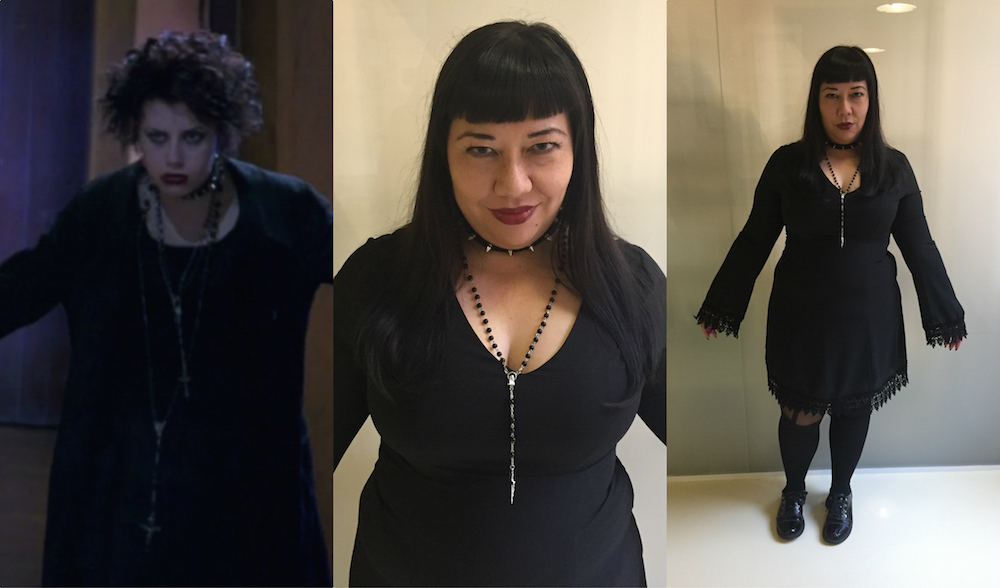 For my first day as Nancy, I wore a crochet bell sleeve dress with cross garter tights, both from Hot Topic, accessorized with a rosary I ordered from Amazon Prime and a spiked collar (also from Hot Topic). My lip look was the MAC lipglass mixed with the Tom Ford lipstick.
My thoughts: The dress was very much something present-day me would wear so it didn't feel like a total stretch. The dog collar was a different story. The last time I wore one was during my teen Nancy days, when I was standing outside of the local mall with my friends and a van full of preppies drove by, barking at us. Would those same preppies bark now? I'd like to think NOT.
Reactions: I only got one real obnoxious, open-mouthed stare from a man on the street when I was on my way to work. I responded to him in a very Nancy way — adjusting my sunglasses at him with my middle finger sticking straight up.
Day 2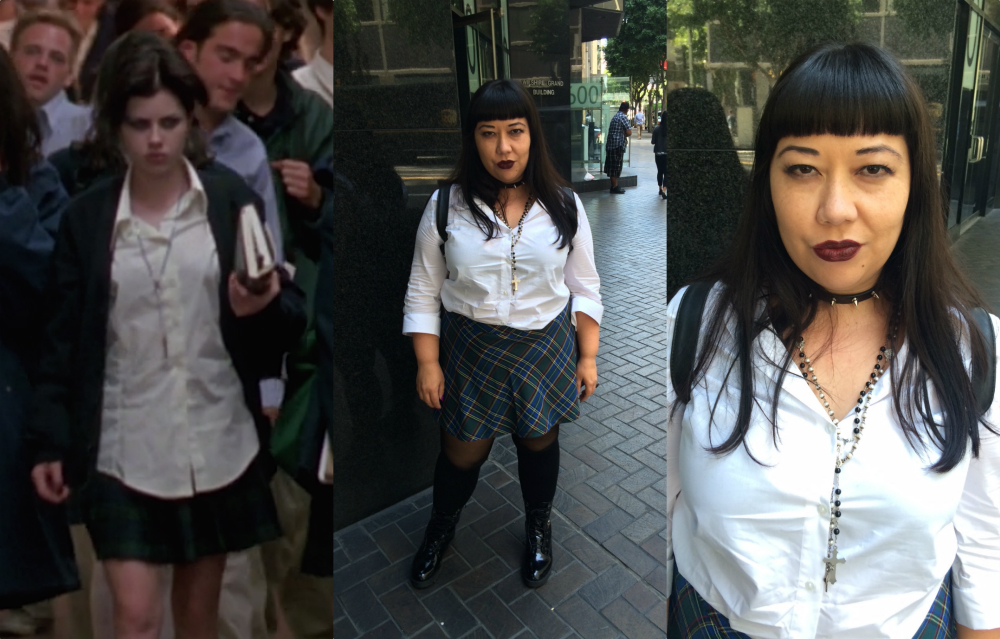 For Nancy's school uniform outfit, I wore a white button up shirt and a plaid mini skirt from ASOS, accessorized with the same collar and rosary but added a second rosary from my personal, Catholic-raised stash. I used ColourPop's Creature on my lips.
Thoughts: I loved this outfit and am always into a plaid skirt, but this was way too short for me so I spent the entire day with a red cardigan wrapped around my waist.
Reactions: This outfit had the most disturbing reaction out of all of them. When I was getting out of an elevator, a woman screamed at me, "Stay away from men!" I wasn't sure whether to take it as a warning, slut-shaming, or some sort of deranged compliment. Some positive reactions were from my boyfriend, who pretty much loved every outfit I wore during this experiment, and my best friend who loved how my "dark hair and lipstick looked striking against the white shirt."
Note: Snapchatting as Nancy was highly enjoyable. I'm used to accidentally eating red lipstick with my burritos so deep burgundy was a nice change.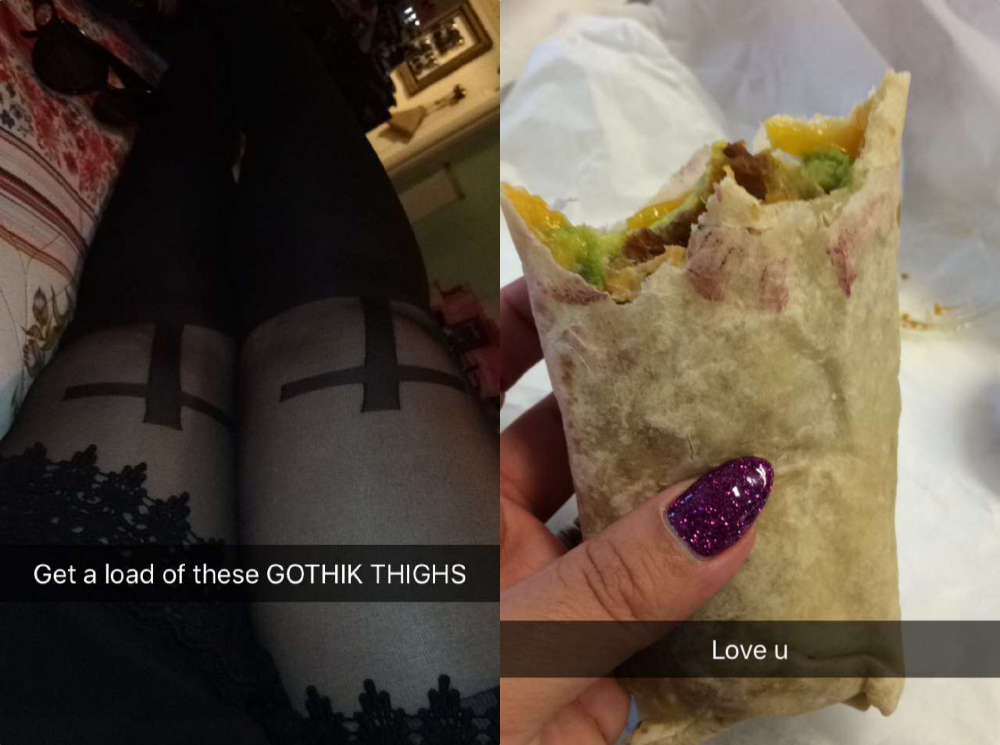 Day 3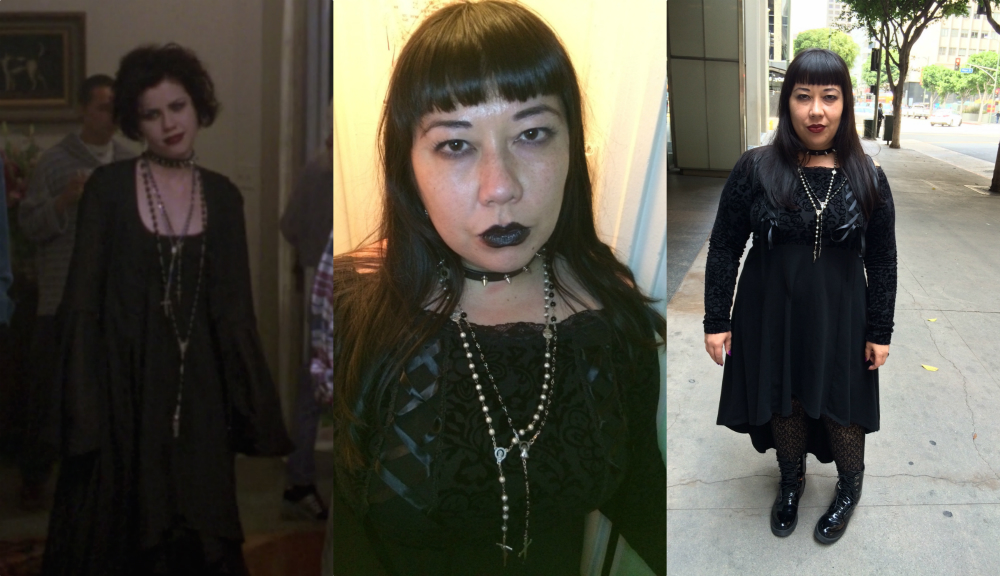 This high-low velvet dress from Hot Topic was the grand finale and my gothest gown. I also got ahold of Katy Perry's new black lipstick from Cover Girl that day and decided to switch things up, makeup-wise, even though Nancy stuck to dark reds. I couldn't resist — I instantly felt more scary with it on.
Thoughts: Since the dress was longer in the back, I didn't have the same issue I had with the plaid skirt. I felt the most like EVIL NANCY with this look and also felt like it kind of affected my demeanor.
Reactions: The first thing I had to do that day was go to the dermatologist. Have you ever had to strip yourself of multiple layers of clothing in order to get your moles checked? Goth threads can be SO complicated! I had to change into this tiny pink thing on the right. I had to de-goth. Nancy would NEVER.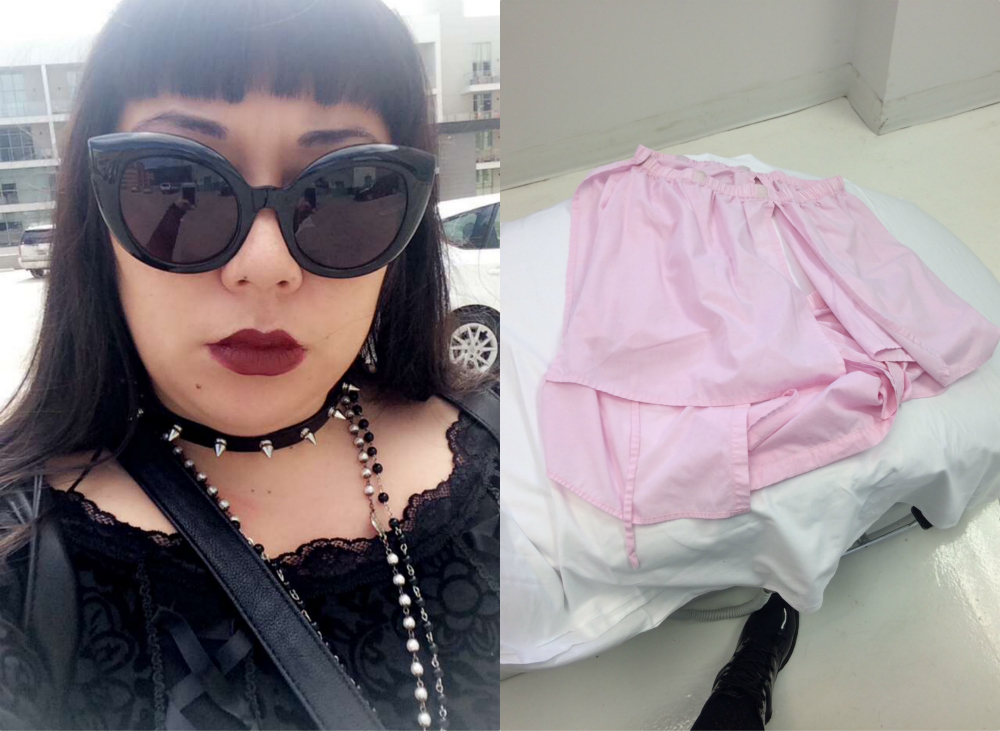 The staff didn't seem fazed when I walked in. My co-workers thought I looked *amazing*.
Final thoughts: I didn't think anyone would care much about Nancy's look in these modern times, but I got many more stares (and one disturbing response from a woman) than I had expected. Even though my own modern-day gothy outfits are much more mild now than in my teens, I enjoyed going all out and dressing like this. Like I said before, you can never really free yourself from these GOTHIC SHACKLES.