15 dreamy Christmas weddings that'll inspire your winter wedding dream board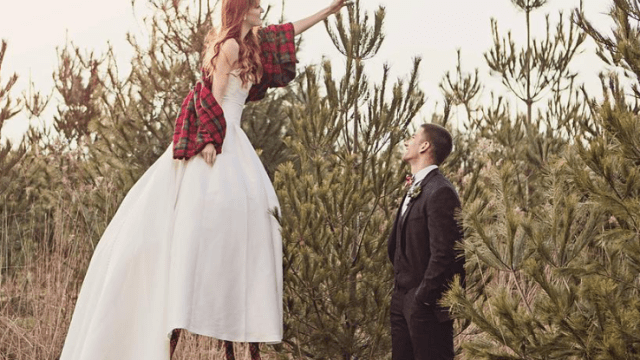 Christmas is about spending time with the ones you love (and Santa), but what about weddings? There are actually a LOT of people who tie the knot over the holiday and they are so pretty.
We've rounded up 15 dreamy Christmas weddings to help inspire your winter nuptial dream board, or just make you feel warm and fuzzy below.
Even if you aren't getting married, are already married, or want a summer wedding, these winter wonderland ceremonies and reception ideas are too gorgeous not to fantasize about. Trust us, after looking through these photos, you too will be dreaming of a White Christmas…wedding.
Hot Cocoa Bar
If baby, it really is cold outside, you NEED a hot chocolate bar. This pretty little set up is ideal for all cold weather weddings, or even a holiday party. Plus, you can add hot cider for even more variety.
Christmas Lights Galore
Christmas lights are one of the greatest things about the holidays, so why not use them at your big day? We are obsessed with how these strings of lights hang all over the venue and make it look that much more magical.
Seasonal Boutonnieres
Men always get the short end of the stick when it comes to their wedding day wardrobe, so we advise that you spice it up in the floral department. For December or January nuptials, you can — and should — use holly, or berries, or mini pinecones for the boutonnieres…they'll look amazing.
Velvet Decor All Around
Despite the fact that velvet is fabulous, you can really only rock in it the winter, so having it pulled into a wedding scheme is perfect. You can use it as furniture or as a dress material for a show-stopping look.
Red and Green Color Schemes
This wedding used the natural greens of trees and garland to really make the couple's big day pop and we're totally into it. The greens combined with red accents and black and white classic pieces make for a timeless look.
Bridal Party Plaid
While rocking plaid dresses would be a terrible idea, a holiday wedding gives you the ability to have plaid in other places. The cutest way to tie it in is giving your bridesmaids matching flannel pjs to get ready in. It's such a fun idea and so festive.
Poinsettia Power
Whether you're a traditional church girl, or want something less traditional like a barn ceremony, you can't go wrong with poinsettias. They are the flower of the Christmas season and they are spectacular no matter where you place them.
Winter Wedding Favors
Wedding favors usually include a to-go wine glass, or candy, but this spin on the gift idea is so much more interesting. It's a little tree with the couple's initials carved into it that you can use for years to come around your house for decoration.
Girls in Green Dresses
Ah, green and holiday weddings go hand in hand. For a bold statement having your bridesmaids in a strong green hue is a must. Plus, they'll look fabulous, which will make you feel even better on your big day.
Dreamy Natural Backdrops
You can't tell us you never dreamed of a white Christmas…with snow everywhere. The added bonus to getting married in the wintertime is that in a lot of places the natural beauty of the location is all you need to set the mood.
Pinecone Cake
We know that pinecones aren't edible, but they are the perfect garnish for a holiday cake. Just look how pretty this whole design is!
Winter Vintage Decor
If you're not a fan of the traditional Christmas colors, this is the look for you. It's a mix of winter wonderland and vintage decor that's sure to make it a merry little wedding.
Long Sleeved Gowns
In the summertime you can rarely wear a long-sleeved dress, but in winter that is NOT the case. This is your chance to don a spectacular gown with full sleeves and look like a Christmas angel in white.
White Flower Fun
Your dress isn't the only thing that looks good in white. During December and January weddings, white flowers are totally appropriate and they just look beautiful against any gown.
https://www.instagram.com/p/BONzGVzjwVq
The Best Photo Ops:
Snow time fun anyone?
Kissing under the mistletoe — obviously a must-do photo.
https://www.instagram.com/p/BOPEgmYB7Zd
Baby it's cold outside.
https://www.instagram.com/p/_uL-FKxDrD
The star on top of the tree… aka the cherry on top of the whole wedding.
What Christmas wedding idea inspires you most? Would you want a winter wonderland for your big day?