We're feeling every feel about the sweet family tale behind this artistic Instagram account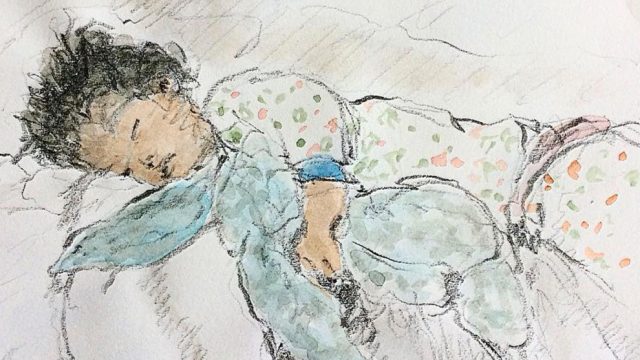 Hi, do you need some good news? Did you sleep alright? Have you had some coffee or tea or whatever morning pickup you rely on? Okay, now prepare to feel all the things.
NPR recently did a story on Chanjae Lee, a 75-year-old lapsed artist who started sharing his work on Instagram last year. His drawings are neat and instantly evocative, filled with scenes of his daily life in Brazil.
But as his handle @drawings_for_my_grandchildren suggests, Lee isn't only interested in building up his follower count — but in leaving an artistic legacy for his grandchildren.
Much of Lee's family used to live together in Brazil, but then his daughter's family moved back to South Korea, taking his two grandchildren with them. His son Ji, who works for Facebook in New York, wanted to give his father something new to do, but his first attempts at getting Grandpapa Lee to first, draw again after a 35-year hiatus from art, and second, to adopt smartphone tech to share his art.
Ji's efforts were in vain, until his own son Astro was born. That sparked something in Chanjae Lee, who doubled down on his efforts to "learn" not just Instagram, but the social web at large. Now, he draws; his wife helps with the captions, which provide context and oftentimes, a lot of love toward the subjects of his art. Especially his grandkids:
Ji put together a Facebook slideshow detailing his father's journey to Instagram, and it's since been viewed almost four million times; watch it below: