Drake says he's been in love with Rihanna since he was 22, and we're melting inside
It's hard not to love Rihanna, because, well, she's the BEST.  And you know who else is seemingly obsessed with the Barbadian songstress? Drake. It's no surprise really; he's declared his love for her before. But last night at the VMAs, things got even more real. 
Drake presented Rihanna with her prestigious VMA Video Vanguard Award, and melted our hearts with a story about when he first met Robyn Fenty (that's Rihanna's real name!) all the way back in 2005. She was shooting a music video with a director called Little X, and Drake knew that Rihanna had something.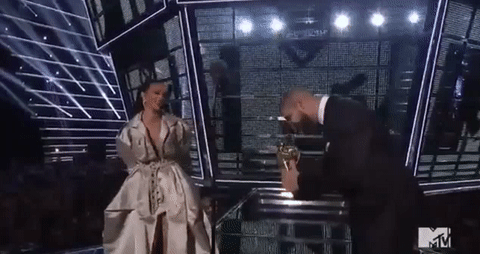 "It's hard to believe that 11 years later we'd come together to create the visual for a song called 'Work.' Today the world knows X as Director X… 11 years later, they still know Rihanna as the one and only Rihanna."
Then, Drake went on to make a BIG statement.
"She's someone I've been in love with since I was 22 years old."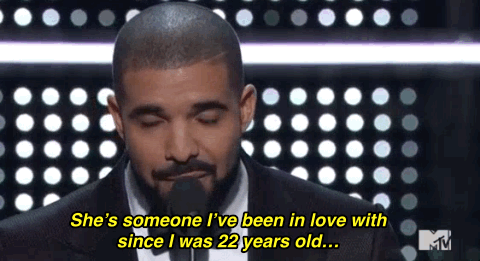 Awwwwww. And it gets better! Drake talked about her incredible sense of fashion and style, how she "relentlessly takes over the charts with every [music] release," and how Rihanna "succeeds by doing something which no one in this industry does, which is be herself," adding that some artists feel the need to play a certain "character," but not Rihanna.
And better.
"She's one of my best friends in the world. All my adult life I've looked up to her even though she's younger than me."
When Rihanna accepted the award, she thanked all her fans for the endless support and added that this award is not just hers — it belongs to her family, her fans, her country, and all the women out there. In a few small minutes, Rihanna proved why she's such a role model to Drake and the rest of the world. It's all about grace, confidence, that down to earth quality, and just being herself. 
We love you Rihanna! You can watch Drake's whole speech here.
https://www.youtube.com/watch?v=HGcc3LyANtA?feature=oembed