Drake just re-fueled those Rihanna dating rumors with this huge declaration of love!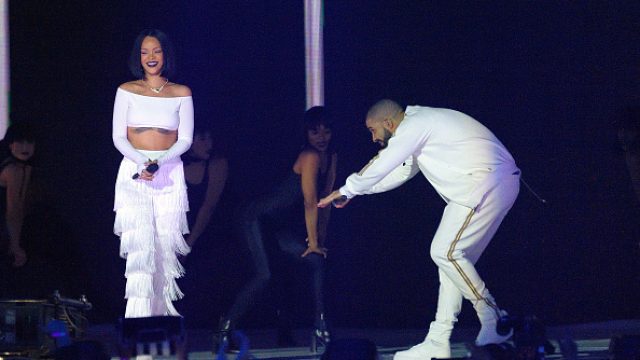 Umm, has YOUR man ever bought a billboard to show his love? Ours either.
Drake did just that to congratulate Rihanna on the Michael Jackson Video Vanguard Award, which she will receive at the MTV VMAs this weekend. Are they dating? Are they friends? Is Drake just an awesome human who buys Billboards for his friends? The world may never know.
Because, despite all their flirting on stage, the two have never officially confirmed their status.
https://www.instagram.com/p/BC_2odUlv55
And, despite Drake's unceasing declarations of admiration for RiRi, even calling her "the most beautiful, talented woman I've ever seen in my life," every time he introduces her on stage, they both remain publicly, adorably but oh-so unconvincingly coy about seeing each other.
Whatever the situation — wait, NO! We will only accept ONE situation: Drake and Rihanna 2getha 4eva — these two #WERK.
Ri's scheduled to perform a medley of songs at the VMA's from her older material and her latest album, ANTI. We were already excited for that, but now we're poised with our remotes to pause on Drake's face while she's up there doing her thing. Maybe he'll join her?! Oh, it's too much! WE'RE IN LOVE WITH LOVE.