On a scale of 1 to 10, Drake's love for "Stranger Things" is an Eleven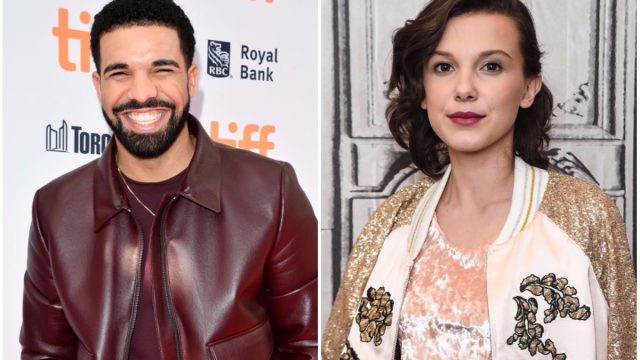 If you're like us, you binge-watched the entirety of Stranger Things 2 the weekend (maybe even the day) it hit Netflix. For those of you still craving more, we highly recommend checking out the Instagram accounts of its stars so you can be privy to moments like Millie Bobby Brown hanging with Drake. NBD.
Yup, that's right — Millie Bobby Brown and Drake just shared their mutual affection for each other on Instagram. In an image shared by Brown, the pair look like best friends backstage at what appears to be the singer's show in Brisbane, Australia. The Stranger Things star is in Australia for Brisbane's Supanova Comic Con, joined by other supernatural celebs like Teen Wolf's Shelley Hennig and James Marsters of The Vampire Slayer.
But it gets better. Drake shared a photo of his own, trying out his best Eleven impression, with arms outstretched and a caption that reads "Hawkins Very Own." Adorable. Could this be the start of a potential partnership or collaboration between Drake and Brown? We sure hope so. We would love to see her make an appearance on a future album.
In case you forgot, Brown has some serious rapping skills. For those of you who may have missed it, Brown wowed us all when she rapped Nicki Minaj's portion in the Kanye West song "Monster" on The Tonight Show. Not only did she know all the lyrics of the particularly hard verse, but she truly slayed.
Look at these BFFs. They're all smiles.
Drake's Eleven impression is pretty spot on.
Brown does love to sing, and recently shared that she's deaf in one ear. Though she was born with just partial hearing loss, she's lost nearly all of her hearing in that particular ear over the course of her life. However, doesn't let that stop her from doing it.
"I just started to sing, and if I sound bad I don't care, because I'm just doing what I love," Brown recently told Variety. "You don't have to be good at singing. You don't have to be good at dancing or acting. If you like to do it, if you genuinely enjoy doing it, then do it. No one should stop you."
Crossing our fingers for a future collaboration! Hey, stranger things have happened.